ALTER BRIDGE In Nashville, TN With Photos!


By Brandy Beverung, Nashville Contributor
Saturday, February 15, 2020 @ 10:40 AM


| | | |
| --- | --- | --- |
| | | At The War Memorial Auditorium 2/8 |
All Photos By Brandy Beverung/Shot Of Brandy Photography
As I walked up the steps and through the large marble columns of the War Memorial Auditorium in downtown Nashville, Tennessee. I knew this sold-out show would not disappoint. How could it? ALTER BRIDGE has been at the top of their game since their inception. Often overlooked as a supergroup, ALTER BRIDGE has three former band members of CREED, Mark Tremonti (guitar), Scott Phillips (bass) and Brian Marshall (drums), along with Myles Kennedy (vocals), January marked their 16th year together and I was excited to see the chemistry that comes with making and performing music together for that long. Last October, the band released the LP WALK THE SKY with Napalm Records, produced by their long time collaborator Michael Baskett, which was met with rave reviews.
The first of two supporting acts warmed up the crowd. DEEPFALL, from Greenville, Michigan, was up first and opened the night with an energetic original set including "Wasted" and "Monster" as well as an edgy version of JOURNEY's "Separate Ways". Bandmembers include Rich Hopkins (vocals), Max Carrillo (guitar), Anthony Battista (guitar), Taylor Brandt (bass), Nick Gray (Drums), and Tim King (keyboard). DEEPFALL released their album BROKEN with Pavement Entertainment in October 2019.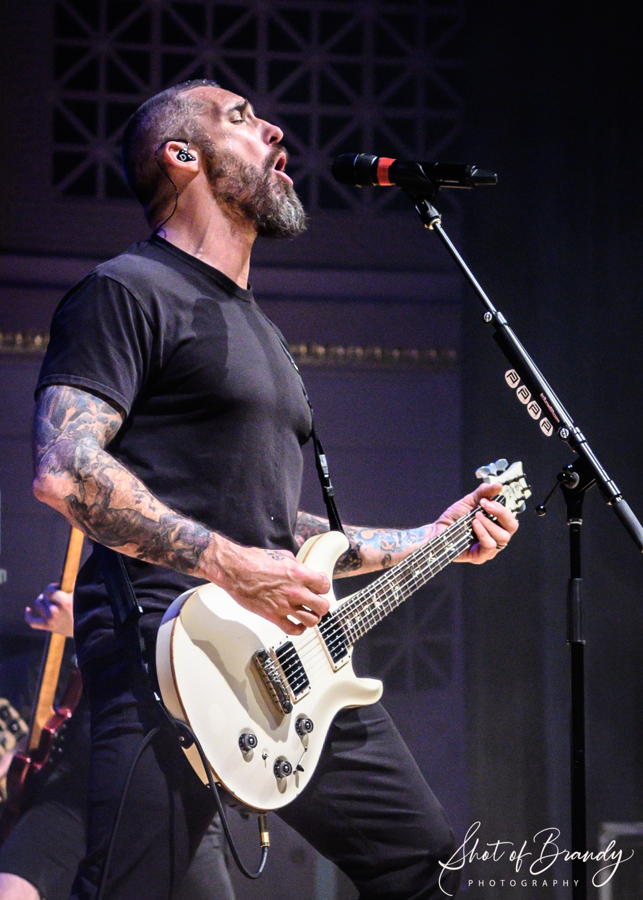 CLINT LOWERY (SEVENDUST) put on a captivating show and it was only his second solo show ever, playing an original set of heavy melodic rock including "God Bless the Renegades", "Here", "She's Free", "Silver Lining" and "Kings". The set was welcomed by SEVENDUST and ALTER BRIDGE fans alike. Clint was backed by Jonathan Jourdan (guitar), Pat Seals of FLYLEAF (bass), and Ryan Bennett (drums). CLINT LOWERY is from St. Louis, Missouri and released his album GOD BLESS THE RENEGADES with Rise Records one short week before the show (January 2020).
When ALTER BRIDGE took the stage they opened with the first track off their new album (WALK THE SKY), "Wouldn't You Rather". Then launched through such hits as "Come to Life", "Broken Wings", and "Blackbird". Gratitude was flowing from the band as frontman Kennedy expressed their sincere appreciation for their support acts. Kennedy also expressed his gratitude to the Nashville crowd stating that he had not started his day in the best of moods but that the energy from the audience changed that. Midway through the show, Kennedy brought the whole audience to their knees (literally) as he asked "Everyone who doesn't have bad knees like me" to crouch down and then he led the entire crowd to jump in unison. It was amazing to see and feel the energy as the eager crowd joined in.
The most impressive moment of the night came at the encore. The packed auditorium joined in with Kennedy to sing along to the first encore "Godspeed", a song released only a few short months ago proving that it stands to be an instant classic ALTER BRIDGE song. They closed the night strong with "Addicted to Pain".
As the crowd departed all that was left was an open floor strewn with empty water bottles and beer cans, a telltale sign that fun was had by all!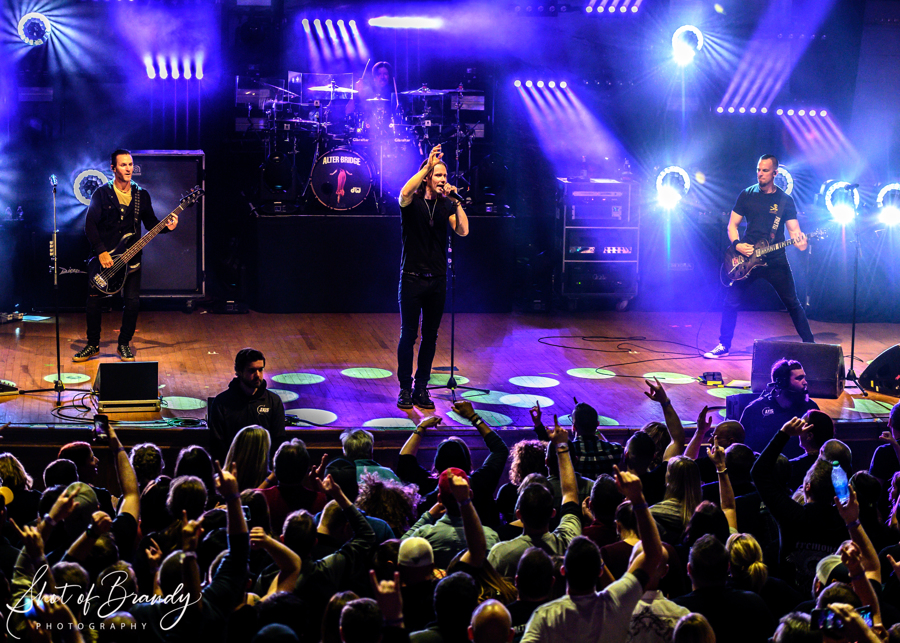 ALTER BRIDGE wraps up the US portion of their tour in May, then heads overseas to spread the love to their fans across the pond. This show is a must-see for rock fans young and old!
ALTER BRIDGE SETLIST:
"One Life"
"Wouldn't You Rather"
"Isolation"
"Come to Life"
"Pay No Mind"
"Ghost of Days Gone By"
"Broken Wings"
"Dying Light"
"Rise Today"
"Cry of Achilles"
"Waters Rising"
"Watch Over You"
"Blackbird"
"Open Your Eyes"
"Metalingus"
"Godspeed"
"Addicted to Pain"
Check out some more phots from the show!
All Photos By Brandy Beverung/Shot Of Brandy Photography

Please log in to view RANTS


KAMELOT The Awakening

ALTER BRIDGE, MAMMOTH WVH In Houston, TX With Photos!

ACID KING Beyond Vision

STEEL PANTHER On The Prowl

NIGHT DEMON Outsider

YNGWIE MALMSTEEN In Ottawa, Canada

THEORY OF A DEADMAN, SKILLET, SAINT ASONIA In Houston, TX With Photos!

OFFICER X Hell Is Coming

PERIPHERY Periphery V: Djent Is Not A Genre

INSOMNIUM Anno 1696

STEEL PANTHER, CROBOT, TRAGEDY In Houston, TX With Photos!

BABYLON A.D. Live Lightning

ROTTING CHRIST, CARACH ANGREN, UADA, GAEREA In Houston, TX With Photos!

MOTÖRHEAD Bad Magic: Seriously Bad Magic

TRAGEDY I Am Woman

ROXANNE Stereo Typical

ANTHRAX, BLACK LABEL SOCIETY, EXODUS In Houston, TX With Photos!