THEORY OF A DEADMAN Say Nothing


By Andrew Depedro, Ottawa Corespondent
Saturday, February 15, 2020 @ 12:18 AM


| | | |
| --- | --- | --- |
| | | |
THEORY OF A DEADMAN (THEORY)
Say Nothing
Atlantic/Roadrunner/604 Records




If there's one thing anyone can never take away from THEORY OF A DEADMAN – or THEORY as they would prefer to be known as henceforth since their full band initials spell out TOAD – it would have to be their adversity in distancing themselves from many of their western Canadian soundalike colleagues such as DEFAULT and particularly NICKELBACK. Indeed, the Delta, British Columbia-based quartet can credit their success to the latter, having first signed to Chad Kroeger's 604 Records label back in 2001. They also bore similar amounts of criticism as well thanks to their affiliation with NICKELBACK, their sound catching heat for being too imitable and formulaic despite an otherwise rather notable standing in the rock community and multi-platinum sales of their first six albums.

With that said, the quartet comprised of Tyler Connolly (frontman/guitarist), Dave Brenner (guitarist), Joey Dandeneau (bass) and Dean Back (drums) have been known to be more musically ambitious on every second or third release in their catalogue, starting from Identikit-style post-grunge on their debut self-titled album, to full-on angry stadium rock by 2008's Scars And Souvenirs to their brief foray into rootsy nu-country with their 2015 EP Angel (known for its earnest cover of Leonard Cohen's "Hallelujah"). By 2017, THEORY moved into pop/rock territory with their sixth album Wake Up Call thanks to the work of Swedish producer Martin Terefe, known for his work with the likes of Jason Mraz, KT Tunstall, Shawn Mendes and other mainstream pop artists who are pretty much anathema to many of us in the pure rock community.

As you can imagine, THEORY's latest album Say Nothing, featuring the return of Martin Terefe's slick production magic, is very much a hard sell in persuading the average rock fan into accepting it as being anything other than a rock album. And more than 95% of the album is bonafide mainstream pop/rock with slick orchestration sounds in the background, owing more to LINKIN PARK and MAROON 5 in parts than to METALLICA despite the bleak-sounding titles such as "Black Hole In Your Heart", "Quicksand" and the lead-off single "History Of Violence". But what the album may lack in sonic aggressiveness, it compensates well in relatable songwriting in the modern age.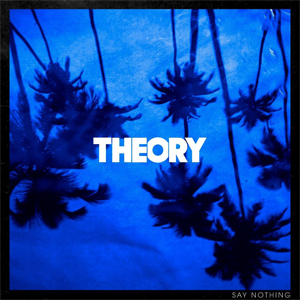 Going back to "History Of Violence", which is the most Sam Roberts-sounding THEORY track ever recorded, the lyrics speak to and about the vulnerable female partner of an abusive relationship and the injustices she finds herself up against, prompting revenge against her abuser – think of a more socially-conscious version of NICKELBACK's "Never Again", which would fit nicely on Season 2 of This Is Us. "Affluenza" is also in the same lyrical realm with Connolly chanting his best Mike Shinoda impersonation about the stigma of growing up working class. "Strangers" is a proper commentary on communal exclusion from the effect of social media which begs the question of "how low can we go?". And to cap off the socially conscious factor of the album, "White Boy" features audio snippets of the 2017 Charlottesville demonstration that was marred by clashes between anti-racism protestors and white supremacists as it transcends into a message of how "we're different but we're all the same". But luckily for the rock fan hoping to at least get a semblance of a track with a guitar sound on it, the track "Ted Bundy" has a decent opening riff with a garage rock vibe to it, which stands out for a while before subsiding into the background wall of orchestration by the climax.

So, while THEORY's original theory as a band was to merely gig and record at a similar level of success and volume as their counterparts in NICKELBACK, Say Nothing, for the better part, at least demonstrates which of the two can say the most with the least cacophony in their music. And sometimes, for all music fans, relatability is something that we should all strive to make some noise about.

3.5 Out Of 5.0

https://www.theoryofficial.com/
https://www.facebook.com/theorymusic

Please log in to view RANTS


WISHING WELL Sin And Shame

OTTTO Life Is A Game

SAXON More Inspirations

THE WINERY DOGS, BLACK HEART SAINTS In Houston, TX With Photos!

ROBIN MCAULEY Alive

CRADLE OF FILTH, DEVILDRIVER In Santa Ana With Photos!

KAMELOT The Awakening

ALTER BRIDGE, MAMMOTH WVH In Houston, TX With Photos!

ACID KING Beyond Vision

STEEL PANTHER On The Prowl

NIGHT DEMON Outsider

YNGWIE MALMSTEEN In Ottawa, Canada

THEORY OF A DEADMAN, SKILLET, SAINT ASONIA In Houston, TX With Photos!

OFFICER X Hell Is Coming

PERIPHERY Periphery V: Djent Is Not A Genre

INSOMNIUM Anno 1696

STEEL PANTHER, CROBOT, TRAGEDY In Houston, TX With Photos!

BABYLON A.D. Live Lightning

ROTTING CHRIST, CARACH ANGREN, UADA, GAEREA In Houston, TX With Photos!

MOTÖRHEAD Bad Magic: Seriously Bad Magic

TRAGEDY I Am Woman