Photo of the Week

By Sefany Jones, Contributing Editor
Monday, March 7, 2005 @ 9:29 AM


Share Yer Ugly Mugs With Us!

This week's victim: "Luke"!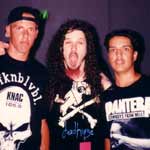 'Luke': "Here's a little photo of myself (Luke "the old skool KNAC fan") along with the Late and Forever Great Dimebag Darrell, and my buddy Marcello. Hollywood Palladium, Pantera/White Zombie "Vulgar Display of Power" tour, mid '90s."

(Be sure to click on the pics to enlarge!)
Send in your pics for consideration for "Photo of the Week."
Photos must be original -- your own personal pics. They can be pretty much of anything you'd like to share! Maybe a pic of you and a musician backstage, you & your friends showing off your KNAC swag, your dog dressed up like Gene Simmons... whatever!
You need to send an email to [email protected] with a .jpg attached or in the body of the email. Please include the name to credit the photo to, and if you wish, a one-liner to be included with the picture, subject to edit. Photos will be chosen randomly, and not all submissions will be used.
Violent or sexually explicit photos will not be considered, including nudity and animal beastiality. (Sorry!)
Click here for last week's victim!