ROSS THE BOSS Born Of Fire


By Andrew Depedro, Ottawa Corespondent
Tuesday, February 25, 2020 @ 5:50 AM


| | | |
| --- | --- | --- |
| | | |
ROSS THE BOSS
Born Of Fire
AFM Records




He was the sonic tone behind those 80's MANOWAR albums – the ones with the crashing and the screams – and it was his punk rock upbringing in the DICTATORS and SHAKIN' STREET during the 70's that forged and personified his raw-sounding playing technique. And, when he's not playing in his other dozen and a half musical projects, the man known as Ross "The Boss" Friedman is heavily active with his current solo namesake, who have released three solo albums since their inception in 2006. Yet, while RTB's latest album Born Of Fire may appear to be something of a rushed project at first, given that the time length between 2018's By Blood Sworn and this latest opus is just over a year old, it's still an album that delivers every bit of the fast, raw and powerful playing that Friedman is well known for.

In fact, the playing throughout Born Of Fire is about the only part of the album's delivery that's on full-on overdrive, harkening back to MANOWAR's mid/late 80's work with neck-wrecking openers such as "Glory To The Slain" and "I Am The Sword". With the combined efforts of the fiery vocals of Marc Lopes and the savage-sounding rhythm section of bassist Mike LePond and drummer Lance Barnewold, ROSS THE BOSS are a four-man team to be reckoned with, playing with and sounding like the unbridled energy of a thousand-man army in parts.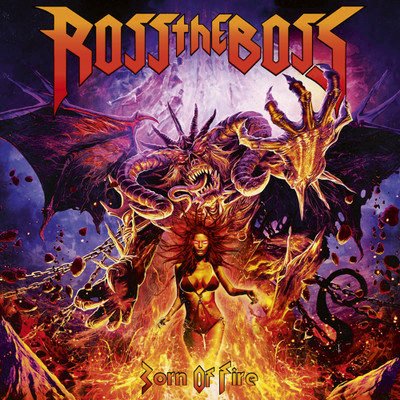 Further proof of their musical might as a cohesive unit comes in the form of tracks such as the heavily melodic numbers "Maiden Of Shadows" and "Undying", the blistering "Denied By The Cross" (which has solid potential in being a contender for the album's first lead-off single given how it's been the only song off the album throughout RTB's North American tour that's been played every night), the anthemic-sounding "Godkiller" and "Demon Holiday" and the closing SABBATH-sounding downtuned rager "The Blackest Heart". Lopes' histrionic pipes are the closest to a match to Joey DeMaio's early signature vocals while Mike LePond handles some devastating bass riffs akin to Eric Adams' "Flight Of The Bumblebee"-style playing throughout the album, most notably on "Undying", "Godkiller" and "Waking The Moon" among other standout tracks, his five-string groove magic from his work with New Jersey prog maestros SYMPHONY X being showcased nicely throughout this album. And, naturally, Friedman's playing can range from fast and furious to bombastic and technical and whatever else the order and style of the song calls for, in an easily adaptable manner that fits like a comfortable studded leather jacket.
In short, Born Of Fire makes good on the promise to blow your speakers with a performance that will equally blow your mind.
5.0 Out Of 5.0
https://www.ross-the-boss.com/
https://www.facebook.com/rossthebossofficial/

Please log in to view RANTS


THE WINERY DOGS, BLACK HEART SAINTS In Houston, TX With Photos!

ROBIN MCAULEY Alive

CRADLE OF FILTH, DEVILDRIVER In Santa Ana With Photos!

KAMELOT The Awakening

ALTER BRIDGE, MAMMOTH WVH In Houston, TX With Photos!

ACID KING Beyond Vision

STEEL PANTHER On The Prowl

NIGHT DEMON Outsider

YNGWIE MALMSTEEN In Ottawa, Canada

THEORY OF A DEADMAN, SKILLET, SAINT ASONIA In Houston, TX With Photos!

OFFICER X Hell Is Coming

PERIPHERY Periphery V: Djent Is Not A Genre

INSOMNIUM Anno 1696

STEEL PANTHER, CROBOT, TRAGEDY In Houston, TX With Photos!

BABYLON A.D. Live Lightning

ROTTING CHRIST, CARACH ANGREN, UADA, GAEREA In Houston, TX With Photos!

MOTÖRHEAD Bad Magic: Seriously Bad Magic

TRAGEDY I Am Woman