LAST IN LINE In Nashville, TN With Photos!


By Brandy Beverung, Nashville Contributor
Wednesday, February 26, 2020 @ 6:43 PM


| | | |
| --- | --- | --- |
| | | At The Cannery Ballroom |
All Photos By Brandy Beverung/Shot Of Brandy Photography

OZZY, DOKKEN, WHITESNAKE...DIO. When most people hear these legendary band names, the first thing they picture is the vocalists. But when you dig a little deeper (or you ask a musician) you will realize that these artists had amazing bands behind them. Bands that would support the vocalist and many times levitate them to supreme status. Such was definitely the case with RONNIE JAMES DIO. When the man that arguably introduced the metal world to the now iconic devil horns hand symbol has departed this world, members of his band played on and formed the band LAST IN LINE.

When you think of DIO, what songs do you think of? Unless you're a diehard fan, your answer would probably be "Holy Diver", "Rainbow in the Dark", "The Last in Line", or "We Rock". All of these songs were off the first three DIO albums, all of which featured guitar legend Vivian Campbell and drummer Vinny Appice (Appice also played on two later DIO albums). If you're a fan, you probably know Appice from his contribution to BLACK SABBATH in the Ronnie James Dio years. He toured with them on short notice is 1981 on the Heaven and Hell tour. He recorded the Mob Rules album (known as one of the best heavy metal albums of all time) as well as the album Live Evil. As you can imagine, when this duo announced in 2012 that they'd be forming a band performing music from the first three DIO albums as well as originals, fans were floored and excited to hear the outcome. The band started with Jimmy Bain on bass (DIO and RAINBOW) and after his passing, recruited Phil Soussan (OZZY OSBOURNE and BILLY IDOL) to respectfully fill his shoes. LAST IN LINE, fronted by Andrew Freeman (THE OFFSPRING and LYNCH MOB), has been successfully touring since their inception.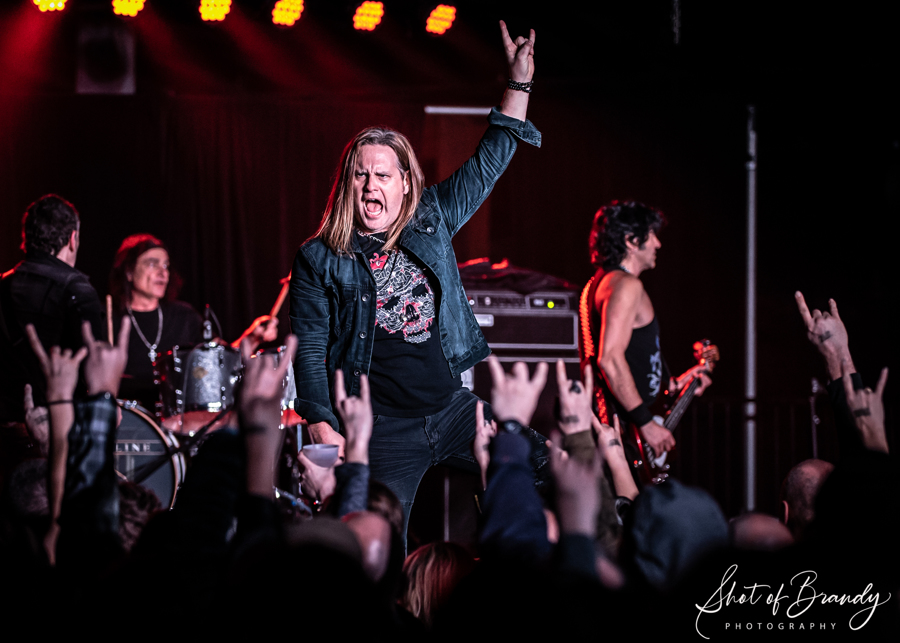 The opening band, TARA LYNCH BAND, is the trifecta of rare…a rare redhead, a rare female-fronted metal band, and rare that the vocalist can also absolutely shred her guitar! They opened the night a the Cannery Ballroom in Nashville, TN with fire as hot as Tara's red hair. The touring version of this band consisted of Tara Lynch (vocals and guitar), Logan Nikolic (guitar), Matthew Dennis (bass), and Joe Lazarus (drums). Performing a set full of melodic metal originals including songs like "Banished From My Kingdom", "Evil Enough", and "Kringeworthy" from their 2018 album, titled Evil Enough, they got the audience flinging their hair right along with them! TARA LYNCH BAND wrapped up with "Antidote" and left the audience sufficiently warmed up for LAST IN LINE.
You could feel the excitement in the Cannery Ballroom as the crowd waited for the LAST IN LINE to start. When the lights went dark you could see the silhouette of Campbell and Appice. The band came in hot with "Landslide", off their recent album titled II (2019). Oh yeah, did I mention this band also has two albums of killer original music? There is a distinct difference between the music of LAST IN LINE and DIO, but comparing them would be akin to comparing RAINBOW and DIO, they are all different but equally good. After their first original, they get the crowd pumping with "Stand Up and Shout", an inspiring DIO hit about self-empowerment. Frontman Freeman takes a moment to talk to the crowd and announces that the beautiful black Les Paul that Campbell is playing, is the original guitar he used in 1983 when he recorded the Holy Diver album. This was a shock to many and a big topic of conversation amongst guitarists in the audience for the rest of the evening. The band fired away song after song, including "Straight Through the Heart", "Holy Diver", "The Last in Line", and many more.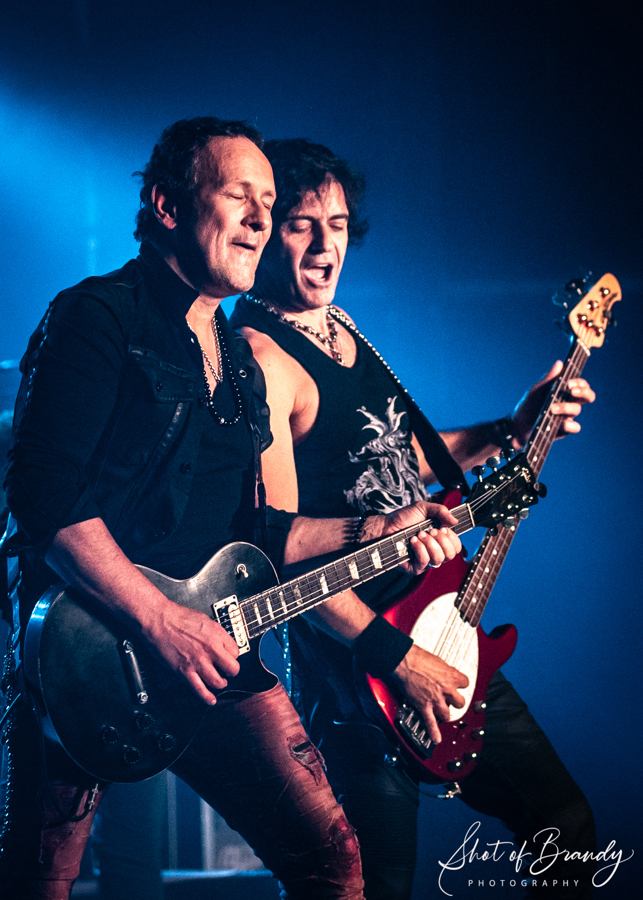 Vivian Campbell is seen using ENGL amps, along with a Gibson Les Paul from the 80s. When asked if he uses any pedals, he said: "I use a wah". All that amazing tone is coming from his fingers, which can be heard not only with LAST IN LINE, but also with DIO, WHITESNAKE, THIN LIZZY, and his longest-running gig, DEF LEPPARD, which he joined replacing Steve Clark in 1992. Although Campbell has been battling cancer on and off since 2013, he appears to be in fighting shape and is having a great time touring. The most amazing thing about this show was to see the chemistry of the musicians on stage. Just as impressive, is to see these legends who have all performed in big arenas come and play a more intimate venue and put on an arena caliber show while interacting with the audience and having a great time. Phil Soussan came up to the mike to give a touching tribute to the departed LAST IN LINE and DIO bassist, Jimmy Bain, who passed away in 2016 of lung cancer. Freeman also made sure to let the audience know that although they knew the first three DIO albums are great, and that they could spend the entire tour playing those songs, that they were not going to "rest on their laurels" and they planned to continue to write new music and continue to grow musically. The band played "Rainbow in the Dark", the biggest DIO hit and walked off stage. Just when you're thinking, "there's no way they can top that", you hear the legendary intro to "Don't Talk to Strangers", which was met with rabid applause. They did a trio for the encore performing "Devil in Me", and then launched into the final song "We Rock".
Backstage, Nashville based rockstars, including Kip Winger (WINGER) and Chris Frazier (FOREIGNER), came out to pay their respects and enjoy the music. in my opinion, this show is essential for any heavy metal fan!
SETLIST
"Landslide"
"Stand Up and Shout"
"Straight Through the Heart"
"Year of the Gun"
"Holy Diver"
"Black Out the Sun"
"Last In Line"
"Starmaker"
"Electrified"
"Egypt"
"Rainbow In the Dark"
"Don't Talk To Strangers"
"Devil In Me"
"We Rock"
Check out some more photos from the show!
All Photos By Brandy Beverung/Shot Of Brandy Photography>

Please log in to view RANTS