DEADRISEN DeadRisen


By Alex Yarborough, Orlando Contributor
Friday, February 28, 2020 @ 12:19 AM


| | | |
| --- | --- | --- |
| | | |
DEADRISEN
DeadRisen
2020 AFM Records




DEADRISEN is a metal band from the East Coast tri-state area, that was formed a few years ago by five metal veterans you may already know: vocalist Will Shaw (HEIR APPARENT), guitarist Rod Rivera (RIVERA/BOMMA), keyboardist Tony Stahl (LIVESAY), drummer Dan Prestup (MIDNIGHT ETERNAL) and finally ... the man in the running for the title of "Hardest Working Man In Metal" ... bassist Mike LePond, who has appeared on AT LEAST 20 different metal releases since the last SYMPHONY X studio album in 2015. Clearly, a musician of this quality is a rarity and will make your band legitimate immediately. What does DEADRISEN sound like? There's melodic hard rock, power metal, thrash, blues and a few more elements for you to discover on this album. It's retro, yet it's progressive, and it's everything in between. The band describes themselves as "an explosive cocktail of older, traditional musicians with young, hungry new school guys". This is the band's eponymous debut album.

Orchestral intro "Risen Death AD" acts as a mood setter, and gets you prepared for the opening blast of "Prophecy". This gripping track is in your face, both musically and vocally. Will Shaw really impresses right out of the gate with his passionate vocals. Rivera's guitar work is strong and fluid. "Destiny" doesn't let up, as the band stretches out and hits its groove with this up-tempo song. Stahl adds a cool keyboard solo to the track. You can listen to the song here. "The Maker" gives Mike LePond and Dan Prestup a chance to show off their chops, as the rhythm section is very tight. Rivera's snarling riff makes the song though.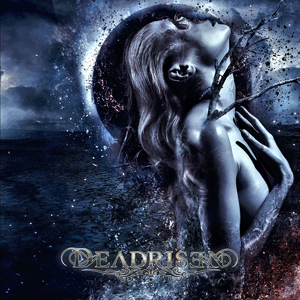 Ballad "Reach For The Sun" slows things down and gets bluesy for a few minutes; there's lots of talent on display here. From here, my favorite material on this album starts. "Visions" resides in the epic realm, offering some interesting interludes and a tale of revelation. "Chains Of Time" is a standout track and one of my favorites on the album. "Fear And Fury" is a superb example of what makes this band so interesting: catchy bridge, hooky riffs and a stellar performance by the entire band, especially Shaw (video on KNAC.COM HERE). "But You" is the most oddball song on the album, as it ventures into a few different genres. I dig it though. The album ends with a stellar cover of METALLICA's "For Whom The Bell Tolls". Shaw's vocals here are fantastic, while Stahl's organ gives the song a feel I didn't realize it could have.
Overall, I think this is an incredibly strong debut album by a band that will hopefully make more music in the future. Will DEADRISEN get lost in the shuffle, resigned to be just a project? I hope not, they are very good. I also dig Drake Mefestta's mysterious cover art. AFM continues to have the strongest roster in heavy metal, and DEADRISEN is another great addition to it. DeadRisen will be released on March 13th.
4.5 Out Of 5.0

Please log in to view RANTS