It may seem a little odd for me to have been so hyped up for UFO's show in New Bedford, MA back on February 18th. I say this because in truth, I've never actually owned any of the band's material. In fact, most of the stuff that I've heard from them has come through other means. Yes, I've heard the original hits on occasion via Eddie Trunk's or Dee Snider's radio shows, but otherwise I tend to come across the songs being done by other groups. My introduction to "Lights Out" was a cover version by the band FIFTH ANGEL. I heard a number of UFO songs being done as part of the MICHAEL SCHENKER FEST show I went to last year. And there's always hearing "Doctor Doctor" whenever I go to see an IRON MAIDEN show.

But with this "Last Orders" tour serving as the band's apparent retirement (or at the very least retirement for vocalist Phil Mogg), I'd have been a fool to miss out on seeing such a legendary band especially considering the show was just a 20-minute car ride from me.

Once the doors opened, I met up with my friend George and hung out with him for the show. I also touched base with a number of other concert regulars, some of whom were just back from the Monsters of Rock Cruise.

All that was pregame though and once Damon Johnson took the stage for his solo acoustic set the music was my focus. Johnson had been playing as a trio on this tour but according to what he said from the stage, this gig was one of a few where it was just him.

And he put on a pretty entertaining show that included some surprises from the various setlists I'd been able to find online. He opened with a cover of Steve Earle's "Feel Alright". I loved the song but it was a bit annoying that I couldn't remember the song title while I was there at the show. I'd heard it before but it wasn't until I got home to look up who did it that the light dawned. The rest of the set was a mixture of songs from Johnson's time with THIN LIZZY, BROTHER CANE and his own solo material.

I loved getting to hear songs like "Got No Shame", "And Fools Shine On" and "Jailbreak" (though I have to admit I wasn't crazy about the rendition of "The Boys Are Back In Town"). However, the song that really captured my attention was Johnson's solo track "Leave It All Behind". It just blew me away and I was looking forward to finding out which album it was on so I could buy it.

I've known of Damon Johnson since the late 80's (more on that in a minute) and saw him perform with BLACK STAR RIDERS but I really enjoyed this set a lot where the focus was solely on him. I loved the show and would really like to see more in the future.

Set List
"Feel Alright" (Steve Earle)
"Got No Shame (BROTHER CANE)
"Dallas Coulda Been a Beatdown
"Jailbreak" (THIN LIZZY)
"And Fools Shine On" (BROTHER CANE)
"Leave It All Behind"
"The Boys Are Back In Town" (THIN LIZZY)
"Shivering, Shivering"
CONCERT FUN FACT: As I said, I've known of Damon Johnson since the late '80's. He was part of the one album band WITNESS. After Johnson's set, he did a meet and greet at the merchandise table and I got to talk to him briefly. I mentioned WITNESS and that because I knew he didn't actually play on the album (long story), I didn't bring my copy of the album with me. He kind of laughed and said that someone else had done that earlier in the day and he signed it. Then he related to me how his experience with WITNESS helped guide him when he formed BROTHER CANE. I also told him how much I liked the song "Leave It All Behind" and he told me that he had the album it was on for sale at the show. That was a must buy and I picked it up. He signed that one for me as well as my copy of the self-titled Slave To The System CD I brought with me. There is a photo of he and I retweeted on KNAC.COM's twitter account too.

LINK: Twitter: @DamonJOfficial

After the intermission, UFO took the stage for their set and it was odd that band with such a long history would do things in such an understated way. I know the venue is small so you can only do so much but they took the stage like they were a band just starting out. And what a show it was!

I mean, not only was I seeing Phil Mogg perform but how about freaking Vinnie Moore? Wow, that was just amazing to see him play. As I said, I didn't know much more about the band other than their most recognizable tracks but after the first four songs of the set (again, I looked up the setlists online so I had some idea of what was going to be played), George and I looked at each other and said something to the effect of "Damn this is great stuff!"

Opening with "Mother Mary", the band ran through a succession of their songs to stunning effect. Even more impressive, this was being done with Phil Mogg saying from the stage that he was dealing with a cold. You wouldn't have known it if he hadn't said it though because he sounded great. The whole band did really. The set was pretty stripped down but take away the "bells and whistles" and what you have is a band in its purest form and UFO was in top form I thought.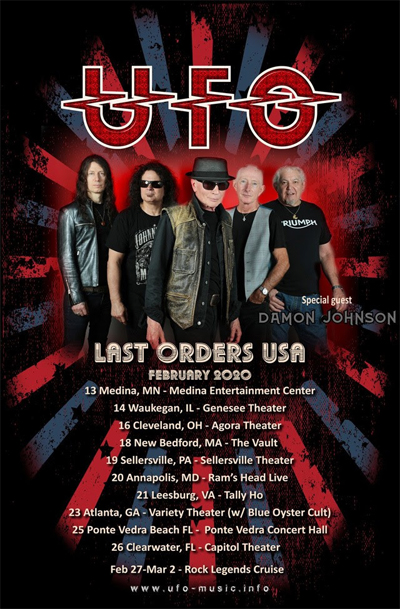 With Mogg introducing each song before it was played you certainly knew what you were hearing and I loved FINALLY getting to hear "Lights Out" sung by the guy who sang it originally. And on this night, I was definitely agreeing with the title of the song "Only You Can Rock Me", because the entire set was just one solid ball of rock.
The only nitpick I had was the song "Cherry". I am sure there are plenty of fans who love the song but that was the song that slowed the set down for me. Still, the band closed things out in a fiery fashion with their classic songs "Rock Bottom", "Doctor Doctor" and "Shoot Shoot" (the latter two being listed as the "encore", though the band never actually left the stage) to let you know that they may be heading towards calling it a day but it isn't due to a lack of ability.
You remember how Lemmy used to introduce MOTORHEAD? He'd say "We are MOTORHEAD. And we play rock and roll!" Well, that's the feeling I have after seeing UFO for the first time. It may be at the end of their run, but UFO plays rock and roll and from what I witnessed at this show, they are still doing a damn fine job of doing so!
Set List
"Mother Mary"
"We Belong To The Night"
"Run Boy Run"
"Venus"
"Lights Out"
"Ain't No Baby"
"Only You Can Rock Me"
"Burn Your House Down"
"Cherry"
"Too Hot To Handle"
"Rock Bottom"
"Doctor Doctor"
"Shoot Shoot"
http://www.ufo-music.info