DARK FORTRESS Spectres From The Old World


By Peter Atkinson, Contributor
Tuesday, March 10, 2020 @ 11:05 AM


| | | |
| --- | --- | --- |
| | | |
DARK FORTRESS
Spectres From The Old World
Century Media Records




As the Bavarian black metal troupe DARK FORTRESS has gotten deeper into its career, it has grown markedly less productive. After issuing five albums from 2001 to 2008, the band has offered just three in the dozen years since, including the latest, Spectres From The Old World. Spectres comes six years after 2014's Venereal Dawn, which arrived four years after 2010's Ylem.

But no one can accuse these guys of being lazy. Frontman Morean, who joined in 2007, is also a classical composer who has done orchestrations for THE DEVIN TOWNSEND PROJECT among others. He also performs with ALKALOID, NONEUCLID, NADER SADEK and HANNES GROSSMANN. Drummer Seraph and guitarist V. Santura are also members of NONEUCLID, while Santura performs with TRIPTYKON and runs Woodshed Studio, where he has produced, mixed and mastered dozens of albums. Keyboardist Phenex has done several stints touring with SATYRICON and continues to play live with THE RUINS OF BEVERAST. They are indeed a busy bunch.

And after DARK FORTRESS reconvened, it doesn't seem to have taken the band long to shake off any cobwebs from the long stretch since Venereal Dawn. Instead, Spectres comes out with all guns blazing and keeps things comparatively leaner and meaner than the last several efforts.

Forgoing the typical mood-setting intro, "Nascence" is punctuated by the fusillade fills and blast beats of Seraph, and shows the band is just getting revved up as it then launches headlong into the frantic trem guitar and blast/d-beat fueled "Coalescence". The chunkier "The Spider In The Web" follows, with Morean's tenacious vocals leading the fray over Santura and founding guitarist Asvargr's gut-punch hooks. The title track deftly packages both approaches, alternating between furious sprints and crunching marches with neck-break efficiency, all graced by subtle synth splashes from Phenex, especially as the song concludes.

DARK FORTRESS' progressive inclinations had arguably gotten the better of it on Ylem and Venereal Dawn, both of which topped 70 minutes and could certainly have used some judicious editing. That is less of an issue here. Spectres clocks in a tidier 59 minutes, though it still averages roughly six minutes per song – when subtracting "Nascence" and the interlude "Penrose Procession". But the songs feel more succinct – or at least more direct – as the band manages to keep moving things forward instead of wandering off on tangents.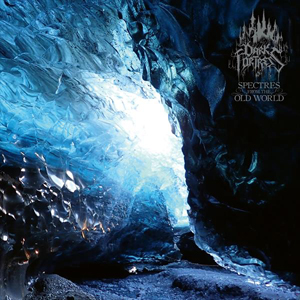 Indeed only "Isa" and "Swan Song" crack seven minutes – meaning both would have been among the shorter tracks on the bloated Venereal Dawn. "Isa" is the most atmospheric tune here with Morean's occasionally whispered vocals, clean harmonies and the sprawling, deliberate arrangement that features multiple lead breaks. But it never drags and is positioned perfectly between the ferocious, MAYHEM-like "Pazuzu" and the even more frantic "Pulling At Threads", which is tempered somewhat by its intermittent clean vocals.
"Swan Song", by contrast, flips the script, following the ambient "Penrose Procession" and preceding the doomy "Nox Irae" by echoing the title track with its whipsaw back and forth. It is the one song here that is over-ambitious and its choir-like vocal passages seem awkward at best. Where the more traditional clean vocals worked fine elsewhere, the Gothy chorales steal much of "Swan Song"'s thunder. The Latin chants that accompany the funereal bells and somber riffs on "Nox Irae" are a modest improvement, but Spectres concludes with a bit of a thud.
Still, that doesn't take much away from what is an otherwise vibrant and quite satisfying effort. DARK FORTRESS not only picked up where it left off six years ago, it peeled away some of the excesses and has come back stronger and more focused than it has been since Morean came onboard for 2008's Eidolon - despite all of the extracurricular activities.
3.5 Out Of 5.0

Please log in to view RANTS