TODAY IS THE DAY No Good To Anyone


By Nathan Dufour, Great White North
Tuesday, March 10, 2020 @ 12:58 AM


| | | |
| --- | --- | --- |
| | | |
TODAY IS THE DAY
No Good To Anyone
2020, BMG




You can have as many opinions about TODAY IS THE DAY as the band have albums, each varied and nuanced and difficult, difficult lemon difficult. Each opinion is of course correct, the band morphing with each release, becoming at turns accessible while remaining absolutely not, the unique (to say the least) vocal oscillations of Steve Austin propelling the songs forward. Ever forward. No Good to Anyone, a first on new home BMG (I did not see that one coming) represents TITD at their most vital, most strange, most obtuse, and arguably most gratifying in several years, the reasoning not the least of which is that by rights on a purely human level, we are lucky this album exists at all.

Nobody would have blamed Austin if he just packed it in. In the context of recent history, he lost his dog, contracted Lyme Disease (of which his pup also passed and passed on to him), and was involved in a very serious car accident. All of these life happenings have informed the sound of No Good to Anyone with not an undercurrent of malevolence per se, but one of dogged determination and singular vision. Those looking for an auditory assault, though, should largely look elsewhere - the record is raw to be sure with production values to match its naked introspection, but sees the TITD machine playing with mostly ambient tones and sombre (yet explosive) spoken word passages. To be sure, the fury and frenetic pacing the band is known for absolutely informs the album and shows up now and then, but a wall of sound isn't the point this time - and that's refreshingly unexpected.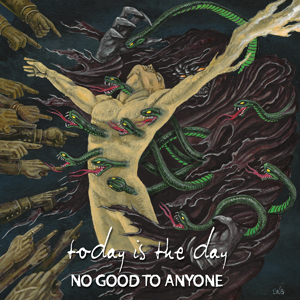 Easy standout track "Callie", so named after Steve's pup, is an emotional rollercoaster and it keeps jumbling your guts long after it is over. Elsewhere, the title track lumbers along at an almost doom worthy drone then blasts shit to bits for a bit, the pacing and structure echoing the personal chaos that birthed it. And that is the point - perhaps more so than previously, TODAY IS THE DAY are showing humanity and humility - and a lot of love.
The press release for No Good to Anyone quotes Austin talking a lot about love, which may seem a little counter intuitive but really isn't - we listen to this music because we love it and he makes it because he has to (I mean loves it).
TODAY IS THE DAY crafted an album of depth, fragility, and ultimately a statement of strength. They have not made it easy, and at first blush many may dismiss the album out of hand. Don't make that mistake.
4.5 Out Of 5.0

Please log in to view RANTS