GEOFF TATE In Nashville, TN With Photos!


By Brandy Beverung, Nashville Contributor
Friday, March 20, 2020 @ 7:29 AM


| | | |
| --- | --- | --- |
| | | At The Exit/In After Original Venue Sustained Damage From Tornado |
All Photos By Brandy Beverung/
Shot Of Brandy Photography
One short week after the devastating tornados hit Nashville, GEOFF TATE blew into town to lift Nashville's spirits. The show was rebooked at The Exit/In after The Cowan sustained some minor damage from the storm. This particular Thursday night was also looming with the rumors of shows canceling because of Coronavirus fears. The Nashville fans NEEDED to forget their troubles and hear an awesome show, and Geoff delivered!
To start the evening, Geoff's gorgeous, platinum blonde daughter, Emily Tate, blasted onto the stage with her band TILL DEATH DO US PART. The band features Emily Tate (Vocals), Kieran Robertson (Guitar), Jack Ross (Bass), and Michael Fechter (Drums). Their dark, alt-rock, all-original set featured songs like "Watch Me Burn", "We Killed Romance", "My Friends Are An Fire", and "Ink".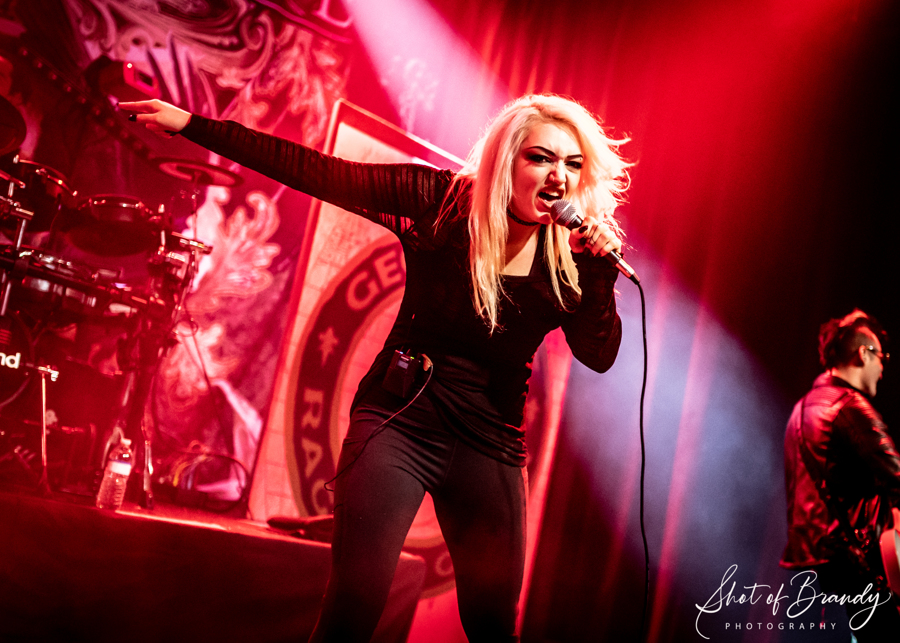 Emily not only inherited her father's haunting voice but also his dramatic stage presence. The band's dark lyrics paired with Emily's smooth sound and quirky-cool stage moves left the crowd smiling widely and with the impression that this band was brilliantly crazy.
GEOFF TATE took the stage backed by Scott Moughton (guitar), Kieran Robertson (guitar), and Jack Ross (bass). He promised two full sets of classic QUEENSRYCHE songs. He first performed the entire album RAGE FOR ORDER and then with only a short 15-minute break came back and delivered the entire EMPIRE album flawlessly. Geoff paused to tell the story of his recent 61st birthday in which his daughter Emily asked him what he wished for. Geoff stated that touring to perform the EMPIRE album 30 years after it's release was one of the things he wanted...the other was for people to be kinder to each other (we want that too Geoff!).
Geoff's band was impressive in their execution, audience engagement and most impressively their energy. Both Robertson (guitar) and Ross (bass) pulled double duty playing for GEOFF TATE after playing with TILL DEATH DO US PART. The guitar solos were flawless and the chemistry between the two guitars (Moughton and Robertson) was undeniable. No one was leaving early to get home for work the next morning, as the band seemed to build energy as the show went on and kept us all wanting more!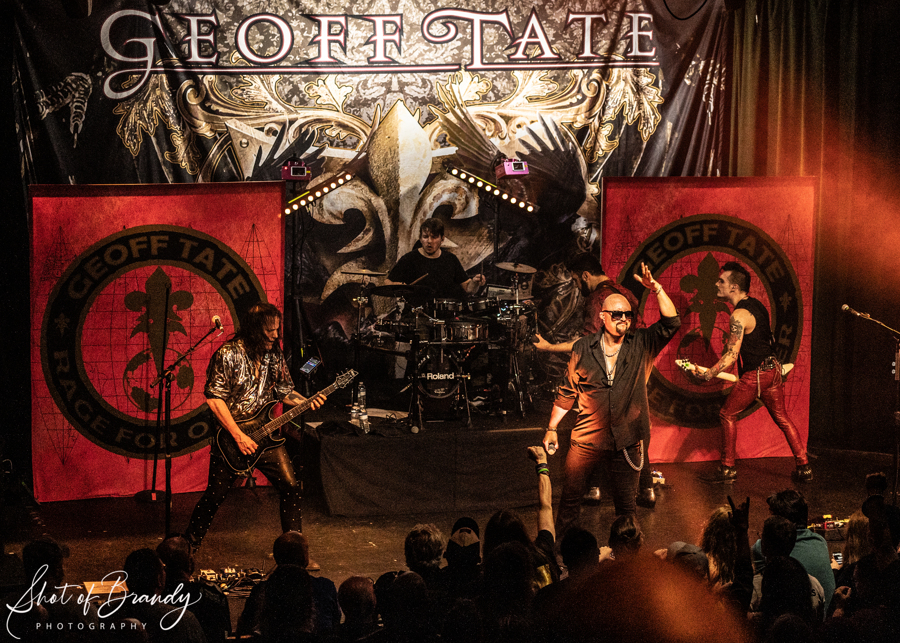 In addition to Geoff's stellar vocals, he also pulled out his saxophone for an amazing performance on "The Thin Line". The crowd was impressed by his ability to perform both the vocals and the saxophone part flawlessly. If you could remove the sound from the room, it seemed Geoff transformed into a jazz saxophonist right before our eyes. Put the sound back, and it was pure metal! It was very interesting to see this side of him.
Unfortunately, because of the Coronavirus pandemic, the remainder of GEOFF TATE's tour has been postponed. But no virus can keep Geoff's fans away for long, and when the country is on the other side of this crisis, this show will continue strong and is a must-see!
GOEFF TATE'S SETLIST
SET 1 (Rage For Order):
"Walk In The Shadows"
"I Dream in Infrared"
"The Whisper"
"Gonna Get Close to You"
"The Killing Words"
"Surgical Strike"
"Neue Regel"
"Chemical Youth"
"London Screaming in Digital"
"I Will Remember"
SET 2 (Empire):
"Best I Can"
"The Thin Line"
"Jet City Woman"
"Delta Brown"
"Another Rainy Night"
"Empire"
"Resistance"
"Silent Lucidity"
"Hand on Heart"
"One and Only"
"Anybody Listening?"
Encore:
"Last Time in Paris"
"Eyes of a Stranger"
Check out some more photos from the show!
All Photos By Brandy Beverung/Shot Of Brandy Photography

Please log in to view RANTS