BODY COUNT Carnivore


By Francisco Zamudio, Metal X Candy 2.0
Thursday, March 26, 2020 @ 3:10 PM


| | | |
| --- | --- | --- |
| | | |
BODY COUNT
Carnivore
Century Media



Rap-Rock may not have survived much since the desperate era of the 90's. Nu-Metal somehow manifested after the death of Grunge, a genre that had ruined many Rocker's and Metalhead's days. Going forward, a wedge would be driven between the die-hards and the wannabes, both fans and bands alike. This would prove who would bow out of the heavy music scene and who would delve deeper and be in it for the long-haul. Of the many bands from 90's, no-one really broke barriers like ICE-MUTHA-FUKIN-T and his Rap-Metal group BODY COUNT. The controversial self-titled debut in 1992 which changed the face of music and censorship made waves much like Dee Snider whipping out his folded speech from his back pocket, in front of the PMRC back in 1984. BODY COUNT's debut made a statement for the time, a statement that would stand the test of time. Now on their 7th full-length release to date, ICE-T and BC continue to make a statement appropriate for the modern times. CARNIVORE is not only their second release through Century Media but a reflection of today's savage society as ICE-T states, "The deadliest creature on Earth is the Human."
CARNIVORE's violent approach is set out to "trigger" some reaction from long-time fans and as well as those who are on the outside-looking-in towards a band and a scene that is the epitome of what we all stand for, and that's rebellion. Non-conforming headbangers that stand up against a society and political force that tries to keep us down. ICE-T has always had a knack with words and his approach to express himself through his lyrics, teamed with some awesome musicians; musically directed by bassist Vincent Price, the tandem guitar work of long-standing and STILL standing, Ernie C and Juan of the Dead (aka Juan Garcia) and the tight groove laid down by drummer Ill Will - produces an aggressive and unapologetic approach of Rap-Metal that is not for the thin-skinned who blindly view this in the wrong context. Not at all just talk, CARNIVORE if full of evidence to back it up. Tracks like "THEE CRITICAL BEATDOWN", "NO REMORSE", "THE HATE IS REAL" and "BUM-RUSH" reflect the "take-no-prisoners" attitude BC has always demonstrated. Not only in attitude but in music tone, especially in the guitars can you feel the thickness that's laid out throughout the album.
Let's mention some of the great cameos made on CARNIVORE. Lending his voice on the thrasher track "POINT THE FINGER" is vocalist Riley Gale of Texas' POWERTRIP, a band that has exploded into the scene in recent years. Making his second appearance since 2014's MANSLAUGHTER (I mean, do we simply say he's part of the band now?) is HATEBREED's Jamey Jasta on the track "ANOTHER LEVEL" that delivers a hardcore beatdown. Lastly but not at all in the least, is EVANESCENCE vocalist Amy Lee lending her talents on the song "WHEN IM GONE". Never having been a fan of hers, I really appreciated this excellently written tune as her vocals help carry it very well on crucial parts in the chorus. It's a song dedicated towards lives lost, some that may have been unjust and too soon. As ICE-T explains, "It's a wake-up call, saying that we have to take advantage of our friendships while our friends are still around." Unfortunately, BODY COUNT has dealt with this too often having lost multiple members early in their career. Dating back to 1996 and the passing of drummer Victor Ray Wilsonaka, aka Beatmaster V. Five years later, bassist Lloyd "Mooseman" Roberts III in 2001 and shortly thereafter guitarist Dennis Miles, aka D-Roc the Executioner in 2004 would follow. These men all had helped set the foundation of what BC would become.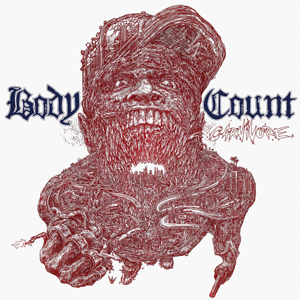 With age comes wisdom, there's book-smarts and then there are street-smarts. ICE-T makes it no secret where he came from and his music has always helped define who he is and who he was. On CARNIVORE, he re-makes some of his classics such as 1988's hit single "COLORS", from the cop-drama film of the same name. With Dave Lombardo on drums, and those thick bass and guitars - this revised version is criminally great. On the deluxe edition of CARNIVORE you get ICE-T's 1987 throwback "6 IN THA MORNING" transformed into essential Rap-Rock the way it was intended. We also get another added tribute in that of BC's take on to fallen legends MOTORHEAD's "ACE OF SPADES" that is excellently covered.
Realizing his responsibility as a multi-media talent, ICE-T states, "My job as an artist is to kind of break down the confusion that the media and the press and government try to put in our way to keep us separated." Expressing his message and (though) his music has always been important to him and BC. "…just like in "No Lives Matter", (BLOODLUST- 2017) one of my main focuses is that unity is power, and that most of us have the same issues, same enemies and the same problems" With an album that has charted high in several other countries, many within the top 50 and a few within the top 10 (Wiki), it's no doubt that many on the same side of the fence share his views. This album really reflects the brotherhood and musicianship within BC that has strengthen them leading up to their 30th Anniversary as a unit. In a time where the more things change, the more that stay the same, what BODY COUNT does is MATTER in a time where civil unrest looms due to uncertainty of the future, but helps give a voice to the voiceless and fuels the rage for those who refuse to apologize for thinking consciously.
4.0 Out Of 5.0

Please log in to view RANTS


ROBIN MCAULEY Alive

CRADLE OF FILTH, DEVILDRIVER In Santa Ana With Photos!

KAMELOT The Awakening

ALTER BRIDGE, MAMMOTH WVH In Houston, TX With Photos!

ACID KING Beyond Vision

STEEL PANTHER On The Prowl

NIGHT DEMON Outsider

YNGWIE MALMSTEEN In Ottawa, Canada

THEORY OF A DEADMAN, SKILLET, SAINT ASONIA In Houston, TX With Photos!

OFFICER X Hell Is Coming

PERIPHERY Periphery V: Djent Is Not A Genre

INSOMNIUM Anno 1696

STEEL PANTHER, CROBOT, TRAGEDY In Houston, TX With Photos!

BABYLON A.D. Live Lightning

ROTTING CHRIST, CARACH ANGREN, UADA, GAEREA In Houston, TX With Photos!

MOTÖRHEAD Bad Magic: Seriously Bad Magic

TRAGEDY I Am Woman

ROXANNE Stereo Typical

ANTHRAX, BLACK LABEL SOCIETY, EXODUS In Houston, TX With Photos!