ABORTED La Grande Mascarade


By Peter Atkinson, Contributor
Thursday, April 16, 2020 @ 11:32 AM


| | | |
| --- | --- | --- |
| | | |
ABORTED
La Grande Mascarade
Century Media Records




Death metal vets ABORTED have been ping-ponging between full-length and EP releases for the last decade, after beginning the practice with Goremageddon/The Haematobic in 2003/2004. La Grande Mascarade marks the fifth straight time the band has followed a full-length (in this case 2018's Terrorvision) with an EP, and sixth overall.

Here it serves to mark yet another transition for the band's perpetually revolving lineup – frontman Sven de Caluwé has long been the lone original member – as well as its 25th anniversary. Mascarade follows the departure of guitarist Mendel bij de Leij and the official addition of touring guitarist Harrison Patuto, ex-of VALE OF PNATH, to ABORTED's ranks. It also was meant to help launch the band's spring U.S. tour with NAPALM DEATH, which COVID-19 restrictions effectively quashed, along with just about everything else.

In the end, we end up with three new ABORTED songs and nowhere for the band to play them for the foreseeable future. So glass half full if you're a fan. With Patuto, the Belgium-based band – at least that is where de Caluwé calls home – now boasts three Americans, Californians no less, and Italian bassist Stefano Franceschini, also of HIDEOUS DIVINITY. So ABORTED is doing its part for international relations, if nothing else.

In spite of all this, La Grande Mascarade still sounds very much like what we've come to expect from ABORTED - brutal death metal, often delivered at grindcore-like velocities, yet with a surprising tinge of melody and grandiosity. Indeed, while these are new songs, there isn't a whole lot that feels "new" or that much different here – no weird covers, stylistic divergences or clean vocals and the like. But that is probably just as well, since earlier attempts at experimentation, like 2008's Strychnine.213 album, met with mixed results.

Instead, "Gloom And The Art of Tribulation" gets things started in an absolute shit-storm of blast beats, scream-and-gargle vocals and carpet-bomb riffs – broken up by a hulking doomy/deathcore breakdown passage prior to its furious finish. "Serpent Of Depravity" offers more of the same, with deathcore-y choruses contrasted by a dramatic wash of fleet, black metally trem guitar. And, not surprisingly, "Funereal Malediction" wraps things up in similarly brutal fashion, though with some shreddy, majestic leadwork adding a hint of classiness to the proceedings.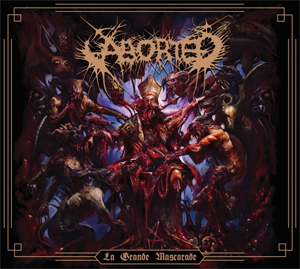 Drummer Ken Bendene – another Californian – drives things with rivet-gun precision, letting loose after the voice-over intro to "Gloom" and alternating blasts, double-bass fusillades and determined chugs. With 10 years under his belt with ABORTED, Bendene is the most veteran member – aside from de Caluwé of course – and is certainly well schooled in the band's modus operandi. Ex-ABIGAIL WILLIAMS guitarist Ian Jekelis, who rounds out the Golden State contingent, seems to be as well, after five years with the group. He shows agility, grace and grit here with his slashing, grinding riffs, elegant sweeps and fleet solos.
de Caluwé is his usual ferocious self on Mascarade. He works the low-end of the vocal range like nobody's business, yet is articulate and discernible, even at his most guttural or grunty. At the same time, his screams and shrieks given him definite range, in a manner of speaking – a nod to his work with the comparatively more melodic SYSTEM DIVIDE/ORACLES - making him one of death metal's most horrifyingly versatile frontmen.
La Grande Mascarade is a well-intentioned EP. Had it not been for the pandemic, I'm sure it would have gotten fans pretty psyched for the tour with NAPALM. Now, unfortunately, it's a souvenir for something that might never happen. Sadly, there's a lot of that going around these days.
3.5 Out Of 5.0

Please log in to view RANTS