THE BLACK DAHLIA MURDER Verminous


By Francisco Zamudio, Metal X Candy 2.0
Friday, April 24, 2020 @ 8:05 AM


| | | |
| --- | --- | --- |
| | | |
THE BLACK DAHLIA MURDER
Verminous
Metal Blade Records




Regardless of whether you were aware or not, Death Metal has been on a steady incline within the past decade or so. With the abundance and combination of amazing releases and tours from both new bands and Old School Death Metal bands, quantity is going just as strong as there is quality, no doubt. A band that has gone nowhere but up since their 2003 debut UNHALLOWED and a band that I believe leads what I would call (if it hasn't been used already) The New Wave of American Death Metal, THE BLACK DAHLIA MURDER have become part of a great and growing example of the Modern and American Death Metal Underground scene that has gained a lot of notoriety as of late. Breaching the new millennium since the heyday of MySpace, the METAL BLADE lifers have had continuous success with 20 years under their belt and now they have reached the point of releasing their 9th full-length album, VERMINOUS.

The nearly unintentional theme surrounding the title VERMINOUS is what Trevor feels reflects what the metal scene is, was and what it always will be. As he explains in an interview I had with him shortly before its release (interview on KNAC.COM HERE) he describes us as, "the rats and roaches and the undesirables creatures that the perfect white-picket fence world doesn't want to acknowledge …spreading the plague of death metal, the hidden knowledge." There's no denying that the world's Extreme Metal scene is made up of free thinkers, survivors and fighters who aren't bound nor limited to what some viral close-minded "new world order" is trying to enforce upon the world.

VERMONIOUS is the second album with guitarist Brandon Ellis (ex-ARISIS) whose contributing efforts also included producing the album. Both in sound and his guitar work really shine through as a continuation from the last album. An amazing display of melody and soloing woven throughout fits a lot of the groove that makes up THE BLACK DAHLIA MURDER's palatable style of Melodic Death Metal. In that respect, the tracks "SUNLESS EMPIRE" and "REMOVAL OF THE OAKEN STATE" are excellent examples of this. Whereas the closing track "DAWN OF RATS" hones in more of their older aggressive style, just like the opener and title track. It's a nice sandwich with meats–and-potatoes that will give you some pleasant "heartburn" (pun intended). Drummer Alan Cassidy's foot-work and blast-beats are some of the best here. Being in the band since 2013, you see how much his presence really solidifies THE BLACK DAHLIA MURDER's sound. Assisting on the drum production of VERMINOUS was ex-bassist Bart Williams who helped record drums for prior BDM records as well. The single, for which they released a video for as well, "CHILD OF LIGHT" has that definite crowd pleasing feel that will go over whenever they get back on the road, which we hope won't be too long from now. Before society came to quite a stand still, they were set to head out on a lengthy tour in the states with TESTAMENT and TOXIC HAOLOCAUST, plus The Netherlands, the Ukraine and many more locations.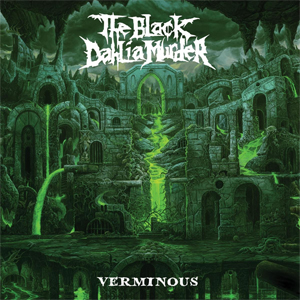 Whether you're a fan of EVERBLACK or perhaps their first 2 albums, you still get a lot of the ferocity on VERMINOUS. If NIGHTBRINGERS was more your taste than this one is certainly for you as well. Swerving into the melodic lane more and more, they still maintain their trademark style that definitely includes a sense of brutality. Strnad exclaims, "we're still extreme… no clean vocals or any signs of selling out… no way man, that's not our style… I couldn't live with that… we want to be one of those bands that is dependable for the fans." Reaching a larger commercial success was certainly something they didn't expect. While it can spell disaster for some bands, that is not the case for BDM. They are actually a great example of how a band and a genre can gain a bit of exposure without compromising its integrity. (*see CANNIBAL CORPSE).
Now more than ever Metal lovers are going into their catalog, old and new, for something to help them get by another day. Regardless if you stream it or preferably actually own the albums (and EPs), during the current state of society where all live music was indefinitely halted, VERMINOUS definitely needs to be part of that soundtrack during our now disputed lifetime where not only was the Metal scene as a whole tested but the world's resilience especially.
4.5 Out Of 5.0

Please log in to view RANTS


ALTER BRIDGE, MAMMOTH WVH In Houston, TX With Photos!

ACID KING Beyond Vision

STEEL PANTHER On The Prowl

NIGHT DEMON Outsider

YNGWIE MALMSTEEN In Ottawa, Canada

THEORY OF A DEADMAN, SKILLET, SAINT ASONIA In Houston, TX With Photos!

OFFICER X Hell Is Coming

PERIPHERY Periphery V: Djent Is Not A Genre

INSOMNIUM Anno 1696

STEEL PANTHER, CROBOT, TRAGEDY In Houston, TX With Photos!

BABYLON A.D. Live Lightning

ROTTING CHRIST, CARACH ANGREN, UADA, GAEREA In Houston, TX With Photos!

MOTÖRHEAD Bad Magic: Seriously Bad Magic

TRAGEDY I Am Woman

ROXANNE Stereo Typical

ANTHRAX, BLACK LABEL SOCIETY, EXODUS In Houston, TX With Photos!