KATATONIA City Burials

By Peter Atkinson, Contributor
Friday, April 24, 2020 @ 8:09 AM

| | | |
| --- | --- | --- |
| | | |
KATATONIA
City Burials
Peaceville Records




Photo credit: Ester Segarra

So the good news is, Sweden's legendary KATATONIA has returned after a roughly two-year hiatus. The bad news? Well just about everything else, am I right? But if there was ever a band to capture the melancholia and sense of isolation or desperation most of us are feeling right now as we are trapped inside and forced to festoon ourselves in protective gear to go to fucking Target, it is these guys, whose earlier work included the now prescient Viva Emptiness and The Great Cold Distance.

I'd hasten to say KATATONIA has come back "rejuvenated" or "re-energized" after the break, since City Burials is perhaps the one-time death/doom band's "easiest listening" work overall – excepting, of course, 2015's live acoustic set Sanctitude - and most somber as a result. But it is definitely evocative and poignant, honest almost to a fault as frontman Jonas Renkse sings of longing and loss with at times discomforting eloquence.

"You're a torch to the temple of depression, Saturnalian curse, these are my heaving words, I will do it all over again to be with you," he offers on "Behind The Blood". Or "The road to the grave is straight as an arrow, I'm just staying around to sing your song, Baby" from the haunting "Lacquer" with its sparse, largely electronic accompaniment echoing NINE INCH NAILS at its most forlorn, a la "Hurt".

City Burials, KATATONIA's 11th full-length, is rife with soul-baring nuggets like those. And while the delivery on "Lacquer" is something of an outlier – though it does repeat on the eerie wispyness of "Vanishers" with guest vocalist Anni Bernard (FULL OF KEYS) harmonizing lines like "wake up to the sound of sorrow" with Renske - the band's performance is certainly more direct and even-handed here than it was on 2016's more progressive-minded – but still superb - The Fall Of Hearts.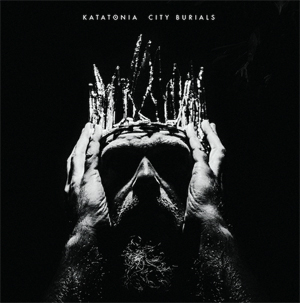 With drummer Daniel Moilanen and guitarist Roger Öjersson settling in for their second album with the band - having joined in 2015 and 2016, respectively - and after a couple of years to pause and reflect, perhaps Renske and co-founding guitarist Andres Nyström, as the primary songwriters, felt more at ease and less like they had something to prove. The songs here are shorter, simpler and less turbulent, though by no means lacking in depth or impact.
The fits of metallic thunder that punctuate "Heart Set To Divide" or "Rein" are more the exception than the rule as KATATONIA opt for an anthemic, hard rock-like approach that is inviting, soothing and at times surprisingly exuberant, in spite of the material's often grim, introspective tidings. Even the otherwise funeral "Vanishers" boasts an enchanting, ethereal chorus – though singing along to "Hey, we're dead now, affinity has been found, below the ground" probably wouldn't be the best idea while waiting on line for whatever is left at the grocery store, six-feet apart or no.
The grand swells of "Flicker", "The Winter of Our Passing" or the somewhat Western-sounding "Neon Epitaph" and "City Glaciers", with their muscular guitars and emphatic washes of keyboards, provide the perfect contrast to the laid-back melodies and bring color to what might otherwise be a rather gray landscape. Somber it may be in spirit, but in the execution City Burials more than resonates and more often than not captivates.
4.5 Out Of 5.0