RON KEEL BAND South X South Dakota


By Andrew Depedro, Ottawa Corespondent
Sunday, April 26, 2020 @ 11:43 AM


| | | |
| --- | --- | --- |
| | | |
RON KEEL BAND
South X South Dakota
HighVolMusic




Big hair! Rambunctious solos! Tours with VAM HALEN, MOTLEY CRUE, AEROSMITH and BON JOVI back in the day! That cover of the PATTI SMITH GROUP's "Because The Night" that was far more exciting than 10,000 MANIACS' 90's MTV Unplugged snoozefest – and 10,000 MANIACS were pretty much unplugged throughout their entire career that an appearance on MTV Unplugged during the 90's was redundant anyway! But you know who else has been turning down the amps slightly while roaming through the decade of flannel on a steel horse they rode to avoid the scrutiny of not sounding like Eddie Vedder or Gavin Rossdale? A young buck by the name of Ron Keel, whose namesake band had corralled four studio albums including their 1985 self-titled and Gene Simmons-produced breakout throughout the peak of their career, earning their own right to rock back in the day, and has since re-invented himself as an archetypical rock 'n roll outlaw (and likely inspired by his own band's 1987 take on the ROSE TATTOO song). Indeed, if Fargo Rock City has taught us 80's metal fans anything, it's that the Sunset Strip, at its peak, bears many similarities with Nashville country from the past five decades or so. It's why Taylor Swift's big break was a duet with DEF LEPPARD. It's why Carrie Underwood has admitted freely to catching a show or two during GUNS 'N ROSES' recent comeback tour. For extra measure, it's also why Phil Anselmo has cut a few albums with Hank Williams III even if that collaboration was more extreme-sounding in parts.

With that said, Ron Keel's foray into a little bit of country and a little bit of rock 'n roll can be traced back to his first official country/Southern rock project IRONHORSE some 20 years ago. Since then, give or take a couple of KEEL reunions in between and his brief DJ stint as the midday host on the hard rock radio station KBAD-FM in his newly-adopted base of Sioux Falls, South Dakota, he's done quite well for himself in the country music scene on his own terms, from fronting the BADLANDS HOUSE BAND (later to be the RON KEEL BAND) to even playing sporadically with members of BROOKS & DUNN among others. Now with his namesake gaining more momentum than ever before, Ron Keel and his bandmates – lead guitarist Dave "DC" Cothern, bassist El Diablo (aka Geno Arce, also a longtime member of KEEL and other Ron Keel projects), Jeff "The Rev" Koller on drums, keyboardist Dakota Scott (the latter two are both members of the South Dakota Rock & Roll Hall Of Fame) and backing guitarists Jason Haven and Steve "Doc" Purcell – have followed up their 2019 debut Fight Like A Band with their swingin' Southern sophomore effort titled South X South Dakota. Featuring 11 tracks of mostly covers of classic Southern rock anthems from Willie Nelson, LYNYRD SKYNYRD, THE ALLMAN BROTHERS, THE OUTLAWS, BLACKFOOT, MOLLY HATCHET, CREEDENCE CLEARWATER REVIVAL, THE MARSHALL TUCKER BAND and fellow Georgians and ATLANTA RHYTHM SECTION, all of which the RKB used to warm up with prior to rehearsing/recording Fight Like A Band and secretly recorded by producer Mike Dresch, SXSD is the bona fide album that'll get a good rise amongst the most fervent of the Southern rock scene.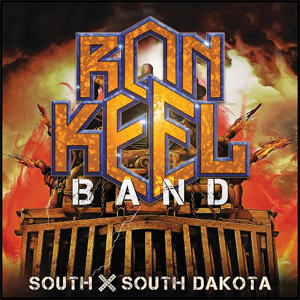 A significant number of SXSD's setlist are thankfully immediately recognizable to the first-time listener unfamiliar with the Southern rock vibe, particularly the opening bangers such as "Train, Train" by BLACKFOOT and .38 SPECIAL's "Rockin' Into The Night". Same can be said of "Flirtin' With Disaster", as all three songs are well-known for both their laid-back groove and swagger and hard rock punch. Keel's normal hard rock voice is tailor-made for those songs and he brings his own melodic and plucky-sounding chops to suit the right vibe. The more conventional classics such as THE ALLMAN BROTHERS' "Ramblin' Man", THE OUTLAW' "Ghost Riders In The Sky" and Willie Nelson's "Mama Don't Let Your Babies Grow Up To Be Cowboys" are also given a well-interpreted makeover by Keel's powerful vocals and the earnest playing of his bandmates, capturing the distinct tone and vibe of the originals. However, it's the presence and the performance of lesser-known numbers on SXSD which allow for RKB to branch out more. Case in point would be LYNYRD SKYNYRD's "Red White & Blue" from their 2003 album Vicious Cycle which, while a slower-sounding tune compared to their 70's output, delivers a solid rendition in the care of Keel and company. Similarly, the cover of the ROSSINGTON/COLLINS BAND's straightforward rocker "Don't Misunderstand Me" is also powerful in its own right thanks in turn to the soulful pipes of Jasmine Cain who duets with Keel on the track. Finally, the album closes with a faithful CREEDENCE CLEARWATER REVIVAL medley that was recorded during a hometown concert, covering "Born On The Bayou", "Bad Moon Rising" and "Fortunate Son" in all of its splendour, the guitar work of DC, Doc and Jason Haven driving the rhythm backed with Dakota's fancy ivory-tickling skills – the perfect teaser for when the band will be able to return to the road to honor the eastern Canadian and Australian tour dates curtailed by COVID-19.

In summary, South By South Dakota brings two of Ron Keel's most cherished music forms to its awaiting crossroads and allows the well-established artist to don both his Stetson high and his leather pants with pride, to finally command his crazy train away from future career derailments.

5.0 Out Of 5.0

https://facebook.com/RonKeel
http://twitter.com/RonKeel
http://twitter.com/RonKeelBand

Please log in to view RANTS


ROBIN MCAULEY Alive

CRADLE OF FILTH, DEVILDRIVER In Santa Ana With Photos!

KAMELOT The Awakening

ALTER BRIDGE, MAMMOTH WVH In Houston, TX With Photos!

ACID KING Beyond Vision

STEEL PANTHER On The Prowl

NIGHT DEMON Outsider

YNGWIE MALMSTEEN In Ottawa, Canada

THEORY OF A DEADMAN, SKILLET, SAINT ASONIA In Houston, TX With Photos!

OFFICER X Hell Is Coming

PERIPHERY Periphery V: Djent Is Not A Genre

INSOMNIUM Anno 1696

STEEL PANTHER, CROBOT, TRAGEDY In Houston, TX With Photos!

BABYLON A.D. Live Lightning

ROTTING CHRIST, CARACH ANGREN, UADA, GAEREA In Houston, TX With Photos!

MOTÖRHEAD Bad Magic: Seriously Bad Magic

TRAGEDY I Am Woman

ROXANNE Stereo Typical