GLENN DANZIG Danzig Sings Elvis


By Ruben Mosqueda, Contributor
Sunday, April 26, 2020 @ 11:45 AM


| | | |
| --- | --- | --- |
| | | |
GLENN DANZIG
Danzig Sings Elvis
Cleopatra Records 2020




In 2015 GLENN DANZIG issued a then new studio album titled Skeletons via Nucear Blast, and it received mixed reviews for two reasons: It was an all covers affair, and the production. Skeletons had a few salvageable moments in AEROSMITH's "Lord Of The Thighs" and BLACK SABBATH's "N.I.B.". Glenn's voice is a little worse for wear these days and the stripped down garage band production didn't really help and frankly more often than not, it ruined that listening experience. He followed Skeletons up with a new all original DANZIG album in 2017 titled Black Laden Crown [Nuclear Blast], wand that effort received favorable reviews which betterd its predecessor. Black Laden Crown was followed by THE MISFITS' successful reunion which resulted in a series of shows, special appearances across North America and a much needed pay day for Glenn, Jerry Only and Wolfgang Von Frankenstein.

Fast forward three years from Black Laden Crown to 2020, Glenn has a new record on a new label Clpatra Records, titled DANZIG Sings ELVIS and it's content is just what it says, it's GLENN DANZIG covering 14 songs that were recorded and made famous by the mighty ELVIS PRESLEY. Those that have followed Glenn's career are aware that he's oftentimes been referred to as 'Evil ELVIS' and he's been talking about recording an all Elvis album for years. Well, now he's finally done it! Is it too little too late, though? What's the song selection? What's Glenn sound like? Is it any good? Well, let's answer all of those questions, shall we? First, you know Glenn has already tackled a couple Elvis tunes in "Trouble", which was on the Demonsweatlive EP [1993] and "Let Yourself Go" on the I>Skeletons [2015] album.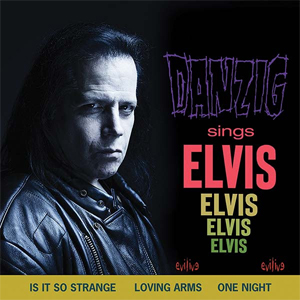 There's 14 tracks in all, though trimming it down to 10 tracks would have been best. There's a handful of 'good' moments on DANZIG Sings ELVIS like "Is It So Strange", "Lonely Blue Boy" A.K.A. "Danny", "Always On My Mind", "First In Line" and "Pocketful Of Rainbows". There's a level of enthusiasm on those songs that the rest of the album is lacking, whereas the vocals bury the rest of the instruments in the mix and the over use of reverb destroys this recording. Glenn has made a 'novelty' album, though not intentionally, as he sounds like a caricature on this record. I know that RICK RUBIN has been accused of not spending too much actual time in the studio with the artists and the records were produced by the engineers. Rubin was however great at helping the artists with song selections and getting the best performances out of the artists. Glenn would have greatly benefited from help in the production of this album, the song selection and the execution. This could have been so much better than the end product. It looked great on paper, and wouldn't it have been killer to have gotten Glenn to recreate the Elvis '68 comeback in the studio? Instead, we get stuff like the borefest "Fever" and cringeworthy "Like A Baby" and "Let's Play House" and a stale, flat, uninspired rendition of "One Night", which was on the '68 comeback. How the hell do you wreck a classic like "One Night"? I'm burying this album in the back yard with the family gerbil.
2.0 Out Of 5.0

Please log in to view RANTS


THE WINERY DOGS, BLACK HEART SAINTS In Houston, TX With Photos!

ROBIN MCAULEY Alive

CRADLE OF FILTH, DEVILDRIVER In Santa Ana With Photos!

KAMELOT The Awakening

ALTER BRIDGE, MAMMOTH WVH In Houston, TX With Photos!

ACID KING Beyond Vision

STEEL PANTHER On The Prowl

NIGHT DEMON Outsider

YNGWIE MALMSTEEN In Ottawa, Canada

THEORY OF A DEADMAN, SKILLET, SAINT ASONIA In Houston, TX With Photos!

OFFICER X Hell Is Coming

PERIPHERY Periphery V: Djent Is Not A Genre

INSOMNIUM Anno 1696

STEEL PANTHER, CROBOT, TRAGEDY In Houston, TX With Photos!

BABYLON A.D. Live Lightning

ROTTING CHRIST, CARACH ANGREN, UADA, GAEREA In Houston, TX With Photos!

MOTÖRHEAD Bad Magic: Seriously Bad Magic

TRAGEDY I Am Woman