LUCIFER Lucifer III


By Francisco Zamudio, Metal X Candy 2.0
Tuesday, April 28, 2020 @ 2:49 PM


| | | |
| --- | --- | --- |
| | | |
LUCIFER
Lucifer III
Century Media Records




There is a feeling you get when you hear a band that is new to you and how great they are, that is nearly indescribable. I have found many great bands from all over the world, both new and old and the enjoyment I get seeking bands to write about is certainly a large part of why I love what I do. When you hear an album that is so good that it creates so much emotion and moments where you're constantly smiling or making that "metal face" (you know, the one you're making right now) and makes you say "WOW! I LOVE THIS!" This is the way I would start to describe LUCIFER. Originating in Germany, the band led by vocalist Johanna Sadonis (ex-THE OATH) have recently released their 3rd album simply titled LUCIFER III. Not only their second effort through Century Media Records but this is also the second featuring drummer and husband, guitarist Nicke Andersson of Swedish Death Metal legends, ENTOMBED. Their unity has created an outstanding and pleasantly dark album.

Everything seems to be right where it needs to be. The music itself does not feel forced at all, nor does it feel like anything is missing. A style that easily straddles both Rock and Metal and rides it well as a modern blend of Doom and Blues rock with so many deep influential roots of the 60's and 70's psychedelic and female-fronted rock era, pushing through the ground to see the (moon)light. Like a cold thin cloud blanketing the night, Johanna's amazing vocals and lyrics layer nicely with Andersson's shuffle and swing drumming and backed by musicians Linus Björklund and Martin Nordin on guiters, and Harald Göthblad who on bass lays down some outstanding yet subtle groove that rounds out this great album.

That crunchy vintage Swedish guitar sound takes classic sounding riffs with songs that go from Bluesy to Rock n Roll. Mix in some pipe organ that found an appropriate window to fit into in the background like the opening track "Ghosts" and you're already off to a haunting start. The songs "Midnight Phantom" and "Flanked by Snakes" give off a retro go-go vibe like something you'd see in a club scene in a 60's psychedelic film, or any song on the album for that matter. LUCIFER III is laced with simply good rock that fits any mood. An album that has everything certainly saw fit to include ballads that are even more beautifully melancholy and somber like songs "Leather Demon" and closer "Cemetary Eyes" which with lyrics like, "come on out, sister!", starts to really let loose and breaks out toward the end. Susceptible to double entendre, the lyrical concepts by Sadonis are romantic, occult, rebellious, awakening, liberating, evil yet soothing. Nine spells with song-titles like those mentioned plus "Coffin Fever" and their name-sake, "Lucifer" – speak to you from beyond as it drifts through your speakers and will conjure up a lot solemn emotion.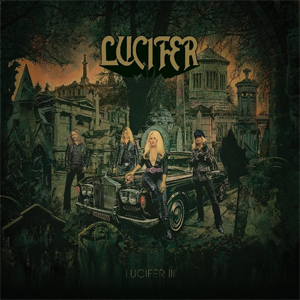 A retro sound like theirs seems to be embraced more and more these days. Counter to the gimmick of popular mainstream bands, LUCIFER embraces the dark underground and has had a great amount of success. With LUCIFER II having been nominated for "Best Hard Rock/Metal album" by renowned Swedish Radio Price P3, and "Hard Rock/Metal act of the year" by Gaffa Price Sweden and LUCIFER III currently holding a top 10 in Sweden and Top 20 in Germany – not bad for a 5 year old band and only 3 albums under its studded belt.
Well-seasoned Rock fans can spot similarities and influences in LUCIFER's music. That may very well be what makes this music so magnetic. It is certainly not the only thing. My first and highly pleasant experience with LUCIFER goes so much deeper. I can't remember an album that has made me feel something. This new earthy and spiritual element that LUCIFER has created with their latest has an important factor in it. It makes you feel. I hope you're comfortable with Darkness because LUCIFER III is certainly that. HAIL LUCIFER!
5.0 Out Of 5.0

Please log in to view RANTS


THE WINERY DOGS, BLACK HEART SAINTS In Houston, TX With Photos!

ROBIN MCAULEY Alive

CRADLE OF FILTH, DEVILDRIVER In Santa Ana With Photos!

KAMELOT The Awakening

ALTER BRIDGE, MAMMOTH WVH In Houston, TX With Photos!

ACID KING Beyond Vision

STEEL PANTHER On The Prowl

NIGHT DEMON Outsider

YNGWIE MALMSTEEN In Ottawa, Canada

THEORY OF A DEADMAN, SKILLET, SAINT ASONIA In Houston, TX With Photos!

OFFICER X Hell Is Coming

PERIPHERY Periphery V: Djent Is Not A Genre

INSOMNIUM Anno 1696

STEEL PANTHER, CROBOT, TRAGEDY In Houston, TX With Photos!

BABYLON A.D. Live Lightning

ROTTING CHRIST, CARACH ANGREN, UADA, GAEREA In Houston, TX With Photos!

MOTÖRHEAD Bad Magic: Seriously Bad Magic

TRAGEDY I Am Woman