WARBRINGER Weapons of Tomorrow


By Alex Yarborough, Orlando Contributor
Wednesday, May 13, 2020 @ 10:52 AM


| | | |
| --- | --- | --- |
| | | |
WARBRINGER
Weapons of Tomorrow
2020 Napalm Records




"We will wipe away all your earthly pain and sorrow. Yes, we'll build a brighter future with the weapons of tomorrow..."

If the weapons of yesterday were so brutal, imagine what the 'weapons of tomorrow' will bring us. Blasting onto the scene in 2004, California's WARBRINGER has since been delivering quality thrash/speed metal to the masses, and now unleashes their sixth album, the contemporary and vicious Weapons of Tomorrow. Frontman and vocalist John Kevill leads his group with secret "weapon" multi-instrumentalist and drummer Carlos Cruz, along with guitarist Chase Becker, guitarist Adam Carroll and new bassist Chase Bryant.

The build up to this release was long, as the band already toured months ago in promotion of it. They have also released multiple songs as singles, including "Firepower Kills", a real beast of an opening track, and certainly one of the best songs the band has ever written. "Firepower Kills" finds Kevill utilizing a WWI-era machine gun as inspiration (and the starting point) for the evolution of technology in war. Second track "The Black Hand Reaches Out" is another quality song, focusing on the ethos of the secret Serbian military group. (Video on KNAC.COM HERE). Solos from Becker and Carroll complement the song. "Crushed Beneath The Tracks" utilizes a tank metaphor for the weeding out of the weak. "Defiance of Fate" slows things down for the first time, allowing a little mood to filter in along with Kevill's vocal stylings. Carlos Cruz played the guitar solo on the song. What a fantastic track, and the longest on the album. I would have been tempted to save this song for the closing of the album, but there is another track that fills that space quite well.

"Unraveling" focuses on a soldier's insanity and sees the band return to blast beats and speed metal; John Kevill simply annihilates here. The equally blistering, yet deeper "Heart of Darkness", is inspired by the 1899 Joseph Conrad novella of the same name. (That story was also an inspiration for the 1979 film Apocalypse Now). Nuclear war themed "Power Unsurpassed" is classic thrash, while sci-fi tale "Outer Reaches" explores time travel. "Notre Dame (King of Fools)" utilizes the fire in the Paris cathedral last year as an analogy for the state of the world. Blast beats unite with thoughtful passages on this track. The final track is the most chilling song here, however. There is a reason the epic "Glorious End" was saved for last. This song tells of war from a first-person point of view, and features a dialogue between a father and son throughout the lyrics. Kevill describes the song as having "a cruel twist of irony, as the protagonist's bravery is rendered useless by the horrific new weapons of his time, and he questions the virtues of his father as he dies." If you don't respect WARBRINGER after hearing this song, move along, this band is not for you.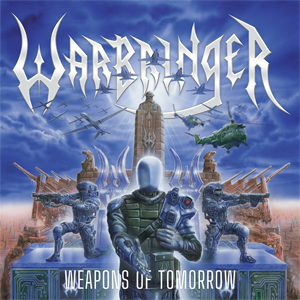 In my review for the band's last album, Woe To The Vanquished, I wrote that I thought it would "place them in the upper echelon of the American thrash scene". This has come to fruition, not because of a lack of competition, but because WARBRINGER is that good. WARBRINGER's war and battle themes have always been hallmarks, and that's no exception on Weapons of Tomorrow, as there are songs about modern warfare, history, drones, secret militaries, science fiction, and more. One of the reasons I like WARBRINGER so much is that they don't jerk around and waste your time. The songs get right to the point, and make a point. Weapons of Tomorrow was written almost entirely by John Kevill and Carlos Cruz, with additional input from Adam Carroll. What a fantastic job, as these songs are well-written. Honestly, there's not a bad track here. Chase Becker and Adam Carroll provide some very enjoyable riffs and solos, while new bassist Chase Bryant is undoubtedly an upgrade for this band. Carlos Cruz remains the band's biggest gun, and his drumming is fantastic as always.
There are 10 songs on Weapons of Tomorrow, clocking in at just over 51 minutes, making it the band's longest album thus far. The production is crisp and clear. The cover art by Andreas Marschall (BLIND GUARDIAN, OBITUARY, KREATOR) renders this a complete package.
I've had the opportunity to see WARBRINGER live several times, including last year promoting the upcoming release of this album. Do yourself and favor and see this band live, as they put on an incredible, high energy show powered by frontman John Kevill. His lyrics and vocals are what contenders in the genre are lacking. He absolutely lives to whip the crowd into a frenzy with his piercing voice and enthusiasm. Last year's tour with ENFORCER ran for 54 dates in a row, with no days off. I run into metal fans all the time that don't know WARBRINGER. They are vital to keeping the thrash scene alive and you should know they have been consistently releasing great albums. Weapons of Tomorrow is no exception. It is available now from Napalm Records.
5.0 Out Of 5.0

Please log in to view RANTS