THE STEEPWATER BAND Turn of The Wheel


By Shelly Harris, Chicago Contributor
Monday, May 18, 2020 @ 8:52 AM


| | | |
| --- | --- | --- |
| | | |
THE STEEPWATER BAND
Turn of the Wheel
Diamond Day Records




THE STEEPWATER BAND definitely have their foot on the gas with new (and seventh) studio album, Turn of The Wheel, just released April 24. This primo electric roots/hard rock quartet emerged from Chicago in the new millennium, and, while garnering lots of local attention and an ever growing following in the US and abroad, their progression and success has actually been a slow, building, burning locomotion that is really just now about ready to burst into flames.

Clearly, with each progressive step, the band, which also constantly and extensively tours the US and Europe, has perfected its craft while also continuing to defy genre classification. Turn of the Wheel - as with the band's past work - is a new-fangled spin on classic British Electric Blues and Hard Rock, amped-up American Roots Rock, and a unique blend of grungy, bluesy, funky experimental Country on steroids. Yet, when you hear it on the classic rock radio stations - where it is getting some airplay - it fits right in to the degree that you will think, Okay, This band sounds familiar - but who is it?

And, this time, THE STEEPWATER BAND - consisting of the two original members Jeff Massey (lead vocals, lead guitar) and Joe Winters (drums), along with Eric Saylors (guitars and lap steel) and new bassist Joe Bishop - has distilled the playlist to a tight and compact perfection. All cylinders are smoking on the 11 tracks (one is a bonus CD track), with each cut as equally catchy, hooky, and unique as the next, and yet leaving room for musicianship par excellence.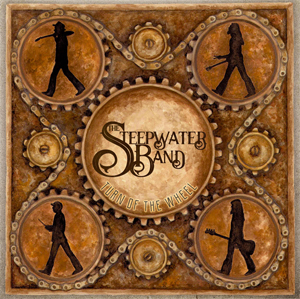 While lead guitarist and vocalist Massey had generally been the primary songwriter during most incarnations of the band, this time all four members contributed to the jaw-droppingly eclectic mix. The band's press info also indicates that "this time around there are a few guest musicians - longtime Eddie Money keyboardist Chris Grove, percussion by the band's old friend Freddy Gonzalez, and for the first time ever on a TSB record, a saxophone cameo by Terry "Sonny Lee" Tritt."
Like many other musicians/bands, THE STEEPWATER BAND has had to cancel or postpone its spring/summer tour in the US and even festival gigs in Europe in support of the new album. But, as the band's drummer Joe Winters elaborates, the band decided to go ahead and release this album anyway. "We had so much good touring set up for this record. Our agent wanted us to cancel the release but we are going through with it. If anything, let the people listen at home while they are home and get excited to come see us when we come to their town."
Indeed, the album is as true an instant rock classic as you will find in the 21st Century so far. As one of the songs below goes, "you won't regret any time you've spent" with this top tier recording from Chicago's best.
5.0 Out Of 5.0

Please log in to view RANTS