MAD HATTER Pieces Of Reality


By Alex Yarborough, Orlando Contributor
Wednesday, June 17, 2020 @ 6:48 AM


| | | |
| --- | --- | --- |
| | | |
MAD HATTER
Pieces Of Reality
2020 Art Gates Records




Back in 2018, Swedish power metal band MAD HATTER arrived with their top notch self-titled debut album. It's two years later, and the band recently released their sophomore album Pieces of Reality. Frontman/guitarist Peter Hjerpe, drummer Alfred Fridhagen and bassist Magnus Skoog are joined by new guitarist Deniss Eriksson.

Similar to the debut, Pieces of Reality has an intro, but this time it's a separate track from the first song. "Fever Dreams" features the Mad Hatter laughing maniacally, and he's clearly succumbed to madness. The song segues the first full track "Master of The Night", which acts as an introduction to the album. The escalation of momentum in this track is well done, and by the three minute mark, is rocking along. "Queen of Hearts" is a masterful speed metal anthem, and is a standout track on this album. Along with the dreamy riff and keyboards accents of "Rutledge Asylum", these tracks are quintessential MAD HATTER, featuring references to Alice's Adventures In Wonderland.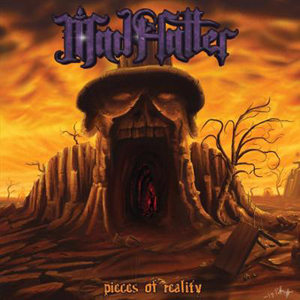 "The Children From The Stars" is up-tempo speed metal all the way, featuring faster than light drums from Alfred. That leads to the title track "Pieces of Reality", a great combination of riffs, speed and catchy melodies. "The Valley" is an interesting track that features flamenco guitar flourishes throughout. "Ignite" is an ode to self-affirmation with plenty of commercial appeal (video on KNAC.COM HERE). "Awake" is another substantial track with both commercial passages and up-tempo speed metal components intertwined. "Collector of Souls" is a killer speed metal hymn. The album ends with one of its best songs, the anthemic sing-along "I'll Save The World", which features an exquisite guitar solo.
The 11 songs on Pieces of Reality clock in around 47 minutes. The production is once again first rate. Pieces of Reality is a solid slab of European power metal. Peter, Alfred, Magnus and Deniss all play their hearts out on this album, and the songs have enough of a sci-fi and fantasy angle to keep even the most jaded fan entertained. Again, I highly recommend this band and album to fans of EDGUY, STRATOVARIUS, GAMMA RAY and HELLOWEEN. Pieces of Reality is available now from Art Gates Records.
4.5 Out Of 5.0

Please log in to view RANTS