ONSLAUGHT Generation Antichrist


By Peter Atkinson, Contributor
Sunday, August 9, 2020 @ 8:41 AM


| | | |
| --- | --- | --- |
| | | |
ONSLAUGHT
Generation Antichrist
AFM Records




With all the tumult and drama that has happened since British thrash vets ONSLAUGHT offered album number six, aptly titled VI, in 2013, it's rather amazing that the band is still around to issue a seventh album. Yet here we are, seven years after VI – and just four months after an ongoing series of lineup changes concluded with long-time vocalist Sy Keeler departing once again – with Generation Antichrist, arguably the band's fiercest, feistiest work since it regrouped in 2004 after a dozen-some year hiatus.

Only founding guitarist Nige Rockett and bassist Jeff Williams remain from the VI lineup – three second guitarists and a drummer have come and gone in the interim. And the band managed to overcome a disastrous U.S. tour in 2014 during which ex-ANTHRAX frontman Neil Turbin filled in for Keeler and things went south from the get-go.

New vocalist Dave Garnett has filled in for Keeler during shows as well, but with obviously more favorable results. ONSLAUGHT really doesn't miss a step with him onboard. The two are cut from similar cloth, so this is not another In Search Of Sanity situation where Keeler is giving way to a warbler like Steve Grimmett – a move that prefaced the hiatus referenced above. Garnett's voice may be a bit less gritty and raw, but he is a more forceful singer and easily able to project above the din here with authority.

And there is plenty of din to be had. Generation Antichrist is lean, mean, fast and furious pretty much from top to bottom. The intro-ish "Rise To Power" makes an accurate opening statement as it builds to a roar before the band really lets loose with "Strike Fast, Strike Hard" and its "Arise"-like clipped riffing and the hardcore-tinged crunch of "Bow Down To The Clowns" with its ear-wormy, shout-along chorus. "The greatest fucking show in town", indeed. "Addicted To The Smell Of Death" takes a similar approach later on, and packs much the same wallop.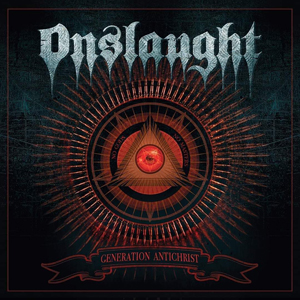 The title track eases back on the velocity, but delivers more chug to make up for it, as does "All Seeing Eye" and its truly mammoth Bay Area-style hooks, which recall EXODUS. The epic "Empires Fall" is the one other track here that isn't balls out from the start. But it too crunches along mightily before the album closes with the sacrilegious fury of "Religiousuicide" - which sounds a bit like LAMB OF GOD channeling DEICIDE - and the buzz-sawing, bottom-heavy MOTORHEAD tribute of sorts, "A Perfect Day To Die".
ONSLAUGHT gets a huge boost on Antichrist from the resounding production work of Daniel Bergstrand – who's worked with BEHEMOTH, DIMMU BORGIR, DARK FUNERAL, MESHUGGAH, etc. The album's sound is crisp, punchy and super heavy, nicely capturing the aggression and tenacity of the performances. The new blood certainly seems to have given the band a boot in the ass here, and Bergstrand has managed to not only get it all on tape – or a hard drive or whatever – but ensure that it comes through on the finished product.
Given all the preceded it, Antichrist very easily could bore the sound of a band either playing out the string or making one last desperate shot to hang on. Instead, it's rambunctious, fresh and surprisingly vital. Whether this lineup can hang together long enough for ONSLAUGHT to try to capture lightning in a bottle twice certainly remains to be seen. But once will definitely do for now.
4.0 Out Of 5.0

Please log in to view RANTS