MAD MAX Stormchild Rising


By Andrew Depedro, Ottawa Corespondent
Saturday, August 15, 2020 @ 11:12 AM


| | | |
| --- | --- | --- |
| | | |
MAD MAX
Stormchild Rising
Steamhammer/SPV




For a band who've been cranking out some slick-sounding melodic hard rock while packing the arenas in their native Germany and throughout the thunderdome of the Old Continent for close to 40 years, MAD MAX are only slightly known over here amongst a few of their North American hard rock cohorts. With a deeply-ingrained melodic hard rock sound driven by haunting guitar riffs, catchy vocals and a rhythm section with an infallible timing, the band draw many tonal similarities to bands such as PRETTY MAIDS and PINK CREAM 69 to name a few of their EU AOR peers here. And while much of their lack of intercontinental success had been due to a 12-year hiatus between the release of 1987's Night Of Passion and their 1999 comeback album Never Say Never, the quartet – comprised of Michael Voss (lead vocals, lead guitars), Jürgen Breforth (rhythm guitars), Thomas "Hutch" Bauer (bass, vocals) and Axel Kruse (drums) – have coursed their 20-year comeback with one of their musically strongest albums to date with their 13th studio album Stormchild Rising.

Granted, while MAD MAX are a relatively new band to many of us both reading and having written this review, Stormchild Rising is definitely an album that harkens back to the band's early raw melodic sound, paying its homage to the bygone era of the 80's while successfully emerging as a well-rounded album in its own right. Like its predecessor albums and indeed the whole contour and mission statement of the band itself, Stormchild Rising isn't so much looking to push musical boundaries further to reach a broader audience as it is in maintaining the current loyal audience that it already has, and given that the album pays its tribute to MAD MAX's slightly similarly-titled 1985 album Stormchild, named after the band's warrior character known for fighting on the side of everything good, it was only fitting that in these coronavirus times that a revival came full circle here. "On our last tour we talked to fans from lots of different countries every night and found out that they don't want us to experiment, they want to hear exactly the kind of songs that MAD MAX have been known for since 1981," alluded Jürgen Breforth on the band's last jaunt supporting 2018's Thirty 5. And while experimentation has been beneficial in helping a band foster and grow, so has loyalty to the fans that have given the band an audience in the first place. The album's first single "Hurricaned" is proof of this with its Blackmore-inspired opening riff as it takes on a life of its own as a modern-day RAINBOW track on steroids, even roping in its current frontman Ronnie Romero (whom the band had toured with) to share vocals with Michael Voss. It's such an endearing musical homage to RAINBOW that you almost forget that it's also a socio-critical message about what Breforth describes as "a veritable hurricane of media overkill".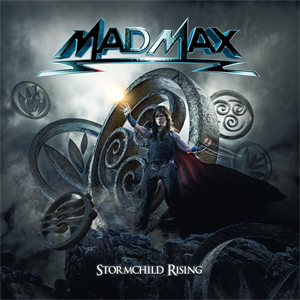 Other surprise collaborations throughout the album include a mesmerizing rendition of "The Blues Ain't No Stranger" which sees the band experimenting with more rustic slow blues overtones and a haunting guitar solo by STRYPER's Oz Fox (who'd also toured with MAD MAX during the 80's) and a soaring cover of ROUGH CUTT's "Take Her" featuring shared vocals by Paul Shortino himself. And closing out the album is an alternate single edit of the Hysteria-era DEF LEPPARD-sounding "Ladies And Gentlemen" whose German version features a neat collaboration with children's song star Detlev Jöcker and students of a German music school who sing their rendition of the chorus in German.
For those of us who truly take MAD MAX's ethos of straightforward no-nonsense reliable hard rock to heart, the aforementioned "Hurricaned", "The Blues Ain't No Stranger" and "Take Her" alongside the power-friendly "Talk To The Moon", "Kingdom Fall", "Mindhunter", "Gemini", "Rain Rain", "Busted" and the original version of "Ladies And Gentlemen" are the songs in particular that continue to meet that criteria and round off the album nicely.
So, while MAD MAX's nearly 40-year career hasn't immediately sprogged maddening heights of worldwide success, they've otherwise maintained the support of their familiar fans and even grown their family thanks to the high-speed energy and resurgence of Stormchild Rising. Guess Tina Turner was wrong about us needing another set of heroes after all.
5.0 Out Of 5.0
https://www.facebook.com/MADMAXBand/

Please log in to view RANTS