ACE FREHLEY Origins Vol. 2


By Andrew Depedro, Ottawa Corespondent
Thursday, September 10, 2020 @ 12:32 AM


| | | |
| --- | --- | --- |
| | | |
ACE FREHLEY
Origins Vol. 2
eOne Entertainment




When it comes to lending a hand on some of rock's strongest musical suits over the past four decades, KISS co-founder and 2014 Rock and Roll Hall of Fame inductee Ace Frehley doesn't shy from showing his true poker face. Granted, even having been dealt a few bad hands during his tenure with the band over the years, Ace has been a solid solo player in his own right, having thrown down eight solo albums – among them the follow-up to 2016's Origins Vol. 1, his first Freh-styling homage to his musical roots, titled, well, Origins Vol. 2. But what the album may lack in creativity in terms of a good title, it makes up in some creative covers with the indelible Ace stamp for good measure, with his own past history of cover versions having come with relative ease.

Opening with a decent cover of LED ZEPPELIN's "Good Times Bad Times" with a few extra lines added in the closing refrain, Ace sets the overall tone and pace of the entire album with his own hand-picked selection of songs he used to cover during his early club days. Whether he's handling a common number such as the STONES' "Jumpin' Jack Flash" or a deeper cut such as PAUL REVERE & THE RAIDERS' "Kicks", Ace's own rendition on any song he takes on is guaranteed to keep your attention throughout. A case in point would be his takes on MOUNTAIN's "Never In My Mind" and CREAM's "Politician", both of their heavy bottom-end rhythm and groove sound, which can be easily identified in much of KISS' own early work – particularly on 1974's "Strange Ways" – and are finally brought to the helm in Ace's version. "Politician" in particular features both Frehley and Origins Vol. 1 returnee John 5 each filling in on ERIC CLAPTON's dual solos up until the cross-fade and makes the performance all the more spellbinding. John 5 also makes another appearance on the cover of THE BEATLES' "I'm Down" and lays out a series of jumping riffs and solos that were the obvious blueprint for "Let Me Go, Rock 'N Roll".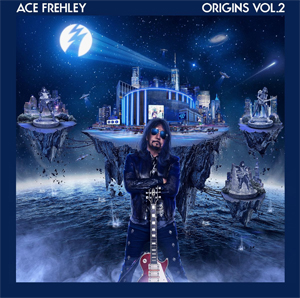 Other noticeable appearances throughout the album include LITA FORD handling vocals on "Jumpin' Jack Flash", CHEAP TRICK's Robin Zander doing his take on HUMBLE PIE"30 Days in the Hole"Bruce Kulick lending his chops on a garage rock version of JIMI HENDRIX's "Manic Depression". You can hear the influences from all of those classic songs resonate so impeccably throughout this album that it only made sense for it to end with Ace covering his own composition afterwards as 1975's "She" is given an appropriate rebrand, from the groove-laden opening chords to the drum solo break and Ace's slithering solo in between.
Throughout his career both with KISS and as a solo artist, Ace Frehley often played his dealt hand well even with the gamble of his own voice sometimes getting lost in the proverbial shuffle. With Origins Vol. 2 continuing in the tradition of playing some of his life's soundtrack anthems close to his chest, Frehley is finally making his own enjoyment of his influences and musical inspirations more of a bigger deal to both himself and his fans – a feat that he's succeeded here in spades.
5.0 Out Of 5.0
http://acefrehley.com/index.php
https://www.facebook.com/officialacefrehley
https://twitter.com/Ace_Frehley

Please log in to view RANTS