SIX FEET UNDER Nightmares Of The Decomposed


By Ruben Mosqueda, Contributor
Tuesday, September 29, 2020 @ 12:18 AM


| | | |
| --- | --- | --- |
| | | |
SIX FEET UNDER
Nightmares Of The Decomposed
Metal Blade 2020




Ruben Mosqueda SIX FEET UNDER is the Tampa Florida based death metal band that rose from the ashes of CHRIS BARNES' departure from CANNIBAL CORPSE. That was a huge deal in the world of death metal. Like with some of our favorite bands that have made changes on lead vocals there are camps that side with one side or the other, usually never both. It's childish, I checked both bands out, though I leaned toward SFU simply because I had grown accustomed to what Barnes was doing vocally. SFU released a string of absolutely pummelling records starting with Haunted [1995], then continuing with Warpath [1997], Maximum Violence [1999], True Carnage [2001] and Bringer of Blood [2003] and let us not forget their Graveyard Classics series, where SFU covered some of your favorite classic rock and metal staples and 'brutalized' them. They even tackled AC/DC's Back In Black top to bottom, if you can imagine that?

I stepped away from SIX FEET UNDER in 2008 after the release of Death Rituals. That was the last album with the classic rhythm section of TERRY BUTLER and GREG GALL. I really liked that record, they did a very cool cover of MOTLEY CRUE's "Bastard" on that album. I saw the tour that followed to promote the record and it was absolutely brutal, as expected. 'Things' transpire in people's lives where you need some 'uplifting' music in your life. I didn't turn to death metal, for me when I'm bummed out, depressed it's just not something that helped matters. Eventually you get past that stuff and you are ready to delve back into death metal. It was 2015 and the latest album was Crypt Of The Devil which featured the band CANNABIS CORPSE as Barnes' backing band. What a time to come back, huh? I felt like RICK GRIMES when he awoke in the hospital bed only to find out while he was in a coma the entire world had 'turned'. It was "just alright dog" to me, but it didn't have the band flavor anymore and then came some more uneven albums.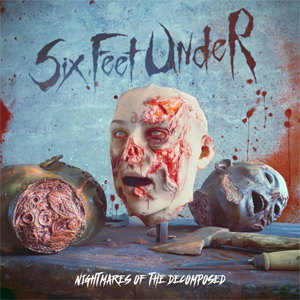 This brings us to the new album Nightmares Of The Decomposed, the band's 17th record, and this continues the revolving door of session musicians with JACK OWEN of CANNIBAL CORPSE and DEICIDE fame on guitar. You'd think that would have raised the bar on this thing right? Well, perhaps musically it might have salvaged some of this album, as the proof is heard on the opener "Amputator", which is an energetic monster that just runs you over, then Barnes' vocals come in and you have to check if you're listening to an outtake. If you know Barnes you know that he is known for trademark 'demonic' vocal and his squeals that sound like a live pig getting shoved into a wood chipper rear first. Still I liked that, it was original, unique and stuff. What Barnes is doing now is akin to what has happened to a lot of some of our favorite musicians, father time, health or in some cases both kick your ass.
I see a lot of parallels in what we have seen happen to DON DOKKEN with CHRIS BARNES, the voice has eroded over time, the records have suffered as a result, the material isn't up to snuff and he's found himself fronting a band in name alone, because now it's a bunch of scabs. It pains me to make that comparison, but it's just how it is. One of the tunes that makes the state of Barnes' vocals clear is the track "Zodiac" his vocal is isolated on the tune and you just cringe. The best song on the album has to be "Without You Life" which is a classic SFU title, but the repetition kills it a little bit for me. The same can be said for "Dead Girls Don't Scream" and "Drink Blood Get High". Great titles...too many predictable mentions of the title in the lyrics. In closing, I say Chris you have got to stop, this is coming from a place of love. Then again what the fuck do I know? I just write.
2.0 Out Of 5.0

Please log in to view RANTS