VENOM PRISON Primeval


By Peter Atkinson, Contributor
Tuesday, October 13, 2020 @ 11:43 AM


| | | |
| --- | --- | --- |
| | | |
VENOM PRISON
Primeval
Prosthetic Records




The Welsh quintet VENOM PRISON has perked up a lot of ears in the underground over the past couple years on the strength of some of the most harrowing, unflinching and smartest death metal around. Led by fearsome frontwoman and Russian native Larissa Stupar, the band deals in the usual tropes of violence and torment, but does so by flipping the script on the misogyny that often goes along with it, directing the threats and action back at the men who would "Strip, Rape and Strangle" or "Bind, Torture, Kill" - to borrow from CANNIBAL CORPSE - and sometimes in the same gleefully explicit terms.

"Castration, genital mutilation, perpetrator elimination, fucking die," Stupar spits on "Perpetrator Elimination" from the band's 2016 full-length debut Animus where a rape victim turns the tide on her attacker by slicing off his junk and force feeding him the offending equipment. Just such an operation is depicted on the album's cover. VENOM PRISON's 2019 follow-up Samsara may have been a bit more esoteric in its subject matter, but it delivered the message with equal vitriol and a soundtrack made all the more punishing after a couple of years of touring experience.

Fast forward to the present, and the band - like just about everyone else to a certain degree - is stuck in COVID-induced limbo. So VENOM PRISON has taken the time to go back to the future - or something like that – and re-record the EPs Defy The Tyrant and The Primal Chaos that were self-released in 2015, before the band inked its deal with Prosthetic Records for Animus. The aptly titled Primeval brings all that material together onto one full-length, along with two new songs.

Given that the band has only been around for six years, Primeval doesn't really demonstrate the sort of exponential sonic growth you sometimes see when a more veteran band revisits its earliest days. Indeed, if anything, the album shows VENOM PRISON had a pretty keen sense of what it was after from the get-go and has been honing and maturing its music ever since to make it all the more incendiary.

"Usurper Of The Throne" leaps right down your throat as Primeval opens, delivering a 2:22 beatdown that ably sets to tone for pretty everything else to come. In the time since, VENOM PRISON has been moving away from the deathcore trappings – the lurching breakdowns, guttural vocal accompaniments, etc. - that are in greater abundance on Tyrant and Chaos. But as evidenced by "Usurper" that is all delivered here with gusto by the band, which seems to have done little if any tinkering with the source material on the second go-round, other than give it a more muscular production.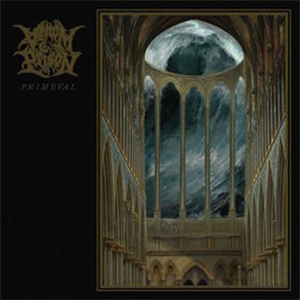 Tyrant's "Mortal Abomination" and title track introduce industrial/ethereal overtones that offer a haunting moodiness most welcome amid all the bludgeon – even if there is still plenty of screaming going on the part of Stupar, whose vocals resemble a volatile mix of Jeff Walker (CARCASS) and Angela Gossow (ex-ARCH ENEMY) most of the time. Though often fleeting, these moments and movements, which are given greater prominence and with more restrained vocals on both of the new tunes introduced here - "Defiant To The Will Of God" and "Slayer Of Holofernes" - recall the woefully underrated and sadly short-lived FEAR OF GOD, whose 1991 debut Within The Veil is an absolute classic that was way ahead of its time.
The new tracks also bring with them more complexity and depth, weaving tech death and hints of black metal in their abrupt sprints and topsy-turvy arrangements that - when teamed with the mood swings mentioned just above - lend the band's brute force delivery something of an air of sophistication. Not that there was anything particularly wrong with VENOM PRISON's brute force delivery as it was. The EP material may boast a modestly better sound here thanks to the studio polish and more finely honed chops that have come with time and experience, but the songs all had "good bones" to begin with. Their innate intensity and tenacity was undeniable coming out of the blocks, and with Stupar leading the charge VENOM PRISON has been able to take those bones build a death metal monster to be reckoned with.
4.0 Out Of 5.0

Please log in to view RANTS