CARCASS Despicable EP


By Peter Atkinson, Contributor
Wednesday, October 28, 2020 @ 2:20 PM


| | | |
| --- | --- | --- |
| | | |
CARCASS
Despicable
Nuclear Blast Records




One of the prevailing questions that has lingered almost since the day CARCASS released its masterful comeback album Surgical Steel in 2013 has been "will there be a follow up?" Seven years later, the answer appears to finally be "yes", we'll just have to wait a bit longer, thanks to COVID.

The band announced early this year that a new album dubbed Torn Arteries would be issued in August. But with the pandemic raging - and showing no signs of "magically disappearing" - CARCASS opted a couple months later to push the new album back until "there's some kind of return to 'normality'", which will hopefully be next year. But who the fuck knows. In the interim, it is offering up a stop-gap option in the form of Despicable, a four-song EP of leftovers – kind of like what the band did with 2014's Surgical Remission/Surplus Steel, though that was issued a year after Surgical Steel.

Surgical Steel was a ferocious, cohesive, laser-focused beast of an album. Of the Surplus tunes, only "Intensive Battery Brooding" – which was actually included as a bonus track on some versions of the Steel – could really match the tenacity and verve of what made the final cut on Steel, and that largely thanks to its furious finale. Still, the other tunes were decent, if somewhat staid.

Not sure what Torn Arteries has in store, although the title alone – a nod to a bedroom demo tape recorded way back when by original CARCASS drummer Ken Owen, who unfortunately was sidelined by a cerebral hemorrhage long before the band reformed - certainly sounds promising. The band did issue a stand-alone single, "Under The Scalpel Blade", as a flexi-disc via Decibel Magazine last December, but as such it might not be indicative of the direction Torn Arteries will take.

At the time, guitarist Bill Steer noted that when it comes to a new album, "there's nothing valid to say if we're going to do a retread." Yet there is a distinctly familiar ring to "Scalpel Blade" which is featured on Despicable. Indeed all four tracks seem to take something of a look back instead of making a forward sonic lean. With its beefy riffs and trudging tempo punctuated by blasty parts and sleek lead work, "Scalpel Blade" harks back to the band's Heartwork era. The more progressive "The Living Dead At The Manchester Morgue" that opens the EP recalls 1991's Necroticism – Descanting the Insalubrious with its technically inclined tangle of guitars and constantly shifting tempos – not to mention a cool, uncharacteristically bluesy solo. But the song drags on for too long as bassist/frontman Jeff Walker over-annunciates the chorus – "Let … the … sleep- … ing … corpses … lie" – time and again.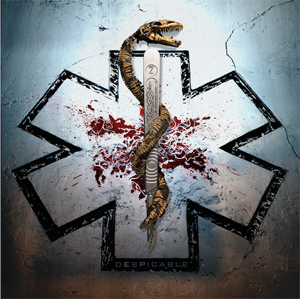 "The Long And Winding Bier Road" and "Slaughtered In Soho" bring to mind 1996's divisive Swansong album with their catchy, traditional rock song structure and more laid back delivery. Indeed, if it weren't for Walker's typically scabrous vocals, they would be downright radio-friendly. "Bier Road" – which finds the band again having a bit of a laugh at the expense of fellow Liverpudlians THE BEATLES - is awash in engaging hooks and simple, snappy riffs, as is "Soho" which also boasts infectious THIN LIZZY-like guitar harmonies from Steer and new recruit Tom Draper, if indeed Steer didn't handle all the guitars himself, as he did on Steel.
But where Swansong's mainstream vibe felt awkward at best and forced at worst, both of these songs sound more natural and inspired. They might not match the vigor and raw power CARCASS displayed on Surgical Steel, but they are nowhere near as drab as Swansong's seemingly half-hearted waffling.
And that's all well and fine for what that band is freely admitting Despicable is – not so much a sampler to whet our appetites, but a bowl of scraps left out in case we want them. I suspect most fans will expect something more zesty and appetizing from Torn Arteries – and hopefully CARCASS will be able to deliver. Whenever that may be.
3.0 Out Of 5.0

Please log in to view RANTS