PRIDE OF LIONS
Lion Heart
Frontiers Music Srl - 2020




From the very start of PRIDE OF LIONS, I've been hooked on the band's music. The self-titled debut and the follow-up release The Destiny Stone still stand out to me as prime examples of what the "melodic rock" genre has to offer.

It's been seventeen years since the release of PRIDE OF LIONS and besides those first two albums, there has been three more studio albums and a live release. I've got them all and for the most part, I find them quite enjoyable each time I play them.

But in a strange kind of twist, I didn't even know that PRIDE OF LIONS was releasing this new album Lion Heart until just a couple weeks before the CD came out. Either it was a stealth release or I just missed out on a news announcement. But regardless, once I learned of the impending release, I immediately knew I was going to be buying it.

I've been a fan of Jim Peterik since he was in SURVIVOR and my fandom has always paid off. He writes some of the best melody-infused rock and roll tunes. And with Lion Heart, that streak continues.

Between driving rockers to heart-rending ballads, Peterik and singer Toby Hitchcock have laid down twelve new songs that will have fans clamoring about their new favorite tracks for a good long while.

There's a lot to unpack here but before I get to the great stuff, I do feel the need to address one thing that kind of bugs me. Peterik does write great lyrics, sometimes coming up with such great turns of phrase that it makes me sad that I don't have that same kind of talent with words/language.

However, at times he wields that lyric writing talent with all the subtlety of a baseball bat to the back of your head. This leads to a particular noteworthy topic sounding both pedantic and pandering. I first noticed this on Lion Heart with the title track which opens the album. I don't think there's anything wrong with lyrics that have an overwhelmingly positive thematic approach to them, but again, a bit more subtlety would give the song a bit of remove so the message doesn't overwhelm the medium. I loved the title track's music, a great bit of upbeat melodically infused tempo but I found the aims of the song seemed to forget the ACTUAL song itself at times. While the completed song gave me issues at first, I do have to say that it did end up growing on me. I could say the same about "Heart of the Warrior" which is a tribute to first responders. Maybe both songs just took a bit of work to establish a comfort level with me or something.

Remember how I said Jim Peterik (who wrote all the material) has a nice ability to turn a phrase lyrically? Well, the ballad "Sleeping With A Memory" does that very thing. It's less a straightforward love song and more of a wake up call to someone still grieving the loss of a loved one. I particularly enjoyed the passage "To give you the love that you lack / I'd move heaven and earth / But I can't bring him back". In both the song and the vocal performance of that line, I was struck by how powerful the line came across. The other ballad on the album is "Unfinished Heart" and that one is pretty strong as well. (I know it's weird that I'm feeling so positive about ballads, but they work here so it has to be noted.)

For the most part, the full recording lineup for PRIDE OF LIONS has stayed the same across each album and when the music turns to straight up fast moving rock and roll, you can see the strength of the band as a whole.

I really enjoy when a song is just a pure burst of rock and roll adrenaline. The lyrics and music blend seamlessly and it becomes an invigorating experience to hear a track. One of my favorite tracks on Lion Heart is the song "Good Thing Gone". The crackling whipsaw energy flows throughout this song and gives the listener a real jolt. This experience is repeated on "You're Not A Prisoner" as well. Just a driving rock and roll vibe that makes you want to listen over and over again.

There's an aspirational set of lyrics for the song "Give It Away" and while I would fall far short of the aim that Peterik is talking about in those lyrics if I tried to measure up, the song is pure magic. It's freaking awesome and another must hear rocker. I found the closing track "Now" interesting. It starts out with a bit more of a slower tempo but starts to rock out midway through the song. I thought the solo was pretty cool in the middle of the track and during the outro.

A few of the songs displayed a feeling of nostalgia, looking back on times and places. Two best examples are "Carry Me Back" and "Rock & Roll Boomtown". The songs have wildly disparate aims but both were immensely great songs.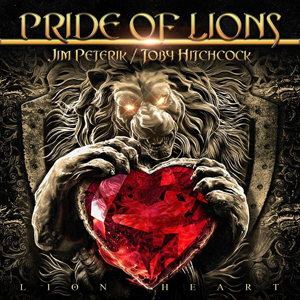 "Carry Me Back" is looking back on life with a loved one. It's got a great pop sensibility to it as the lyrics convey the desire to go back to where it all began with said loved one and do it all over again. The song has a surplus of energy and features another great solo. Plus the chorus is instantly memorable. I know that I found myself (quietly) singing it each time I heard the song.
As for "Rock & Roll Boomtown", the song plays as an ode to the glory days of the Los Angeles music industry and its rise and eventual fall. There's a sense of the epic in the track's sound particularly in the main lyrical passages. The chorus has a bit more of a rocking feel. But what helped push this track over the top for me was how a real dark vibe seems to hang over the entire track despite the more upbeat nature of the actual music. This vibe is paid off to an extent with a late in the song lyric that brings everything together.
Now, I've talked about a lot of the album's songs and raved about many of them. But I haven't yet talked about my pick for the single best track on the album, "We Play For Free". It may seem a tiny bit self-serving to write about life as a working musician but Peterik's lyrical ability allows him to pull this song off without coming off as a self-congratulatory pat on the back. This song rocks from start to finish. It's not quite a straight up anthem, but you do feel as if you are part of the song as it draws you in. The song's chorus is killer, another example of how to make an instantly memorable and repeatable chorus that will give listeners the ability to sing along from the start.
While I do think there are a couple of tracks on the album that you might have a bit of work to do in order to appreciate them, Lion Heart is an overwhelming success as it demonstrates just how to craft an album that becomes an immediate tentpole example of how to do the melodic rock genre both right and proud. PRIDE OF LIONS roars once again!
4.6 Out Of 5.0