KILLER BE KILLED Reluctant Hero


By Peter Atkinson, Contributor
Thursday, November 19, 2020 @ 7:06 AM


| | | |
| --- | --- | --- |
| | | |
KILLER BE KILLED
Reluctant Hero
Nuclear Blast Records




Supergroups too often turn out to be not so "super" after all. What might have seemed like a great idea on paper underwhelms in the execution and the whole turns out to be lesser than the sum of its parts - for whatever reason. And despite boasting the frontmen of three wildly divergent bands – and an ace drummer from a fourth – KILLER BE KILLED sorta fell into that category with its self-titled debut in 2014.

While I'm sure I liked the album just fine at the time, I can't recall a thing about it now, other than the impressive lineup of Max Cavalera (SOULFLY, ex-SEPULTURA), Greg Puciato (THE DILLINGER ESCAPE PLAN), Troy Sanders (MASTODON) and drummer Dave Elitch (THE MARS VOLTA). Not one song, indeed not one note of music. Sure, it was six years ago, but still.

The band's second effort, however, is a different story. Relucant Hero seems destined to stick. I've been humming riffs and choruses from the album's opening tracks "Deconstructing Self-Destruction" and "Dream Gone Bad" for the last two weeks - and have already listened to the album more during that time than I ever did the debut. It's a lively, engaging effort that bristles with the aggression and urgency the proggy grooves of the debut just never managed to maintain.

The above-mentioned tunes certainly set the tone for the album, getting it off to a rousing, anthemic start with their crunching riffs, driving rhythms – powered now by CONVERGE drummer Ben Koller with jackhammer authority - and soaring choruses buoyed by Puciato's resounding clean vocals. And that electricity carries over the rest of the way, even when things ease up in spots as on the aptly titled "Inner Calm From Outer Storms", "From A Crowded Wound", the ethereal, DEFTONES-like "The Great Purge" and the epic closing title track that echoes NINE INCH NAILS' "Hurt", at least at the outset.

Each of those tracks either builds to a crescendo or launches into an emphatic sprint after an atmospheric or moody start, so any waffling or shoe-gazing doesn't last long. The post-rocky "Comfort From Nothing", which hints of ALICE IN CHAINS, is really the only song here that carries its brood all the way through, but it is quickly offset by the raging "Animus", a minute-long hardcore microburst topped by Cavalera's breathless hollering.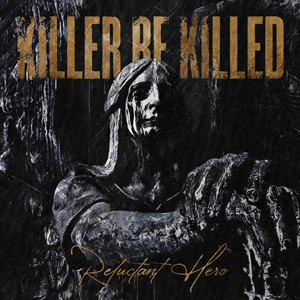 "Filthy Vagabond" offers a modestly less jarring hardcore jolt earlier on, with its snub-nosed riffing tempered by catchy "woah, oh" harmonies. The chunky hard rocker "Left Of Center" delivers that same sort of catchiness, but with a bit less oomph, while on the flip side "Dead Limbs" provides the one genuine taste of full-on thrash metal here.
Reluctant Hero may seem a pretty mixed bag, but it is surprisingly tight in its delivery as the band seems more like an actual, well, "band". Sanders, Puciato and Cavalera share the vocals fairly equally, and weave them seamlessly through pretty much every track – with the cleaner, or at least more melodically inclined, voices of Sanders and Puciato taking the bulk of the verses and choruses with the far gruffer Cavalera chiming in when things grow more intense. And there certainly is no shortage of intensity here.
Not sure when or how this all came together. But I can only imagine it has been in the works for some time, given the busy schedules of all four members – all of whom play in multiple bands as it is – at least pre-pandemic. Yet the album doesn't sound that way at all. Instead, there is an immediacy and restless energy that KILLER BE KILLED has captured like lightning in a bottle. Regardless, it makes for a spirited listen that bears repeating.
4.0 Out Of 5.0

Please log in to view RANTS