HATEBREED Weight Of The False Self


By Peter Atkinson, Contributor
Tuesday, December 8, 2020 @ 11:45 AM


| | | |
| --- | --- | --- |
| | | |
HATEBREED
Weight Of The False Self
Nuclear Blast Records




It's been four and a half years since the last HATEBREED album, but it almost feels like the band has never been away. Weight Of The False Self, the Connecticut quintet's eighth full length, is every bit what we've come to expect from the band. So Weight picks up right where 2016's The Concrete Confessional left off and drives home its message of empowerment and self-determination with the usual unwavering authority.

In that way, HATEBREED is very much the AC/DC of its ilk, dependable, predictable and arguably the best at what it does - to the point where it seems militantly opposed to change on any level, lest the formula become diluted. In the case of HATEBREED, that formula is metallic hardcore, and as always the band delivers equal parts hardcore bludgeon and thrash metal intensity here.

False Self is a roiling cauldron of curb-stomp riffs and hooks; heaving breakdowns; bracing, gut-punch rhythms; and Jamey Jasta's one-note, drill sergeant hollering. It's "Chopper, sic balls" – for those who remember "Stand By Me" – from note one, and clings to said balls with a death grip the whole way.

"Tap into the savagery," Jasta bellows as the album opens with the flame-throwing "Instinctive (Slaughterlust)", which makes an apt mantra for False Self as a whole. "Let Them Rot" and "Set It Right (Start With Yourself)" follow with equal fury and might. The straight up hardcore of "Dig Your Way Out" and "From Gold To Gray" and the thrashier "The Herd Will Scatter", with its wicked, slashing riffs, capture that same vicious magic, offering SLAYER/LAMB OF GOD-like muscle with the tenacity of AGNOSTIC FRONT and providing the sort of sonic beatdown few others can muster.

And, as has long been the case, its material like this, where HATEBREED comes out with all guns blazing, that the band truly reigns supreme. But that's asking a lot over an entire album, and when the quintet does slow its assault to reload and rally up, the material loses some – and in some cases a lot – of its impact.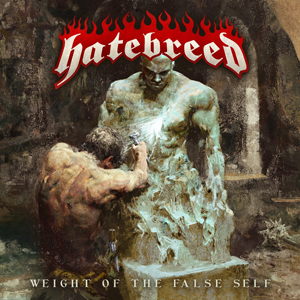 The back-to-back hooky anthems "Wings Of The Vulture" and "This I Earned" are decent enough, and are sure to gets fists pumping and the pit churning - when indeed mosh pits become a post-COVID possibility again. But they seem purpose-built on recycled ideas with just that aim in mind. Indeed "This I Earned" borrows rather obviously from 2003's "Live For This".
More problematic are the repetitive title track, "Cling To Life", "A Stroke Of Red" and overblown closer "Invoking Dominance", all the "moodier" slower tracks here that essentially yield the podium to Jasta. Channeling self-help guru Tony Robbins and R. Lee Ermey's gunnery sergeant Hartman character from Full Metal Jacket – he of such classic lines as, "You best unfuck yourself or I will unscrew your head and shit down your neck!" - Jasta can be downright inspiring, there's no doubt about that. But his tendency to lay it on thick – and the unyielding one-dimensionality of his delivery – can at times make him come across as either a life coach huckster or hard-ass blowhard, or a combination thereof.
The tunes mentioned just above all suffer from that to a certain degree. And while the title track is the lone real turd in the punch bowl here, each of these songs is irksome in its own right. But when taken as a whole, False Self stands toe to toe with HATEBREED's previous work, each on balance more triumphant than tedious and none straying from a course the band set in concrete more than 25 years ago. When it's good False Self is genuinely awesome – you just have to deal with some annoyances along the way.
3.0 Out Of 5.0

Please log in to view RANTS