BLUE OYSTER CULT The Symbol Remains


By Rob McNees, Vinyl Aficionado
Thursday, January 21, 2021 @ 1:48 PM


| | | |
| --- | --- | --- |
| | | |
BLUE OYSTER CULT
The Symbol Remains
Frontiers Music Srl




The ONLY remotely decent thing to come out of this chinavirus BS is that bands that are road-dogs and spend the majority of their time touring (and where they make the majority of their money also) obviously had to find other things to do. So that meant live streams and creating new music. One such band is iconic American band BLUE OYSTER CULT. In fact this monumental occasion is rarer than hen's teeth, as the last new music put out by BOC was 2001's Curse Of The Hidden Mirror. Even casual fans of rock music have no doubt heard the tracks "Godzilla", "Burnin' for You" or the all-time classic "(Don't Fear) The Reaper", so the spectre of new music is most welcome indeed. To date BLUE OYSTER CULT has sold over 25 million records worldwide!

The history of BOC is quite long, so I'll hit the highlights. Forming as SOFT WHITE UNDERBELLY in 1967 in Stony Brook, New York the band went thru various members and name changes (OAXACA, STALK-FORREST GROUP & SANTOS SISTERS) before settling on BLUE OYSTER CULT in 1971. Their self-titled debut came out in January 1972, and featured such classics as "Cities On Flame With Rock and Roll" and "Stairway to the Stars" and sold reasonably well. Album #2, Tyranny And Mutation, released in 1973 and featured songs "7 Screaming Diz-Busters" and "Hot Rails to Hell" and continued the band's solid sales. Third album, 1974's Secret Treaties had hits like "Career of Evil" and "Astronomy" (a song brilliantly covered by METALLICA on their Garage Inc. double album from 1998) and by the strength of these albums and constant touring, BOC was now moving from opener to headliner. But it was 1976's album Agents Of Fortune, with mega hit "(Don't Fear) The Reaper" that really took BOC to the next level. Still a staple of rock radio to this day. To date, BLUE OYSTER CULT has released 15 albums, including the brand new opus, The Symbol Remains.

Of course with that much history, the band themselves has changed somewhat, although the core band stayed together for years. Nowadays, there is only 1 OG member left, that being Buck Dharma, lead guitarist and sometime lead vocalist. His partner in crime Eric Bloom on lead vocals, keyboards and 'stun' guitar. Most folks think Eric was an original member, but in fact he didn't join till 1969. The rest of the current lineup is rounded out by Richie Castellano, rhythm guitar, lead and backing vocals, lead guitar and keyboards since 2004, Danny Miranda, bass and backing vocals since 1995, and Jules Radino, drummer since 2004.

What the band has put together is a cohesive, solid release that I believe fits well with their amazing back catalog. BOC has always had a way of putting together an album with something for everyone sonically speaking. "That Was Me" starts things off with a groovy riff, some classic Hard Rock as only BOC can do, with a weird off-beat kinda raggae-jazzy break in the middle just to shake things up a bit before that grooving riff kicks back in. "Box In My Head" sounds like 80's BOC, a bit subdued but still rockin'. One thing that was and is always consistent with BOC is that like RUSH their lyrics are very thought provoking, no Jr. High school dropout words and phrases. Something else to appreciate about them. "Tainted Blood" shows that Richie has an amazing voice and that adds a flair to the mellow but tasteful track. Some great soloing as the song fades out as well.

"Nightmare Epiphany" has an almost modern day Country music/Southern Rock feel to it, while still sounding totally BOC. Few if any bands could pull that off successfully. "Edge of the World" is primetime BOC, a somewhat laidback tune that has twists and turns abound. "The Machine" is about that little device we're all fully addicted to. Its hard to believe now that I grew up in a world without computers and the only phone was on a curly line connected to a wall. Musically it's more uptempo than the two previous tracks and gives balance to the proceedings. "Train True" starts off with some electric harmonica and has a little boot-scootin' boogie shuffle that most assurdly will have your toe tapping and your head bobbin'.

The final track, "The Return of St. Cecilia", is a nod to the very origins of the band itself and actually goes back to the early days of the band, where they recorded 2 full albums for Elektra Records that were never released, save for a lone single "What Is Quicksand?". But in 2001 the 2nd of those initially unreleased albums was in fact released by Rhino Homemade Records, called St. Cecilia: The Elektra Recordings. The song itself is a kickass rocker and easily one of my favorite's on the album! "Stand and Fight"BOC catalog! A riff that Papa Het from METALLICA would be proud to call his own! Horns Up! "Florida Man" takes it back several degrees but has a hauntingly memorable chorus and even some handclapping to boot. As I said earlier, BOC can play any style music on their albums and nothing is off limits or out of place. "The Alchemist" goes back heavy with a sorrid tale in classic BOC style. And it shows the boys can still get heavy when the feeling suits them.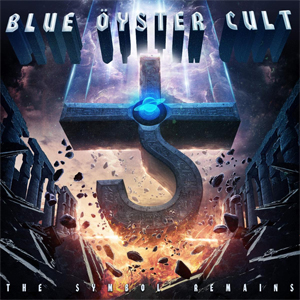 "Secret Road" sounds like 70's BOC complete with the harmony vocals in the chorus. Tasty lead guitar work just adds to the quality nature of this track. "There's A Crime" has an almost Thrash type drumbeat over the fretwork of Buck then settles down into a nice groove with some bass thumping from Danny. Album closer "Fight" is one of those tracks that BOC is so well known for, something that the term Classic Rock was coined for. Not too hard, not too light, just quality Rock and Roll.
It amazes me that a band that's been around for this long can still have their pulse on today and make an album that is current yet distinctively rooted in the very fiber that made them a household name in the 70's & 80's. But I guess it shouldn't. 25 million records sold says alot about how well you make music, and BLUE OYSTER CULT is still making that music very well indeed. If you're a fan of BOC and you have yet to pick this latest addition to their iconic catalog, what are you waiting for? Enjoy the fruits of this pandemic forced labor and revel in everything that you loved about BOC one more time! This sits nicely in a catalog that's Hall Of Fame worthy. Last one turn off the lights.
And for my Vinyl familia, there is Vinyl out there for this! It's a little hard to come by but well worth the effort. I can't wait till I can grab my copy!
4.8 Out Of 5.0 Skulls

Please log in to view RANTS