ALICE COOPER Detroit Stories


By Kelley Simms, Contributor
Friday, February 26, 2021 @ 1:46 PM


| | | |
| --- | --- | --- |
| | | |
ALICE COOPER
Detroit Stories
earMUSIC




Legendary shock rocker Alice Cooper has released his 21st full-length solo record Detroit Stories (released on Feb. 26 through earMUSIC). As indicated by the title, the album was inspired by Cooper's hometown of Detroit. On its 15 diverse tunes, the Coop and his iconic band — featuring all the surviving members of the original Alice Cooper band, plus famous Detroit musical guests — have created a diverse soundtrack with an amalgam of various musical styles that hearkens back to his musical roots with a mix of punk, rock, blues, R&B and tongue-in-cheek humor with undying passion.

Lead off track "Rock 'n' Roll" is a cover of THE VELVET UNDERGROUND and the first single. It was also covered by Alice's Detroit brethren MITCH RYDER AND THE DETROIT WHEELS in 1971. Various musical guests including guitarist Steve Hunter and Joe Bonamassa plays on the cut. Alice's scratchy tone is perfect for this track — similar to Lou Reed's raspy howl — but I don't think Alice needed to waste his time on such an already well-covered cover tune.

Throughout Detroit Stories' 15 tracks, there's plenty of garage rock and surging punk rock tunes delivered by a snarling Alice; "Go Man Go" and "I Hate You", while Cooper's slinky, bluesy Detroit MoTown influences sparkle on "$1000 High Heel Shoes", decorated with female back up singers and a horn section, adds a great doo-wop dynamic. In addition, the boogie-woogie "Independence Dave" and the Bob Seger cover "East Side Story", with its homage to THE DOORS/VAN MORRISON/'60s rock swagger, makes for an extremely varied and diverse record.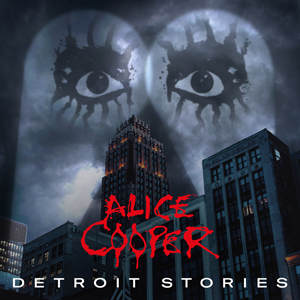 "Social Debris", another single recently released along with a video, sounds like classic Alice, as does "Hail Mary" and "Shut Up And Rock". The MC5 cover "Sister Anne"'s upbeat clean picked riffs, prominent basslines and twangy guitar melodies carry a dominant, bluesy swagger, while "Hanging On By A Thread (Don't Give Up)" — originally written as a suicide prevention song then geared towards the pandemic — displays Alice's vocal delivery similar to "The Black Widow", as its more spoken word than actual singing. The psychedelic and poppy BEATLES-esque "Our Love Will Change The World", also previously released, is decorated with seething lyrics about the rise of the world's current cancel culture infestation.
Consisting of only a few minor flaws, Detroit Stories is a massively eclectic and fun record, showcasing many of Alice's vocal talents with straightforward riffs and catchy melodic hooks. There's something here for all eras of Alice's career with a lot of different flavors, breaking the mold of what one would think a "normal" Alice Cooper record would sound like. There are moments of classic Alice '70s and even experimental '80s hard shock rock. Cooper's long-time collaborator Bob Ezrin produced the record, which is crisp, polished and pristine, but not too overproduced. Alice has been entertaining rock fans for five-plus decades now, and at age 73, he doesn't seem like he'll be retiring anytime soon.
4.5 Out Of 5.0

Please log in to view RANTS