INGLORIOUS We Will Ride


By Andrew Depedro, Ottawa Corespondent
Tuesday, March 2, 2021 @ 8:49 AM


| | | |
| --- | --- | --- |
| | | |
INGLORIOUS
We Will Ride
Frontiers Records Srl




Lockdowns! Netflix and chill! Social distancing!

This has been the stark reality for many of us over the past year – none more so than for everyone in the music industry as live shows and tours have stopped altogether for those who rely on the industry to make a manageable living. For INGLORIOUS frontman Nathan James, the pandemic and the first of many of the UK's series of lockdowns have both inspired the London-based hard rock outfit's fourth studio album We Will Ride as well as delaying its release twice. To cope with the sudden downtime, James, in his own words, spent his time "consuming much more TV than usual, in the form of dark and sinister Netflix documentaries" while the band as a whole not only stayed mindful of the six foot rule as much as reasonably possible, but they stayed true to crafting their brand of identifiable 70's-inspired hard rock with a more modern tinge and the addition of three new members to the lineup: Guitarists Danny Dela Cruz and Dan Stevens and Brazilian-born bassist Vinnie Colla. For the band's new refined sound, they'd recruited outside help for the first time in the form of renowned producer Romesh Gogandoda, who's best known for his work with similarly established bands such as BRING ME THE HORIZON and BULLET FOR MY VALENTINE. And given how the musical contrast between INGLORIOUS' sound compared to Romesh's previous work with both aforementioned groups is noticeably wide-ranging, he's been overall successful in honing in the band's brash swagger and groove while broadening and strengthening their erstwhile approach to their songs throughout the entirety of this album.

Opening with the sleazy boogified rocker "She Won't Let You Go", a song that James had co-written with Dela Cruz before the latter had even officially joined the lineup, the album doesn't shy from flaunting the same street ready-sounding hard rock groove sound that Inglorious has cultivated throughout their modest discography and career. Even follow-up numbers such as the album's lead-off single "Messiah" and the riff-heavy banger "Medusa" boast the heavy early WHITESNAKE influence in Dela Cruz and Stevens' dual axe ambush as James' guiding vocals command the course of the song's transcending groove. It's by the fourth song "Eye Of The Storm" that the noticeable transition of the album's tone becomes more evident, James' vocals, while remaining harmonious and melodic during the song's apex, starts with a low-brooding dark-sounding tone before returning to its familiar commandeering cry. "Cruel Intentions", featuring Dela Cruz'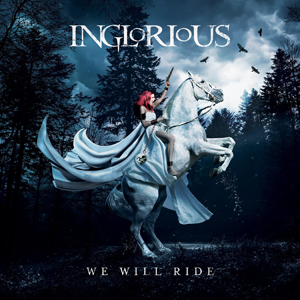 classical-sounding finger-picking intro, is another song about veiled deception which continues down that same deepening chasm of, its poignant and earnest lyrics of "I'm living a fantasy where you were born to die" and its promise that its progenitor "will never get out alive" could lyrically pass as one of the untold songs that should've made their way to ….And Justice For All while "My Misery" has a self-deprecating overtone that wouldn't be out of place on any early CURE album were it not for the belying piano intro courtesy of Rob Lindop and the rhythm guitar attack of Dela Cruz and Stevens during the chorus as James pleads for his quick rescue from his own melancholic meditations. Dela Cruz' soloing skills shine exceptionally well on the biting "Do You Like It" while the energized 5-minute SABBATH-meets-GHOST-sounding dark vibe of "He Will Provide" is easily Inglorious' most musically ambitious-sounding song to date. Rounding out the album's climax are "We Will Meet Again", "God Of War" and the title track, which, despite its more obscure-sounding rhythm overtones, can boast being the album's most lyrically uplifting tracks.
At a time when we need a collective soundtrack of various emotions to make our voices heard, it's good to know that a band like INGLORIOUS can deliver on that promise as the James gang rides again with a renewed sense of purpose.
5.0 Out Of 5..0
http://inglorious.com/
https://www.facebook.com/weareinglorious
https://www.instagram.com/weareinglorious/
https://twitter.com/weareinglorious

Please log in to view RANTS




YNGWIE J. MALMSTEEN, GLENN HUGHES In Worcester, MA With Photos!

ALICE COOPER Road

RAT ROD Four On The Floor

GIRLSCHOOL WTFortyFive?

DANKO JONES Electric Sounds

AVATAR, ORBIT CULTURE, THE NATIVE HOWL In Houston, TX With Photos!

THE DEAD DAISIES In Hollywood, CA With Photos!

KILL DEVIL HILL Seas Of Oblivion

THE DEAD DAISIES In Ottawa, Canada

MAMMOTH WVH In Santa Ana, CA

UADA Crepuscule Natura

BARONESS Stone

KAMELOT, BATTLE BEAST, XANDRIA In Houston, TX With Photos!

CRYPTOPSY As Gomorrah Burns

RAY ALDER II

GHOST, AMON AMARTH In Houston, TX With Photos!

U.D.O. Touchdown

DETHKLOK Dethalbum IV