LAMB OF GOD Lamb Of God (Deluxe Edition)


By Peter Atkinson, Contributor
Thursday, March 25, 2021 @ 8:26 AM


| | | |
| --- | --- | --- |
| | | |
LAMB OF GOD
Lamb Of God (Deluxe Edition)
Epic Records




Deluxe editions are typically timed to either coincide with the launch of a big tour or celebrate the end of one. But since Covid has put the kibosh on just about any sort of roadwork over the past year – and looks to do so perhaps through this summer, despite the increasing availability of vaccines – these things have become a matter of pure economics. A "special" release is a way for bands to repackage something they were largely otherwise unable to actively promote by traditional means and put it back out there to re-invigorate interest - and provide some added revenue - while they plot their next move, which sadly still remains a moving target.

Instead of opting to wait out the pandemic, LAMB OF GOD went ahead and issued its self-titled eighth album – and first in five years - last June, even as its post-release plans had pretty much all gone to hell. A tour of North America with MEGADETH, TRIVIUM and IN FLAMES was pushed back to July 2021 – and that too may be in jeopardy - and a headline tour of the U.K. and co-headline tour of Europe with KREATOR was rescheduled for November/December 2021, and is hopefully within the realm of possibility.

The band did manage to present a couple of live stream concerts last fall and had a brand new song - "The Death Of Us" - in the Bill & Ted Face The Music movie, which most people saw via streaming as well. So it was able to at least get some promotional mileage during Covid self-confinement. Now, nine months after Lamb Of God's release, the band is repurposing it all for this three-disc deluxe edition that features the original studio album, two bonus songs and the first of the Live in Richmond, VA streaming performances on both CD and DVD.

And what you end up with is essentially three versions of Lamb Of God. The Live in Richmond, VA show featured here has the band running through the new album in full – the other concert showcased 2004's landmark Ashes Of The Wake – and capping if off with an encore of "Ruin", "Contractor", "512" and the live debut of "The Death Of Us". And with CD and DVD options, you can either listen or watch.

I found Lamb Of God rather underwhelming upon its initial release. LAMB OF GOD seemed to have reached the point of diminishing returns after 2009's Wrath, with the somewhat aimless Resolution and the fraught VII: Sturm Und Drang that followed never realizing the electricity and verve of earlier albums – perhaps as a side-effect of the band's well-documented travails during that stretch. And while the new album is more focused and ratchets up the energy, the songs, for the most part, are pretty average, delivering the familiar tropes and riffs but not much new, exciting or different – even with new drummer Art Cruz, who took over for the departed Chris Adler. There are no "Walk With Me In Hell"s or "Laid To Rest"s here.

The live treatment does, however, give the Lamb Of God material a welcome jolt. Performing with a bare-bones production and no audience to speak of, the hour-plus set offers the urgency and vigor of a jam room tour dress rehearsal, with the quintet showing no cobwebs despite a long layoff.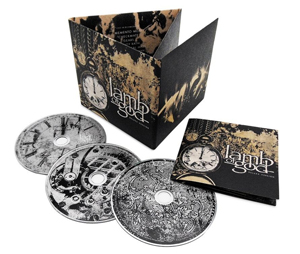 Rawer, heavier and delivered with the band's signature gusto, songs that felt by-the-numbers on the studio recording - "Resurrection Man", "Poison Dream", "Reality Bath" or "Bloodshot Eyes" - sound more ferocious and vibrant from the stage. And the stronger or especially aggressive tracks, "Checkmate", "New Colossal Hate", "Gears" and the bad-ass "Routes" and "On The Hook" rise to new heights – although, again, stopping short of the classic status of some of the band's vintage work. Still, it's an improvement.
Oddly enough, the newer/bonus songs are actually some of the better ones here. "The Death Of Us" is certainly hookier and catchier than anything on the original album, and "Ghost-Shaped People" and "Hyperthermic/Accelerate" are two lock-step, rock-solid ragers that are heavy and then some and don't really need any gussying up. So perhaps Covid quarantine has resharpened the band's seemingly worn songwriting chops.
One pandemic casualty from the livestream material, though, is the relative absence of profane banter from usually verbose frontman Randy Blythe. With no one to egg on or fire up other than slack-jawed gawkers on the other side of the TV or computer screen, he doesn't say much, other than half-heartedly joking "Feel free to destroy your living room, smash your mother's best china" while introducing "512". Doesn't quite have the same ring as pre-wall of death disclaimer before "Black Label" – "if you don't know what's about the happen, get the fuck out of the way, seriously" - but such is the "new normal" of the Covid-era concert experience. At least for a bit longer, anyways.
3.0 Out Of 5.0

Please log in to view RANTS