CRYPTOSIS Bionic Swarm


By Peter Atkinson, Contributor
Monday, March 29, 2021 @ 6:43 AM


| | | |
| --- | --- | --- |
| | | |
CRYPTOSIS
Bionic Swarm
Century Media




If you're looking for something a little different than the same old same old, Dutch bangers CRYPTOSIS should be just the thing. And, as it turns out, that's exactly what the trio itself was looking for on what is essentially, though not literally, its debut, Bionic Swarm. So mission accomplished all the way around.

After issuing two albums of old-school, Teutonic-style thrash as DISTILLATOR, the band overhauled its sound and aesthetic, gave itself a new name and re-emerged as the forward-leaning CRYPTOSIS. It was about as complete and dramatic a transformation as a band could manage, yet it has proven to be the right move on all counts.

Gone are the bullet belts, leather vests, vintage logo and artwork and re-thrash delivery. In their place is something far more advanced - and compelling. The change is readily apparent with the Alien-like cover art and nifty, futuristic logo, and it only gets better once the needle drops, as it were.

Bionic Swarm is certainly an apt title, even it only begins to capture all of what is going on here. CRYPTOSIS' sound is a tumultuous mash up death, thrash and black metal with plenty of progressive flair, technical extravagance and symphonic pomp courtesy of bassist Frank te Riet's mellotron manipulations. If you can imagine a hybrid of MEGADETH, EMPEROR, VOIVOD and – for convenient comparison – that'll give you something of an idea of where these guys are coming from. A more obscure reference point would be Spectral Transition - Dimension Sirius, the 2001 black metal space odyssey from Portugal's long-defunct SIRIUS, which Bionic Swarm reminds me of a lot with its sci-fi thematics and deft blend of grandiosity and ferocity.

There is certainly nothing throwbacky about Swarm – although bits of the DESTRUCTION-inspired thrash from before carry over in the fleet, clipped guitar licks and yelping vocals frontman Laurens Houvast scatters about. After the nondescript intro "Overture" things blast off with "Decypher" and its intricate shit-storm of hyper-speed guitars – Houvast has one of the fastest pick hands in the business, and is no slouch when it comes lightning quick leads either – turbulent tempo changes, and majestic sweeps and flourishes. The big, hooky break midway through provides ample heft.

Following suit are "Death Technology", "Game Of Souls", "Conjuring The Egoist" and the supersonic "Transcendence", powered by drummer Marco Prij's agile jack-hammering and spiced by effectively catchy choruses, surging grooves and symphonic/industrial swells. Its perpetual motion from these whirling dervishes when CRYPTOSIS really kicks into gear – although, ironically, the song "Perpetual Motion" here serves as an eerie, minute-long segue.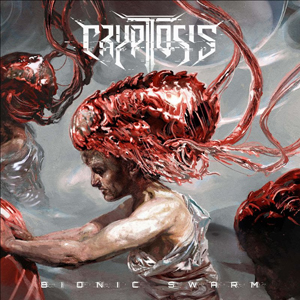 But there's more to Bionic Swarm than just velocity and complexity. Awash in the aforementioned symphonic/industrial atmospherics, the mid-tempo "Prospect of Immortality" and the DIMMU BORGIR-like "Mindscape" build into something truly epic at key points in the album when more fury might actually be too much. So kudos as much for the sequencing as for the smarts to ease off the throttle from time to time and offer some drama and atmosphere.

"Flux Divergence" closes things out with what is the closest approximation to ' former selves, though punctuating its more straight-up thrash delivery – and Houvast's breathless cadence – are shimmering trem guitars that add a wicked blackened stamp and keep things from backtracking too much.

Bionic Swarm isn't so much an evolution for CRYPTOSIS as it is a complete metamorphosis – and in the best way. Nothing sounds like a stretch here for the trio, and its transition into its new sound and persona has been accomplished with startling ease. Once the band took old-school contrivance out of the equation and aimed its sights at new ground ahead, everything else seems to have fallen right into place. The results are pretty spectacular.

4.5 Out Of 5.0

Please log in to view RANTS