GRETA VAN FLEET The Battle At Garden's Gate


By Andrew Depedro, Ottawa Corespondent
Monday, April 12, 2021 @ 12:10 AM


| | | |
| --- | --- | --- |
| | | |
GRETA VAN FLEET
The Battle At Garden's Gate
Lava/Republic Records




They'd spent much of late 2017 up to 2019 battling claims of their sound bearing similarities of almost biblical proportions to LED ZEPPELIN on their debut album Anthem Of The Peaceful Army. Fast forward some 3 years, 3 Grammy nominations and several sold-out concerts later, Frankenmuth, Michigan-based quartet GRETA VAN FLEET resume their freak flag flyin' and hedgerow bustlin' rock vibe with their sophomore follow-up titled The Battle At Garden's Gate. Inspired from life on the road, the band were looking to grow within their field, both sonically and lyrically, and, in some cases, their new songs don't entirely remain the same as with their previous work.

While the band still rely on the powerful 5-minute plus opus and the bouncy road tune follow-up as their inaugural icebreakers on this album, as is the case with the breezy-sounding "Heat Above" and the road-trippin' "My Way, Soon" respectively, it's by the halfway mark when GVF become more lyrically abrasive and darker on songs such as "Built By Nations" and the nearly 7-minute long "Age Of Machine". If frontman Joshua Kiszka denouncing modern society's increasingly perilous overdependance on technology with glaring apocalyptic lines such as "God machine/Malfunctioned as it grew/And the circuits blew/Falling down on you" isn't the closest lyrically that the band will get to invoking FEAR FACTORY – or even imagining what ARMORED SAINT's "End Of The Attention Span" would sound like if written by Robert Fripp of KING CRIMSON but without his better half dancing along to it – then I'm at a loss as to what is. With that said,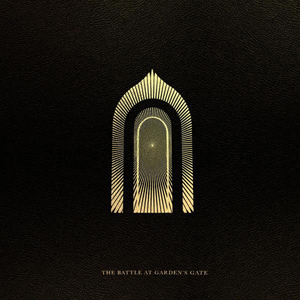 the rest of the album sees the band make good on its intention to broaden their musical scope; it's not like ZEPPELIN's the only 70's band they ever listen to. Tracks such as "The Barbarians", "Trip The Light Fantastic", "Light My Love" and the nearly 9-minute closer "The Weight Of Dreams" see some forays into some rustic YES and PINK FLOYD territory – with a layover into some bouncy reggae in the form of Watching The Detectives-era ELVIS COSTELLO and ELECTRIC LIGHT ORCHESTRA 'hood in between judging by the tone of "The Barbarians" and "Trip The Light Fanstastic" respectively – thanks to some brilliant Moog synthesizer magic from Samuel Kiszka while he's moving back and forth from keyboard/bass duties.
In summary, The Battle At Garden's Gate is the sound of a matured band poised to defy their critics and making their presence known through a conceptual album that signals the divide between the current human psyche. Yet, while GVF had previously battled their detractors for evermore throughout their burgeoning career, their sophomore release also showcases a band ready to guard themselves against any and all of their adversaries with a new anthem for an entirely new army.
4.5 Out Of 5.0
http://www.facebook.com/gretavanfleet/

Please log in to view RANTS


THE WINERY DOGS, BLACK HEART SAINTS In Houston, TX With Photos!

ROBIN MCAULEY Alive

CRADLE OF FILTH, DEVILDRIVER In Santa Ana With Photos!

KAMELOT The Awakening

ALTER BRIDGE, MAMMOTH WVH In Houston, TX With Photos!

ACID KING Beyond Vision

STEEL PANTHER On The Prowl

NIGHT DEMON Outsider

YNGWIE MALMSTEEN In Ottawa, Canada

THEORY OF A DEADMAN, SKILLET, SAINT ASONIA In Houston, TX With Photos!

OFFICER X Hell Is Coming

PERIPHERY Periphery V: Djent Is Not A Genre

INSOMNIUM Anno 1696

STEEL PANTHER, CROBOT, TRAGEDY In Houston, TX With Photos!

BABYLON A.D. Live Lightning

ROTTING CHRIST, CARACH ANGREN, UADA, GAEREA In Houston, TX With Photos!

MOTÖRHEAD Bad Magic: Seriously Bad Magic

TRAGEDY I Am Woman