ILLUSORY
Crimson Wreath
Rockshots Records - 2021
http://www.illusoryband.com




"If it's too loud, you're too old."

We've all heard that phrase an untold number of times over the years I'm sure. But instead of the loudness factor, I've learned that I might be too old because I have a comfort zone of bands that I like to listen to and/or review their latest albums. These are bands that I have listened to for decades and there doesn't seem to be a strong desire on my part to check out a lot of new bands these days. Sure, I might check out a release from a band I haven't listened to before, but at least have known about. But purely new bands? Those musical experiences are very few and very far between. You might chalk it up to simple laziness on my part, but there's also the times where I have listened to those brand new or at least new-to-me bands and found them thoroughly lacking in any quality that made me want to listen to them ever again.

But every so often, I come across a band whose album so thoroughly blows me away that the only question I can find myself asking is "Who the hell are these guys?"

Such is the case with ILLUSORY. The main reason I was drawn to listening to the Greek metallers upcoming (due out May 21st, 2021) third album Crimson Wreath, is because the promo material touted the band as being for fans of IRON MAIDEN, QUEENSRYCHE, SAVATAGE and JAG PANZER. I'm a massive fan of three of those bands so I figured I could check it out to see if it was mere hype or if the band really had that kind of style and substance to their sound.

The most simple way to answer the question of "Who Is ILLUSORY?" is to say that the band is comprised of vocalist Dee Theodoru, guitarists George Papantonis and Greg Bakos, bassist Niki Danos, drummer Costas Koulis and keyboardist Makis Vandoros.

Originally formed in 1992, the band has released two previous albums, 2013's The Ivory Tower and 2016's Polysyllabic. Along the way, they've opened for bands like BLUE OYSTER CULT and GEOFF TATE'S OPERATION MINDCRIME.

And now comes their third release Crimson Wreath. I'm not sure what I was expecting even given all the promo material telling me what I was supposed to find as I listened to the music. But I will say whatever I had in the way of expectations could not have prepared me for what I found as I listened to the entire 14-track album.

The album opens with the track "Besetting Sins", a song that combines a powerfully heavy and fast moving track with an expertly developed sense of melody. Singer Dee Theodoru vocals show his range as he can hit the song's higher notes with ease, but he has a lower register growl to his performance as well. The song's chorus is actually pretty catchy. I note that because while the band's sound takes in aspects of classic heavy metal, progressive metal and at times even some thrash sounds, I was surprised to find a chorus that was so instantly memorable and could find myself singing along to it as well.

While Crimson Wreath isn't a full-on concept album, the band does tie the entire album together as a kind of dramatic presentation. You get the first inkling of this with the track "Acedia". It's a very low-key song with a spare instrumental background with a narrative reading by Irishman(?) Paul Logue. It's these interstitial pieces that give you that sense of the dramatic throughout the disc. The band uses narrators, choirs, pianos and even a soprano vocalist to heighten the overall intensity of the material.

The album title track's main lyrical passages are done with a relative soft peddle delivery before the song's chorus thrusts a heavier and somewhat "noisier" sound to the forefront. But four minutes into the song, the music explodes into a frenzied sonic attack with some incredible and indelible guitar work from Papantonis and Bakos.

On "Immortal No", ILLUSORY forges ahead with a sound that focuses more on the more straight up metallic part of their repertoire. Dee Theodoru's vocal take here has a more pronounced edgy growl to them on this song.

The song "All Shall Fade" is a brief piano based track with a two verse lyric that stands on its own but also serves quite adeptly as the lead in to the song "All Blood Red". That track has a far more rocking pace to it, though I was a little put off by the overuse of effects on the opening portion of the vocals for the track. While the band's lyrics are said to be mostly made up of anti-war themes, ILLUSORY does tackle other topics as well. On "All Blood Red", the lyrics (written by guitarist George Papantonis) stand against any form of racism.

Meanwhile the narrative track "The Voice Inside Me" and "S.T. Forsaken" seem to deal with the topic of mental health. While the former track is a brief narrative piece, it is "S.T. Forsaken" that shines as one of the best individual songs on the album. It starts off slow and steady, weaving and building up its thematical musical elements before blossoming into a more intensely driven track. It's a stunningly impressive piece of work that takes the lyrical content and both the musical and vocal presentation to the rarified heights of something you'd find on a FATES WARNING album. Yes, it is that freaking good!

The band turns on dime with the next track "Ashes To Dust", a hard and heavy anthemic rocker about the Greek legend Achilles. That fast pace crackling with a furious energy continues on "A Poem I Couldn't Rhyme" too. Oh, and there was a great individual line on this song as well that goes "Singing a poem I couldn't rhyme / yet melody's inside me". I don't know, it just struck me as a cool expressive thought in the lyrics.

I know I invoked FATES WARNING just a couple of paragraphs before but I can't help but think of that band's opus like "The Ivory Gate of Dreams", when I got to ILLUSORY's "An Opus Of Loss And Sorrow". Billed as dealing with the theme of human loss, the three part epic is simply marvelous. "Pedestal I: Past Forever Last" is a more methodically paced number but has a heavy sound that will completely envelop the listener. "Pedestal II: The Isle Of Shadows" weaves the sound of a storm on the ocean into the song's begining, then increases the theatrical sensibility of the song with a choir before kicking the song's direction into a more full on rock sound complete with another instantly memorable chorus. The sense of the cinematic is further burnished with a narrative piece involving an anonymously credited thirteenth century Old English lyric. The tale comes to a conclusion with "Pedestal III: Agony's Last". The song starts off with a lullaby intro that grows into a more vibrantly rocking track. There's another killer lyrical chorus for this song as well.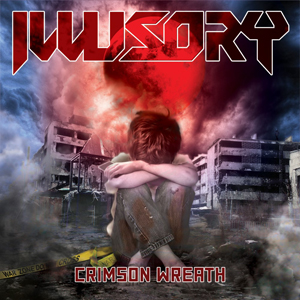 The album's final track is called "Fortress of Sadness", a ten minute epic that from the starting gates simply bursts out of your speakers with a fiery delivery. The use of both a choir and that solo soprano vocal I mentioned early in this review help heighten this song's intensity. The song plays out like a suspense film thriller complete with heroes, villains and victims. While the band does slow down a bit in the song's midsection, they kick it back up a notch after that. The song is another expertly crafted story with a beginning, middle, end and epilogue. It encapsulates everything that the band had put on display throughout the rest of the album and serves as a fitting ending crescendo to the disc.
I admit, I had a jaded outlook going into listening to this album. But in the end, how much did I love ILLUSORY's Crimson Wreath? Here I am having gotten an early listen to the album and yet I am now eagerly awaiting the offical release date because I want a physical copy of this album. I want to wear a T-shirt with the album art touting my fandom!
If it is true that a band's third album is supposed to be their "breakthrough" release, then ILLUSORY has certainly done their part in proving that belief to be true. Despite a run time of over 75 minutes, not once does the album drag. Rather, you can't believe it when the album is over because you want to keep listening. I strongly feel that not only is Crimson Wreath one of the singular best albums you could hope to come across this year, but it will come to be seen as ILLUSORY's magnum opus release!
5.0 Out Of 5.0