CHEAP TRICK
In Another World
BMG - 2021
http://www.cheaptrick.com




Whenever I see news that CHEAP TRICK has a new album coming out, I can't help but feel a little bit excited. The Rockford, Illinois rockers have been turning out great albums for nearly 50 years and their most recent output has been really strong. So when I saw the announcement about In Another World, I immediately added it to my buy list.

The funny thing is that I have a buddy named Dave, who makes my fandom for the band look like the smallest possible drop in the bucket in comparison. I actually talked to him about the album a bit while I was in the process of listening to it for this review. We bounced some thoughts back and forth. Some of his ideas made me take another look at a few songs that didn't quite resonate with me as much as others during my first spin of the new disc.

The album opens up nicely with the songs "The Summer Looks Good On You" and "Quit Waking Me Up". Both of the songs are fueled by an uptempo score. I thought "The Summer Looks Good On You" would make a nice theme for the upcoming season, in the same way you have those designated "Beach Reads" for books.

As for "Quit Waking Me Up", the song has a great feel to it as the blood gets pumping in your veins. Like much of the album, the individual members of the band (Robin Zander, Rick Nielsen, Tom Petersson and Daxx Nielsen) are credited with writing the song along with album producer Julian Raymond. But the song features an additional co-writer in SUGARLAND's Kristian Bush.

Despite my overall enjoyment of the disc as a whole, I will say that In Another World does have a big flaw in it. The flaw in question? The slow songs are mostly momentum killers. If you are going to have four slow songs on a thirteen track album, they'd better be really good. But three of those four songs really didn't measure up for me. The song "So It Goes" is not just slow but it has a very spare musical component and was a slog to get through. I could say the same for "Passing Through" and "I'll See You Again". The latter song has such an understated vocal track that I wondered whose idea it was to limit Robin Zander's voice on the song.

But in that batch of four slow songs, there is a gem. That would be the song that is the ostensible title cut. "Another World" is a ballad in the purest sense but instead of its pace feeling drawn out, the song draws you in and gives a real sense of place. Not only did I enjoy the song but when CHEAP TRICK comes back around later in the album with "Another World (Reprise)", I was equally blown away by how they changed everything about the song musically. Instead of the same ballad song style, they changed it to a hard rocking romp and let's just say it was fantastic! Same lyrics, different delivery but still just a flat out great song.

Obviously, I really enjoyed the album more when the band was rocking out. Tracks like "Boys & Girls & Rock & Roll" and "The Party" are quality rockers. There's a definitive blues rock sound to "Final Days". It serves the song well and it ended up as one of my favorites on the disc.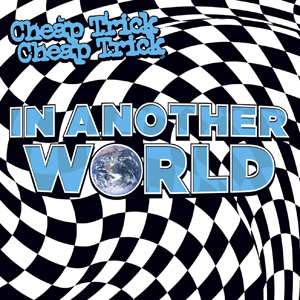 The band's closing cover of the John Lennon track "Gimme Some Truth" surprised me a lot. Not that they would choose to cover it, but that I would like it. I've never been much of a fan of THE BEATLES or any other associated solo work. Yes, a track here and there of course but overall, they don't occupy much of my time. But the way CHEAP TRICK made this song go was impressive. It starts out a bit slower but it gets more intense with a heavier sound as the song progresses. I really thought this was a well done cover.
When the band cuts loose and just goes forth with guns blazing, they hit listeners with a song like "Here's Looking At You". It's just a wildly blazing rock and roll excursion for the band and the listener!
Without a doubt, the song that stood out the most from the first time I heard it is "Light Up The Fire". Fiery guitar work, a ripping vocal performance and just a big noisy but melodic rock and roll soundtrack made this song one I want to hear in a live setting. It's got that sound you probably expect to hear from CHEAP TRICK and it is just a sonic butt-kicking that I can't hear often enough.
The three slower (and ultimately unsatisfying) songs on In Another World really serve as a distraction and detract from the overall quality of the album. But the remaining eleven songs do a superb job in rebounding from the lesser lights of the track listing. So CHEAP TRICK has a really good, if slightly flawed album on their hands. It's a pleasureable listening experience in the end and even flawed CHEAP TRICK is better than a lot of what it out there these days.
4.0 Out Of 5.0