FRANK MARINO & MAHOGANY RUSH Live at the Agora Theater Blu-Ray/DVD Box Set


By Michael Fischer, Writer, Cartoonist
Tuesday, April 27, 2021 @ 7:12 AM





FRANK MARINO & MAHOGANY RUSH
Live at the Agora Theater Blue Ray/DVD Box Set
Independent Release




By Michael Fischer, Nashville Writer/Cartoon Artist @ TOONS THAT ROCK ~ toonsthatrock.com

Order FRANK MARINO & MAHOGANY RUSH Live At The Agora Theater Blu-Ray/DVD Disc Box Set HERE

Legendary Rock Guitarist FRANK MARINO & MAHOGANY RUSH has released a brilliant new Blue Ray/DVD Disc Box Set which includes a 180 page full color biography book of Frank Marino and his work with MAHOGANY RUSH from then to now with never seen photos and stories from the road, studio and home. This new DVD concert film was recorded live at the Agora Theater in Cleveland, Ohio December 2010 shortly after Frank had lost his Father. When you watch this concert experience, you feel the emotional love and loss within the music. Losing our fathers is a rite of passage. MAHOGANY RUSH is an experience like no other. Frank will tell you this concert is best viewed on the Blue Ray Disc for maximum sound and video quality. It's the greatest footage ever shot of him playing live, the overall sound is incredible mixed and engineered by Frank himself. When you plug in, you'll experience 6 hours of music. Absolute pure guitar beauty, emotion, fire and brimstone!

The 1970's, such a time of celebration for a sea of unforgettable music and music styles, artists and bands. Imagine Randy Rhoads cruising Hollywood as a young teen in 1974 looking up to see a MAHOGANY RUSH Child of the Novelty record billboard on Sunset Strip. FMMR's new Blue Ray/ DVD Box Set is a celebration of his music with MAHOGANY RUSH since the beginning. This is one of the most incredible live music DVD's I've ever seen. 3 discs, 350 minutes, totaling 6 hours of the most incredible music and live performance from the master of guitar and vocals himself, Frank Marino. There's only a few guitar players in this world that can take you out there, then take you out there even further and bring you back from beyond. The power, beauty, sounds, the tones, the material, it's pure genius watching and listening to Frank sing and play. Angus Young and Tony Iomii never made a Gibson SG sound like that. Frank Marino paved the way for many young aspiring rock guitarists like Zakk Wylde (OZZY, BLACK LABEL SOCIETY) and Joe Bonamassa (BLACK COUNTRY COMMUNION). In his vast archive of the most amazing guitar work on earth, Frank Marino has yet again added a treasure trove of music to his rock n roll legacy with this new box set. He didn't make it for money, he made it for the fans. Frank is all about the music and not about the greed. MAHOGANY RUSH fans will never have to pay money to meet him, take a photo and sign an autograph.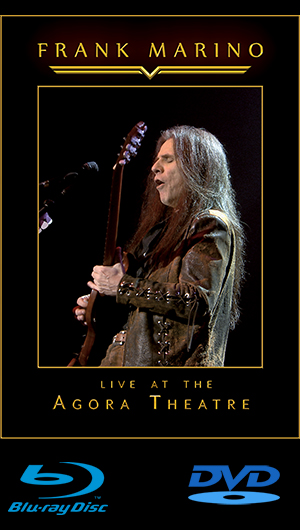 The story behind the making of this film for DVD is pretty incredible. Peter Daniel, who owns a major video production company who films many major artists offered to film a MAHOGANY RUSH concert in HD, multiple cameras, video truck, crew. He loved Frank Marino so much he offered to do it for little or no money, he said he felt people should see FRANK MARINO & MAHOGANY RUSH recorded at their highest quality. Frank was speechless. "O.K lets do this!" They filmed for 12 hours so Frank could play and record as much material as he could. So they booked the Agora Theater Friday and Saturday December 10-11th. They set up Friday, allowed a crowd in, did a soundcheck and ran through some of the set working out video and audio production. It was more of a personal thing for fans, and not a show. Frank was thunderstruck come show day. Cosmo Wilson (AC/DC Lighting Director) did all his lighting production with Chris Hilson. It was December so the theater was cold, Frank had problems with his recording rig, and he was concerned about the audio despite being tired from no sleep and travel. They attached a recording studio to the Agora to record audio backup in case such a need arose. Frank was blown away when he saw the NFL size film truck, he hasn't seen that kind of film crew professionalism since the days MAHOGANY RUSH played Cal Jam 2 and the Texxas Jam.
Many songs on this concert set list have never been played or recorded live before. This DVD was filmed in the course of one afternoon from noon until midnight. Frank and the band only took 1, one hour break. It's amazing the amount of energy and jamming in this show along with the vast catalog of material performed. There are 3 live concert sets. Blu-Ray is one disc, DVD is 3 discs, and you receive both plus the book set when you order. No one can possibly sit down and watch the entire 6 hours in one go. You might! It's sorta like a hockey game, each set designed like a period of ice hockey. (Ice Hockey is Frank's vice favorite besides pizza, an ice cold bottled Coke with real sugar and a smoke). My first go around I watched the first 2 sets. By the end of disc 2, my musical muscle was completely annihilated. There's a few things that make my ass rise up out of the chair: A Megan Fox lap dance, Wayne Gretzky on a breakaway and a Frank Marino guitar solo! Dude, between the songs and the sheer firepower and beauty of the sounds and soloing, I just watched the most incredible music experience, especially in a time and place where most modern music just sucks. Just watch the Grammys. In an age of one-celled pop music, hip hop, cookie monster metal and 100,000 tribute bands with no real identity of their own it makes you really appreciate Frank on all levels. MAHOGANY RUSH is the ultimate music journey to Heaven and Earth and back again.
Disc/Set One contains 15 songs. A fiery yet smooth beginning to the DVD with "A New Rock n' Roll" imbedded into my soul at the end of Side One on the infamous 1978 live record. Set One features FMMR vintage material from Child of the Novelty and his earlier records such as "Buddy" (Tribute to Jimi Hendrix) and one of my personal favorites, "I'm Going Away" off Mahogany Rush IV. This material is all the pre-1978 live studio recordings, some never played live. The songs have that haunting Hendrix tone and hypnotic-like musical dynamics and melodies that Frank just plays the most beautiful solos over. As the years went on his material became more high powered. This first disc was a really great experience watching Frank tone it down and let the beauty of the sounds take over to where you're actually listening beyond the notes. Nobody tapped Hendrix like Frank. The donut custard in the middle of the first set are the 3 Hendrix tunes, "Are You Experienced", "Bold As Love", and "The Wind Cries Mary". Had I been doing mushrooms while watching this, I might have crystalized. What a first class tribute to Jimi and his music. For me, Jimi Hendrix proved everything is one! Frank took the sparks and influence of Jimi Hendrix to places no other guitarist has done in rock history. When you pop in disc one and push play on this new DVD set, you'll experience that in a heartbeat. Many guitarists copy Hendrix, but none ever do it exactly right as Frank's version of "Are You Experienced". Lord have mercy. They played a few BEATLES songs at soundcheck but he didn't have room to put them on the already 350 minutes of editing time. Note: Frank actually got a locked up right shoulder and pinched nerve in his neck because he was behind the studio engineering console board so long working on this project. After Frank listened to the recorded live audio, there was a slight audio buzz in one of the stage microphones. Frank spent a great amount of time to remove the buzz in editing. Like he said to the film crew before filming, "you're only going to get one shot at this." Despite Frank's shoulder pain and discomfort he continued to move on mixing and editing this incredible live concert film. Frank has an incredible devotion to music and his instrument. Rock, Blues, Jazz, Progressive, Classic, Southern Rock, Jam, Vintage, Religious, it's all here.
Disc One went out of Hendrix and into some "Red House" and some soulful blues like you haven't ever heard played like this before. Frank can play on 11 with the best of them and it's really enlightening to hear him lay off the volume knob and cut into those sweet tones dynamically. You can hear every single note. He's milking one note, not jerking off every note on the neck like a show ball. He was voted most unsung guitar hero by fans and other guitarists on Gibson Guitars Website. He makes all his own guitar electronics, pedals and amplification. Everything is built like Eddie Van Halen built his Frankenstein gear. Frank's signature is his single coil pick up in the middle of his 61 SG. Guitars are just wood to him, he doesn't really care about the boutiques, glamour, endorsements and value. Whatever works is best. The SG style was the first guitar he learned to play as a kid. He has small fingers so that neck just works for him. He's modified his guitars and sound which makes him sound like no other guitarist ever, especially live. The guy just turns into an ancient warrior with swords and Marshalls. Frank sometimes reminds me of a sober Lemmy if he were in hockey and church on Sundays. Frank actually reminds me of my late Uncle Phil who was a progressive rock drummer in the 1970s in St. Louis. My Uncle Phil validated everything,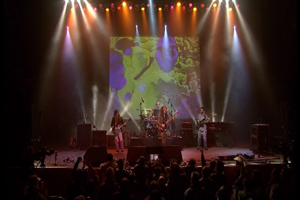 just like Frank does. Speaking to him on the phone is a trip, dude, that voice. You get caught in conversation talking about normal silly shit, then for a sec I think, dude, remember the first time you heard that voice sing when you brought the live record home ffom the record store. Frank's voice on the DVD is superb, unique and beautiful in its own right. His voice fits his music. There's nothing cooler than watching a guy play the guitar and sing like that. Canada has produced some of the best! Rick Emmet (TRIUMPH), Geddy Lee (RUSH), Miles Goodwin (APRIL WINE) and of course Frank Marino. The first set ends with a couple of my live record favorites, "The Answer" and "Dragonfly". Blown away at the end of the first disc, the last tune is a vintage favorite called "Chains of Space", which Frank never recorded live, showcasing his backward masking sounds and techniques. Though mixed with some effects, he's physically playing the guitar parts backwards! He rides it out with the addition of "Space Unchained" to blow your mind and senses. I was just in 4th gear a second ago with a laid back "Dragonfly" and "Chains of Space", drawn into the FMMR vortex. Bathroom break, clear my cauliflower ears ringing, a couple of snacks and another bong load and I'm like OK, should I go for the 2nd period of ice hockey and pop in Disc/Set 2? Why sure!
Just for the sheer sake of mystery and the element of surprise, I didn't look at the set lists before I watched the DVD. I wanted to follow this journey like a real live show. It made it more intriguing to see what Frank was going to play next. Set 2. Wow. I could say it was my favorite of the 3 sets, although set 3 is like a classic NHL ice hockey Game 7 playoff in overtime with Gretzky about to score at any time. Each set has its own beauty, soul luster and levels, much like an amusement park ride it starts out slow, then you have Frank's divebomb whammy cries and screams like Godzilla roaring across Tokyo Bay in your headphones. Disc/Set 2 begins with "Long Ago" off Full Circle, a great record released my first year in L.A. in 1987. That was a time of the new West Coast era of GUNS N' ROSES, RACER X, and Glam Rock. I used to listen to Full Circle when I got off work at DB Sound Rehearsal Studio in North Hollywood. On that long drive all the way to Woodland Hills at night, what a spiritual record to bring me back to ground zero amongst the 80's clowns in L.A. Frank started it all for me and inspired me as a guitarist. "Requiem For a Sinner", I used to play that song when I was a strip club DJ in Hollywood at the Star Strip on La Cienega in 1995. 6 stages, 60 strippers, I'd put on "Requiem For a Sinner" on the CD player and crank it! Then I'd go out in the back parking lot and torch up a bowl and laugh to myself cuz everyone inside was listening to Frank Marino with beautiful, exotic, naked women on stage peeling to MAHOGANY RUSH, Frank's voice just pouring out of the club as if MAHOGANY RUSH was actually inside playing live.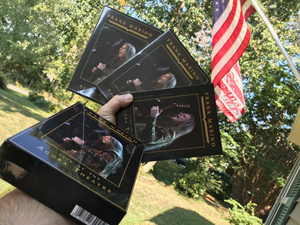 Super songs in Set 2 including "In My Ways", "It's Begun to Rain", and "Strange Dreams", Frank's most air-played song on the radio in the early 1980s. Funny, it's the only song with no guitar solo. He rips a killer guitar solo in this updated live version. In every concert there's a deep cut song moment where time stands still. "Rise Above" and "IV…The Emperor" were it. "The Emperor" was one of my DVD favorites. The power of rhythm with Dave's drum parts and that hypnotic pattern is spread central to solo over. Talk about conjuring the spirits. "You Got Livin'" and "Midnight Highway" are such great live songs. "Finish Line" is a classic shredder from the record with the Funny Car on the cover! I used to sit at keg parties in high school and roll joints on that record cover. We were so alive back then. Frank fueled the fire. Always a great show. The first time he opened for AEROSMITH in 1978, he blew Municipal Auditorium in Nashville apart. "Maybe It's Time", "Tryin' Anyway" and "Go Strange" a smoking track off The Power of Rock n Roll, the only self entitled Frank Marino album without the MHOGANY RUSH moniker. It features an awesome photo of him on the back with a Gibson Les Paul. He recorded a self-titled album in 1981 to possibly separate himself from his unhappy relationship with CBS and create a new avenue for his music. He was finger tapping long before Eddie Van Halen, and he stopped doing it because Eddie Van Halen did it so much. Frank didn't want to get tagged for copying Eddie. He taps though in his epic shredder "Ain't Dead Yet" in Set 3. Watch for yourself after "Purple Haze" at the end of his California Jam 2 set. Frank played a short excerpt of the Mickey Mouse Theme as a fire back to CBS and all the bands who most acted like primadonnas. Frank has always been in it for the music, not for the typical rock star lifestyle. End of Disc 2, wow. I decided to save Disc/Set 3 for the next Saturday Night to wait for my ears to stop ringing from the headphones.
Set/Disc 3 reminds me why I may like Disc 3 better. It's the longest set of the 3 with 28 songs. He recorded all of this in one go, no outtakes, no mistakes. Talk about blown away. What an incredible performance. Frank's masterpiece "Poppy" starts out Set 3 and features a guest appearance from Avi Ludmer on electric violin beautifying those awesome harmony parts. I'm a big Jean Luc Ponty fan, and the violin adds a nice color to the music. I must give honorable mentions to all the band who do an exceptional job during this show. Bassist Marc Weber is solid, with Mick Layne on Rhythm Guitar and Dave Goode on drums. Dave is a beast! He's been touring with Frank for the last 20 years. I don't know too many drummers that could literally keep up with Frank for an hour and a half, let alone 12 hours during the filming of this DVD. I'm sure bananas, water and Advil were the choice of halftime treats with an ice cold coke, pizza, band prayer and a smoke for Frank. It's heartwarming to see Frank's family on the liner notes, his road manager wife and Frank's 3 precious daughters helping crew the show and help with production. You gotta take care of Dad! Much like the early ALLMAN BROTHERS, Frank looks upon his band and crew as family. The first tune on Set 3, "Poppy", has the coolest transition into a medley of songs that inspired Frank in the 1960's. The solo he rips as "Poppy" blends into THE DOORS' "Riders On The Storm" is epic. One of the coolest 60's guitar solos, Frank turned it into his own, true to the original recipe. It slips into "She's Not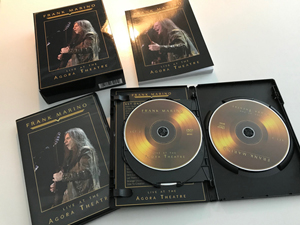 There" by THE ZOMBIES, then the most fiery version of "Crossroads" I've ever heard, then right back into "She's Not There", then back into "Poppy". Wow, what a jam! So, 27 minutes later where the hell was I a minute ago? The next tune is a beautiful dynamic guitar prelude intro to "Stories of a Hero" and is one of Frank's most beautiful masterpieces. It's his personal tribute to all our freedom-fighting troops and soldiers. For many, it's a tribute to the ones who never return from war that fought and died for your freedom so you're free to sing your songs. A couple of great soloing tunes, "Something's Coming Our Way" and "He's Calling" lead into "Strange Universe", Frank's classic jam journey far beyond the stars. There's much improv and fierce nonstop jamming in these tunes. "Ode to Creation!": Much like Hendrix, if it sounds like a guitar you're not playing it right.
"Rock n Roll Hall of Fame" is such a great live song, great punch and punch in the face of the corporates. I asked Frank once what he thought about Madonna getting inducted into the Rock Hall of Fame. Frank laughed and replied, "You might as well put McDonald's Hamburgers in the Rock n Roll Hall of Fame, they sell!" "Ain't Dead Yet" is one of my favorite headphone songs. If I had to play any song for a new fan, thats the one I'd play! A total rollercoaster ride of guitar solos like no other! Watch the video on YouTube of the 2 rock podcast guys reacting to Frank playing "Ain't Dead Yet". "Back to The Hall", "Slippin' And Slidin'" and "Two'n Four" (Drum Solo) showcase Orange County, California drummer Dave Goode. I'm a big fan of original MAHOGANY RUSH drummer Jimmy Ayoub, he played behind the beat which gave the band their original power sound. Dave really nails all the material and like the Energizer Bunny, he just keeps going and going. Frank was born a drummer and has a lot of influence in the rhythm and direction of his songs. It all starts with the drums, the power of rhythm. MAHOGANY RUSH has always been a heavy, groove orientated band no matter what caliber they're playing at. Frank gives it to you from all angles and levels and colors. The superb thing about this box set is you get so much music and rise out of your chair more times than that lap dance down at Ole Pops Beaver Hut in Portland. Post drum solo reveals Frank's Final Climax of Demons and Angels literally opening and closing a gigantic hole in the sky all in one flurry leaving you feeling blessed, holy and spiritualized for Christmas by the sound of this mans guitar and the things he makes come out of it.
Frank's guitar solo was always the ace in the hole when I was a kid. Live in 1978 he performed it onstage with a sea of strobe lights. I had never heard anything like him on the turntable, and when I finally saw him live I couldn't believe what I witnessed. I had no idea that was coming! No one ever to this day has ever duplicated or topped Frank's epic solo "Electric Reflections of War". You can watch George Lynch or Steve Vai flop and flail around all day, but to actually experience a UFO landing onstage when you're in high school somewhere in section 313 in a cloud of high school friends and smoke, and far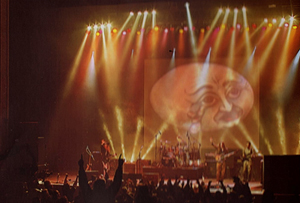 below it's not really artificial intelligence, it's just Frank waving around his guitar in the air with the dive bar buried in low tones, sounds and screams you never thought were invented or possible unless a tank smashed in your house. Frank has always taken it all to another place. No wonder AEROSMITH got tired of following him. Frank leaves nothing on the table except his calling card and the fact you are now changed forever after this experience. I've seen a million guitar players stand in front of their Marshalls onstage, whack their whammy bar and make all kinds of strange noises. That's pretty much what Hendrix did, but no one ever sounded or did it like Frank Marino. You know because you meet another exceptional guitar player, you mention Frank and they immediately grin and get that look in their eye, like "Frank Marino? Hell f'n yeah Frank Marino!" "Electric Reflections of War" is an onstage ode to World War, depicting fighter jets screaming overhead, dropping bombs exploding, killing souls and those born unto this world only to die in battle and not in vain. Who knew an old Gibson SG, homemade pedal board and an Acoustic 270 transistor power amp could sound like an F-18 Fighter Jet doing flyovers at mach speed at Cal Jam 2? Frank loves to create and add to his collection of psychic makeup on his pallet. "Electric Reflections of War", as all aftereffects of war, creates aftermath, then Frank having strong faiths version of "O Little Town of Bethlehem", since this show was near the Christmas Holidays. His signature post solo is a new of version "World Anthem, A Prayer for Peace, and Try for Freedom", which I'm sure you all can relate to during these challenging times. Frank finishes the entire show with his version of "Amazing Grace", a metaphor of Heavenly spiritual closure to his own personal decade of life, love, music and the recent loss of his father before the filming of this DVD concert. Frank once said referring to his Father, "I just miss talking to him. You know how I know he's still here? Because I love him, so he still must be here."
I wanted to share something with you that's in the booklet. After the show the engineer came up to Frank and handed him a box of audio hard drives. Peter Daniel said he would be sending Frank the drives with the video portion to do with whatever he wanted to do. Peter just gave Frank this thing like a giant gift. To this day Frank still can't believe it. As tired as he was, he was filled with such gratitude as he tried to express his thanks. Then Peter said something Frank will never forget. He said "You know, I've worked with just about everybody on many different levels and large gigs and I have to compliment you on something I've never seen before in all my years." Frank thought he was referring to something he did in his guitar solo "Electric Reflections Of War" or his liquid light show. But Peter said, "I've never done a gig where a crew put up with some minor problems, even minor ones yet didn't raise a complaint about something or other. And yet, during this extremely long day with the freezing cold and everything else, I thought somebody certainly would have. Yet not one of them did, even a little. They all remained positive throughout, happy and smiling the whole time, and I think that was because of you." Frank kindly replied, "What do you mean? What does that have to do with me?" Peter said "They saw how you handled this thing,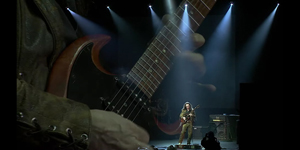 how you didn't complain even once about anything. And they were perfectly aware of how tired you were and everything else," he explained. "I think that it rubbed off on them and it brought out their professionalism." Frank asked "Well doesn't it always go this way when you do these things with the other artists?" Peter burst out laughing, so suddenly it jolted Frank. He said, "You wouldn't believe what we see sometimes; artists freaking out over the littlest things; bitching and moaning like the world is coming to an end if their coffee isn't hot enough. And here you are, not only putting up with all the technical problems, the 12 hour day, helping out with the crew, interacting with the camera people as friends, to say nothing of the freezing cold or the non-sleep for 2 days, and you still put out 100% on every song and maintain composure each minute of the day. Do you have any idea how unusual that is?"
In retrospect, there is no better time for live music than now! Music heals, inspires and makes you feel alive. Like Frank says, "The real fans always buy a concert ticket, a t-shirt and a CD! By the end of this live concert film your soul will feel cleansed. It's the power of Rock n' Roll. Frank Marino brings so much to the heart, mind and soul. You forget you're listening to a guitar player. He removes you from your usual space until you're 16 bars from Mars. At the end of this DVD I feel the need to stand on top of my classroom table reciting "Oh Captain My Captain" like Robin Williams in Dead Poets Society. Frank Marino is to music what Robin Williams is to comedy. Their talent and ability to create and imagine and take you to other places is beyond mortal man. Ordinary men, well yes. But all in all, simply pure genius!
*ORDER Frank Marino Live @ The Agora Theater Blu-Ray/DVD Disc Box Set - mahoganyrush.net
FRANK MARINO & Mahogany Rush Live @ The Agora Theater (350 minutes) *Click HERE to watch the Official Frank Marino & Mahogany Rush Blue/Ray DVD Video Trailer
*Click HERE to watch "The Answer" Official Frank Marino & Mahogany Rush Live Video
SET ONE
Intro - Guitar
"A New Rock n' Roll"
"All In Your Mind"
"Child Of The Novelty"
"I'm Going Away"
"Buddy"
"Are You Experienced?"
"Bold As Love"
"The Wind Cries Mary"
Blues Guitar Intro
"Red House"
"The Answer"
"Dragonfly"
"Chains Of Space"
"Space Unchained"
SET TWO
"Long Ago"
"Requiem For a Sinner"
"In My Ways"
"It's Begun To Rain"
"Strange Dreams"
"Rise Above"
"…IV The Emperor"
"Window to the Word" (excerpt)
"…IV The Emperor" (return)
"You Got Livin'"
"Finish Line"
"Midnight Highway"
"Maybe It's Time"
"Trying' Anyway"
"Go Strange"
SET THREE
"Poppy"
"Heat Of The Moment" (excerpt)
"Poppy" (return)
"She's Not There"
"Crossroads"
"She's Not There" (return)
"Poppy" (return)
Guitar Prelude (…to a hero)
"Stories Of A Hero"
"Something's Comin' Our Way"
"He's Calling"
"Let There Be…"
"Strange Universe"
"Ode To Creation"
"Rock n' Roll Hall Of Fame"
"Ain't Dead Yet"
"Back To The Hall"
"Slippin' and Slidin'"
"Back To The Hall Again"
"Two 'n Four "
"Rattle of Sabres"
"Electric Reflections Of War"
"Aftermath"
"O Little Town Of Bethlehem"
"The World Anthem"
"A Prayer For Peace"
"Try For Freedom"
"Amazing Grace"
*Buy Tickets 2021 US Tour Dates & 2022 Rock Legends Cruise IX - Official Frank Marino & Mahogany Rush Website - mahoganyrush.com

5.0 Out Of 5.0

Please log in to view RANTS


ACID KING Beyond Vision

STEEL PANTHER On The Prowl

NIGHT DEMON Outsider

YNGWIE MALMSTEEN In Ottawa, Canada

THEORY OF A DEADMAN, SKILLET, SAINT ASONIA In Houston, TX With Photos!

OFFICER X Hell Is Coming

PERIPHERY Periphery V: Djent Is Not A Genre

INSOMNIUM Anno 1696

STEEL PANTHER, CROBOT, TRAGEDY In Houston, TX With Photos!

BABYLON A.D. Live Lightning

ROTTING CHRIST, CARACH ANGREN, UADA, GAEREA In Houston, TX With Photos!

MOTÖRHEAD Bad Magic: Seriously Bad Magic

TRAGEDY I Am Woman

ROXANNE Stereo Typical

ANTHRAX, BLACK LABEL SOCIETY, EXODUS In Houston, TX With Photos!