MOTÖRHEAD Louder Than Noise… Live In Berlin


By Francisco Zamudio, Metal X Candy 2.0
Wednesday, April 28, 2021 @ 8:10 AM


| | | |
| --- | --- | --- |
| | | |
MOTÖRHEAD
Louder Than Noise… Live In Berlin
Silver Lining Music/Motörhead Music




Now for a somewhat youngblood like me at 42 who only got to see MOTÖRHEAD a few times in my life, it was enough to know what I was getting out of their show. My first time was at the METALLICA/GnR Tour at the Memorial Coliseum. In 1992 while the girl I dated about 5-6 years ago was just born, I had just turned 14 and it was one of the first shows my brother (RIP) took me to. It was awesome! Fast forward to 2015 and I was fortunate to catch MOTÖRHEAD again here in Los Angeles on what would be one of Lemmy's last performances as he would perish the same year. It was their 40th Anniversary tour and in support of their latest release, Bad Magic. SAXON had opened up and there was definitely a smell of denim and leather and Jack Daniels throughout the evening. The essence at a MOTÖRHEAD show might be what you expect but it's also one of those cult(ural) things where it brings together the Metalheads, the Punkers, the Goths and even the posers who wear a MOTÖRHEAD shirt as a fashion statement. Whatever the case is, MOTÖRHEAD is one of those bands that transcend time, decade after decade, generation after generation. The best we can do now is turn to the likes of their live releases, of which they have plenty – to try and gain some small taste of what it was like live. Adding to that library now is the recently released live album through Silver Lining Music/Motörhead Music, Louder Than Noise… Live In Berlin and it's sure to live up to their legacy.

Capturing their performance at the Berlin Velodrom in Germany, this new live album contains 15 tunes from the concert back in 2012 for their 'Kings of the Road' Tour. It really starts to take off on "Over the Top", the track taken from 1979's "Bomber" (single). The rest of their setlist for this show contains many of the staples they played throughout their days and of course the "fan-favorites". From "Metropolis" to "Killed By Death" to "The Chase Is Better Than The Catch" and of course "Ace of Spades" and closer "Overkill".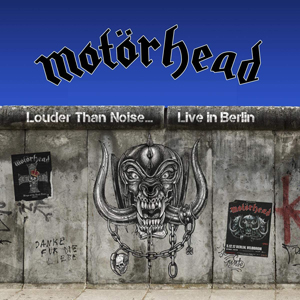 Like their chart-topping live album No Sleep 'Til Hammersmith (1981 - Bronze Records), Louder Than Noise… Live In Berlin captures the moment in time back in 2012 and reflects the day and aged Lemmy who made it no secret that he lived hard and lived fast. Longtime producer Cameron Webb worked on mixing this live album and does an excellent job at capturing a fully ferocious set. When you hear the opener "I Know How To Die", you already hear the crispy crunch sound of Campbell's guitar like on "String Theory", the tight and crash-happy drumming of the heavy-hitting Dee on "The One To Sing The Blues" and of course the Kilmister's raspy vocals and thunderous sound from his Rickenbacker are overwhelming warming to the ear. With 40 years at this racket, some candid and uncontrived moments are bound to make it live. Whether apparent or not here on Louder Than Noise… Live In Berlin, it's part of the raw experience that you can only get live and makes it that much more enjoyable.
Although guitarist Wurzel (RIP) was there often times too, between Mikkey Dee, Phil Campbell and Lemmy – they became a prime definition of a "Power-Trio" and give off that raw grit as only they can, or that is to say only this combination could take over since the passing of Fast Eddie Clarke and Philthy Animal Taylor. Now while many loyals want to get into a pissing contest about who knew Lemmy or MOTÖRHEAD better, fXck it all! MOTÖRHEAD wasn't about that. It was about the music and the fact that everyone should enjoy this raw rock n roll without any gimmicks nor smoke and mirrors other than the smoke from Lemmy's cigarettes.
5.0 Out Of 5.0

Please log in to view RANTS




AVATAR, ORBIT CULTURE, THE NATIVE HOWL In Houston, TX With Photos!

THE DEAD DAISIES In Hollywood, CA With Photos!

KILL DEVIL HILL Seas Of Oblivion

THE DEAD DAISIES In Ottawa, Canada

MAMMOTH WVH In Santa Ana, CA

UADA Crepuscule Natura

BARONESS Stone

KAMELOT, BATTLE BEAST, XANDRIA In Houston, TX With Photos!

CRYPTOPSY As Gomorrah Burns

RAY ALDER II

GHOST, AMON AMARTH In Houston, TX With Photos!

U.D.O. Touchdown

DETHKLOK Dethalbum IV

STEVE VAI In Ottawa, Canada

PANTERA, LAMB OF GOD In Houston, TX With Photos!

OVERKILL, EXHORDER, HEATHEN In Los Angeles With Photos!

PUPIL SLICER Blossom

TANITH Voyage

PRIMAL FEAR Code Red

ALL FOR METAL Legends

VELVET VIPER Nothing Compares To Metal

SIGNS OF THE SWARM Amongst The Low & Empty