ONLINE FEMALE FEST reveals full line-up for this year's edition which will be held on May 13th from 6pm CET.

The ONLINE FEMALE FEST aims at uniting outstanding female artists from different musical backgrounds (from heavy metal, hard rock, to pop and electronica) in one event held for charity.

The proceeds of this year's ONLINE FEMALE FEST will go to Progetto Itaca that has been financing projects to help individuals struggling with their mental health and raising awareness on mental health issues for decades.

Festival tickets are available here: https://bit.ly/OFFTickets2021

These are the artists performing (alphabetical order):
ACCESS CODE
AVALONA
IZZY T
LINDA VARG
MADAME MAYHEM
PFUZZ
VIKTORIE (SURMA)
ACCESS CODE is a Brazilian DJ and 2nd best female DJ in South America. She has opened for artists like David Guetta and Vini Vici and is part of different projects supported by the United Nations.

AVALONA is the project and brain child of award winning singer/songwriter/producer and activist Dina Fanai. Fanai has performed with, produced, arranged and written for artists such as Trans-Siberian Orchestra, Foreigner, Jackie Evancho, Sébastien Izambard (Il Divo), Il Volo, Tina Turner "BEYOND" Project and ROCKTOPIA (A Classical Revolution) on Broadway.

Just a few of months into 2021, IZZY T has released a rock cover of Miley Cyrus' "Midnight Sky", that has gone viral over Facebook & Instagram with 341.5k views, and explosive, critically acclaimed single, "Nuclear" ft UK rap artist Ben Hunter.

She has already been tipped by the likes of Rolling Stone, Wonderland magazine, Louder Than War & many more as an artist to watch for 2021.

Izzy has already made her mark on iconic stages across the globe, including the Birmingham Barclaycard Arena (supporting Placebo), Nashvilles Tootsies, and LA's Hotel Cafe.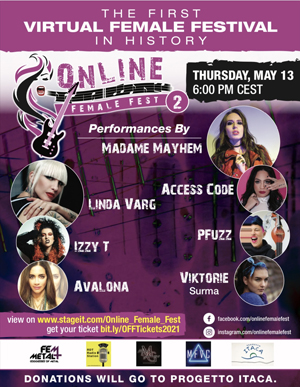 LINDA VARG is a multi-platinum Swedish singer songwriter. She was one of the finalists on Swedish Idol in 2010 and hit the Swedish iTunes charts several times at #1.
MADAME MAYHEM shared stages with Sevendust, Memphis May Fire, Fozzy, Nonpoint and Doro. Across three well-received albums – Ready for Me (2017), Now You Know (2015), and White Noise (2012) – Madame Mayhem worked with Russ "Satchel" Parrish (Steel Panther), Corey Lowery (Seether), Ron "Bumblefoot" Thal (ex-Guns N' Roses), and Troy McLawhorn (Evanescence) to name just a few. Her 2019 single "Broken" was co-written with Keith Wallen (Breaking Benjamin) and features her longtime friends and collaborators Billy Sheehan (Mr. Big) and Ray Luzier (Korn). "Breaking Down", which Madame Mayhem co-wrote with Brian Vodinh (10 Years) and produced by Johnny K, was released in 2020. She once again collaborated with Keith Wallen for the February 2021 single release of "Cruel Heart". This song was produced by Johnny K (Disturbed, Megadeth, Sevendust, Finger Eleven).
PFUZZ, aka Alexis, is a classically trained violinist and violin instructor with an immense passion for electronic music. She enjoys merging her background in classical music with her love for psychedelic bass music, glitch, sound design, and melodies interspersed with unexpected ear candy.
VIKTORIE Surmøvá is a Czech/Ukrainian singer songwriter and sings in the band SURMA and other projects. Viktorie released her debut album in cooperation with Heri Joensen (Týr) with the band SURMA, via Metal Blade Records in 2020. You can also hear Viktorie in bands like: Rosa Nocturna, Cruadalach and Bohemian Metal Rhapsody.