SWEET OBLIVION Feat. Geoff Tate Relentless


By Andrew Depedro, Ottawa Corespondent
Tuesday, May 4, 2021 @ 9:49 AM


| | | |
| --- | --- | --- |
| | | |
SWEET OBLIVION Feat. Geoff Tate
Relentless
Frontiers Records




Melodic riffs! Dynamic-sounding leads! A strong affiliation with one of Seattle's most powerful hard rock/metal bands of the 80's and 90's (hint: Not the SCREAMING TREES despite their own breakthrough 1992 album bearing the same title)!

Conceived by Frontiers Records president/A&R director Serafino Perugino and led by Simone Mularoni, the mastermind of prog metal masters DGM, Italian progressive melodic metal merchants SWEET OBLIVION may have a sound which, to some, appears to be somewhat out of place musically in 2021, but for fans of early 80's progressive rock/metal such as QUEENSRŸCHE in particular, theirs is a sound that has raised further awareness of their own influences to a new generation of fans. And enough so that even original frontman Geoff Tate has not only recorded one full-length studio album – their impressive self-titled 2019 debut – but now a sophomore collection of similarly-driven RŸCHE-style compositions titled Relentless which makes more of a strident effort to push beyond mere Empire/Promised Land-era nostalgia.

Opening with the stark haunting piano intro and the dulcet whispers of "Once Again, One Sin", the band – featuring Michele Sanna on drums, Luigi Andreone on bass, Antonio Agate on keyboards and guitarist Aldo Lonobile (SECRET SPHERE, TIMO TOLKKI'S AVALON, ARCHON ANGEL) who also took over production duties on the album – deliver a decent setting tone of what to expect from Relentless just as much as has been expected on some of QUEENSRŸCHE's most notable work: Built-up anthemic choruses, powerful and crisp dual guitar riffs and Tate's unmistakeably dynamic soaring vocals and sinister-sounding spoken word intros. The momentum keeps at a steady pace on follow-up tracks such as on the album's two catchy singles "Strong Pressure" and "Another Change". "Anybody Out There?" could both lyrically and rhythmically very well be the distant cousin of Empire's "Another Rainy Night (Without You)" in parts, but still provides its own individual groove. And while the hyperdynamic-sounding "Remember Me" and the lyrically emboldening "Wake Up Call" also harken back to the late 90's RŸCHE sound, they're not as successful in fully standing out individually in terms of tone and rhythm, occasionally blending into each other in parts.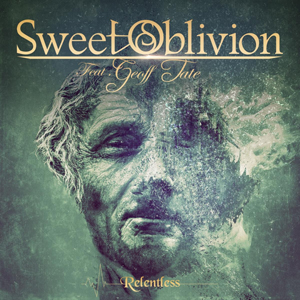 Without a doubt, the heaviest-sounding track throughout Relentless isn't even sung in English, as "Aria" has the dubious honor of not only mining through some of the more earlier sounds of Operation: Mindcrime in between Aldo's sweeping riffs, but also being Tate's bold move to sing the song entirely in Italian. The strong pronounciation of his vocals tends to occasionally weave in between modern-day opera and late NEVERMORE/SANCTUARY frontman Warrel Dane but succeeds in carrying the song along nicely. The inclusion of Tate's OPERATION: MINDCRIME touring guitarists Walter Cianciusi and Dario Parente also solidify the song's sonic crunch and give it the true modern touch, even coming close to thundering NIGHTWISH/AVANTASIA/KAMELOT territory in parts. And closing out the album would be the calming ballad "I'll Be The One" and the final soaring track "Fly Angel Fly" showing Tate's constant vocal progression and SWEET OBLIVION's own flawless performances.
Going beyond feeling the need to further push musical boundaries out of the sake of demand, SWEET OBLIVION and Geoff Tate have crafted their follow-up effort Relentless moreso to challenge and satify themselves against a music mainstream shunning the trappings of excess nostalgia while continuously scrambling to keep up with itself – and succeeding amongst themselves and their audiences both young and old. Why, I'd even have suggested the name of the album to be edited as Repentless if that hadn't already been taken either….
4.5 Out Of 5.0
https://www.facebook.com/SweetOblivionGeoffTate

Please log in to view RANTS