DORDEDUH Har


By Peter Atkinson, Contributor
Thursday, May 13, 2021 @ 7:24 AM


| | | |
| --- | --- | --- |
| | | |
DORDEDUH
Har
Prophecy Productions




Despite getting off to a relatively quick, or at least productive, start, Romanian avant-gardists DORDEDUH took their sweet time picking up where they had left things off – nine years in fact. The band, formed after NEGURĂ BUNGET – the country's best-known metal band - essentially split in two in 2009 following the landmark album Om. DORDEDUH, led by guitarists Edmond "Hupogrammos" Karban and Cristian "Sol Faur" Popescu, issued a two-song EP in 2010, with a debut album following in 2012. Then, for the most part, silence.

Meantime, NEGURĂ BUNGET (or "Dark Foggy Forest," in English), continued on, led by drummer and figurehead Gabriel "Negru" Mafa, pumping out a couple of albums and even managing to tour the U.S. after the split. But when Mafa suffered a heart attack and died in 2017, NEGURĂ BUNGET came to a sudden end.

The lengthy break between albums for DORDEDUH (an amalgam that translates as "Longing for Spirit"), however, seems to have been time well spent, at least from a creative standpoint. The band has taken the folky black metal leanings of the debut Dar de duh and dramatically expanded its scope and scale on Har. By incorporating ample quantities of death metal, post-metal, psychedelia, electronic and pop elements into an already expansive sonic palette, Har emerges as a true progressive metal landmark.

Echoing, at times, ENSLAVED, CULT OF LUNA, GOJIRA and OPETH, while flavoring things with a distinctly Romanian air thanks to native-tongue lyrics and indigenous flourishes, DORDEDUH covers an incredible amount of musical territory here. Indeed, right from the the get go, as the mind-boggling 12:10 opener "Timpul întâilor" throws just about everything into the pool, all while displaying an imposing degree of heaviness after an ethereal, slow-build open. It's an awesome, genuinely epic piece of work that ebbs, flows and consistently amazes.

And that's true of just about everything here. "Vraci de nord" and "De neam vergur" clock in at 11:35 and 10:38, respectively, and other than the interlude "Calea magilor" and the outro "Văznesit", everything else is 6:30 long or better, yet rarely stands still or grows complacent.

The dramatic sweep of "În vieliștea uitării" flows into a buoyant, textured midsection layered with clean vocals before exploding in a startling fit of blackened death metal fury as it finishes up. "Descânt" rides whimsical, chanted verses over an AMON AMARTH-like chug that is countered, again, by unexpectedly ferocious choruses.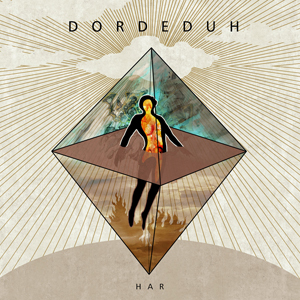 "Vraci de nord" charts a course that is somewhat similar to "Timpul întâilor" opening in a dreamy, electronic pulse before dropping a death-doom hammer three minutes in. Disarming, breezy harmonies trade-off with clean/growl back and forths, and a grand symphonic swell rises from doomy thunder, sounding like something out of Fantasia. Incredible.
The bottom-heavy, almost tribal rhythms and growly chanted cadence of "Desferecat" recall SEPULTURA's Roots, without all the nu-metal bullshit. But then a wash of synthesizers takes over for a drawn out, and rather ponderous midsection, so there is some bullshit to contend with nonetheless amid three minutes of top-notch metal bombast.
"De neam vergur" carries a western vibe with it at the outset, even as it builds into something more prog-rocky. Then it's off to the races again in a death/black metal shit-fit. It doesn't last very long, but it does return to bring things to a rousing finish though.
And the whole thing sounds great. Despite its myriad elements and dramatic contrasts, the mix from noted producer Jens Bogren is clear and resonant, ensuring the subtler moments aren't buried under the thunder and the heavier sections don't become so much mud. And that leaves plenty to discover with repeated listens – from the traditional instrumention to the tangled vocal interplay and Andrei Jumugă's loose and limber drumming that drives the ship through its myriad twists and turns – making Har all the more worth the wait.
4.5 Out Of 5.0

Please log in to view RANTS