ARTILLERY X


By Andrew Depedro, Ottawa Corespondent
Monday, May 17, 2021 @ 8:40 AM


| | | |
| --- | --- | --- |
| | | |
ARTILLERY
X
Metal Blade Records




Since their inception in 1982 in the Copenhagen suburb of Taastrup, Danish thrash traders ARTILLERY have amassed a stockpile of intense, catchy and pure molten thrash metal that's spanned nearly 4 decades and ten full-length studio albums. It's a sure-shot achievement that was originally conceived from a chance visit to MERCYFUL FATE's recording studio and eventually grew into one of the European thrash genre's unheralded architects thanks to the further direction of both brothers/guitarists Morten and Michael Stützer, both of whose vision and particularly their thundering playing from their 1985 debut Fear Of Tomorrow triggered the band's presence in the scene since then. Indeed, when the news of Morten's sudden passing in 2019 had broke, it had appeared that ARTILLERY's big guns would be capped for good as he'd played on every studio album that followed their debut. Thankfully, Michael, heeding the wishes of his brother to continue with the band even after his absence, while admitting that the writing process that had normally been shared evenly between them seemed "very strange", persevered with not only scribing a new ARTILLERY album with a new writing contributor – enter new guitarist Kræn Meier, who has been playing live with the band since 2017 – but a new ARTILLERY album that packs the finest and fastest heat within their catalogue in at least a good couple of decades.

The band's latest platter X – that's their tenth studio album for you Roman numeral enthusiasts – might not be the type of immediate catalyst for exponential musical growth for the first-time avid thrash fan, but their lyrical inspiration stemming from social injustice, corruption, personal struggles and the absurdity of life resonates just as strong on this album as it had on past bodies of work. And, if nothing else, Michael's assertion of the album having some of its strongest and fastest songs since 1990's By Inheritance is accurate, as "In Thrash We Trust", "Force Of Indifference" and opening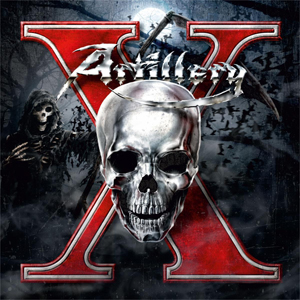 number "The Devil's Symphony" will proudly attest in terms of ARTILLERY's need for speed. The album's catchier choices such as "Turn Up The Rage", "In Your Mind" and "Eternal Night" are the tracks with the most balanced parts of melody and heaviness thanks to the powerful vocals of Michael Bastholm. And without a doubt, the most lyrically poignant songs throughout the album would be "Beggars In Black Suits" – a much-needed commentary about the exact destination of financial contributions towards certain causes – and "The Devil's Symphony", which, according to Michael Bastholm, is about "that almost exhilarating feeling of being against established convictions and beliefs. It is not a song about us being Satanic or anything like that, though – and it is also the name of one of the early bands that Morten and Michael had together". Finally, while easily the pacified-sounding track in parts throughout the album, "The Ghost Of Me" also makes for a decent anthemic-sounding power ballad as well as the only track to feature accompanying keyboards courtesy of producer Søren Andersen.
While ARTILLERY and certainly Michael Stützer hadn't expected the passing of their colleague and brother Morten to impact the course of the band in the way that it did, in the end, it was the band's own perseverance, along with the addition of Kræn Meier and his perspective and drive, which have ensured that they all called the shots on every box which X has marked in further solidifying their place in thrash's heavy arsenal for many more years to come.
5.0 Out Of 5.0
https://www.facebook.com/ARTILLERY.DK
http://www.artillery.dk/
http://twitter.com/artillerymetal

Please log in to view RANTS




YNGWIE J. MALMSTEEN, GLENN HUGHES In Worcester, MA With Photos!

ALICE COOPER Road

RAT ROD Four On The Floor

GIRLSCHOOL WTFortyFive?

DANKO JONES Electric Sounds

AVATAR, ORBIT CULTURE, THE NATIVE HOWL In Houston, TX With Photos!

THE DEAD DAISIES In Hollywood, CA With Photos!

KILL DEVIL HILL Seas Of Oblivion

THE DEAD DAISIES In Ottawa, Canada

MAMMOTH WVH In Santa Ana, CA

UADA Crepuscule Natura

BARONESS Stone

KAMELOT, BATTLE BEAST, XANDRIA In Houston, TX With Photos!

CRYPTOPSY As Gomorrah Burns

RAY ALDER II

GHOST, AMON AMARTH In Houston, TX With Photos!

U.D.O. Touchdown

DETHKLOK Dethalbum IV

STEVE VAI In Ottawa, Canada

PANTERA, LAMB OF GOD In Houston, TX With Photos!