CRYSTAL VIPER The Cult


By Ruben Mosqueda, Contributor
Thursday, June 3, 2021 @ 10:52 AM


| | | |
| --- | --- | --- |
| | | |
CRYSTAL VIPER The Cult Listenable 2021




CRYSTAL VIPER landed on my radar when I heard their cover of DOKKEN's "Dream Warriors". It was featured on their 2019 Tales of Fire And Ice album. CRYSTAL VIPER are a Polish power metal act formed in 2003 by singer/guitarist Marta Gabriel. CRYSTAL VIPER have made a name for themselves across Europe with their energetic, melodic and catchy power metal. The new album The Cult once again features a cover, this time Garbiel tackles KING DIAMOND's classic "Welcome Home" from the 1988 classic Them. "I always wanted to do some KING DIAMOND on a record. We finally recorded an album where we could include a KING DIAMOND song, specifically "Welcome Home". I love the song. The right time has come and it matches the theme of an album, so we recorded it. The Cult has this kind of horror kind of vibe. It was vocally challenging for me because KING DIAMOND is a genius and he performed this song in such a theatrical kind of way. I also wanted to put a lot of emotion into this song vocally. I also wanted to do it in this theatrical kind of way. When I set out to record this song, I didn't know how it would sound because I was learning as I recorded it. I was trying new things with my voice," says the singer.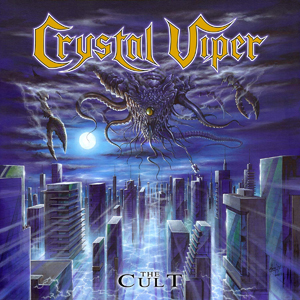 Sure, having a cover on The Cult will open some doors for them in North America with the familiarity of the song and the brilliant execution. Let's not short change the rest of the album however, because it's a solid power metal extravaganza. Gabriel and Company channel IRON MAIDEN, DIO and WARLOCK on the album, giving the tunes an old school vibe and feel throughout. I've been listening to earlier releases, it's astonishing at the progression of Gabriel's vocal abilities from her first recording to The Cult. She's got a powerful, melodic range that showcases pipes that can go toe-to-toe with any of the big names out there right now. In reading comments from diehards on message boards, it seems that they were 'very disappointed' with the last album, but have noted that Gabriel and Company have redeemed themselves on The Cult. The standout tunes on The Cult are "Down In The Crypt", "Lost In The Dark", you can hear the RONNIE JAMES DIO inspiration on "The Calling" and "Asenath Waite", and "Forgotten Land", which has a MAIDEN influence all over it. Notably absent on The Cult, there's no ballads. Nothing near one to be found. I don't know how one would work within the confines of such an intense and magnificent effort. The Cult is a brilliant slab of heavy metal and it's highly recommended.
4.0 Out Of 5.0

Please log in to view RANTS




AVATAR, ORBIT CULTURE, THE NATIVE HOWL In Houston, TX With Photos!

THE DEAD DAISIES In Hollywood, CA With Photos!

KILL DEVIL HILL Seas Of Oblivion

THE DEAD DAISIES In Ottawa, Canada

MAMMOTH WVH In Santa Ana, CA

UADA Crepuscule Natura

BARONESS Stone

KAMELOT, BATTLE BEAST, XANDRIA In Houston, TX With Photos!

CRYPTOPSY As Gomorrah Burns

RAY ALDER II

GHOST, AMON AMARTH In Houston, TX With Photos!

U.D.O. Touchdown

DETHKLOK Dethalbum IV

STEVE VAI In Ottawa, Canada

PANTERA, LAMB OF GOD In Houston, TX With Photos!

OVERKILL, EXHORDER, HEATHEN In Los Angeles With Photos!

PUPIL SLICER Blossom

TANITH Voyage

PRIMAL FEAR Code Red

ALL FOR METAL Legends

VELVET VIPER Nothing Compares To Metal

SIGNS OF THE SWARM Amongst The Low & Empty