GILBY CLARKE The Gospel Truth


By Daniel Höhr, European Correspondent
Monday, June 7, 2021 @ 6:39 AM


| | | |
| --- | --- | --- |
| | | |
GILBY CLARKE
The Gospel Truth
Golden Robot/Soulfood, 2021




Unfortunately, this digipack comes without any infosheet, so let's do what former GUNS N'ROSES guitarist GILBY CLARKE does on his new album: let's keep it short and simple. The Gospel Truth has a total playing time of just over 33 minutes and each of the ten tracks is under four minutes and pretty much straight to the point… Whatever the point is. With a decent line-up consisting of mainly Gilby himself on guitar and vocals, MÖTLEY CRÜE's Nikki Sixx sharing bass duties with Clarke and drummers John Mellencamp, Kenny Aronoff of CHICKENFOOT fame and JANE'S ADDICTION's Stephen Perkins, what could possibly go wrong?

Well, the sad truth is: quite a lot.

While the shout-along chorus of the openening title track is still catchy, the rest of the track is as uneventful as it could be. The most memorable feature of "Wayfarer" is the rock organ giving it a classic rock sort of feel – but again, the song doesn't seem to go anyhere. The mid-tempo stomper "Tightwad" doesn't exactly burst with originality either but will probably do the trick when played loud at alocohol-fuelled high school parties, or would have if this albums had been released in the sixties or seventies, I guess. "Rock N Roll Is Getting Louder" somehow sticks out of the album with it's dirty rock 'n' roll feel and because it's got plenty of cowbell on it, so no complaints on the cowbell front. And then it's back to uneventfulness: "Wise Old Timer" is quite symptomatic of the entire album. The attitude is right, the sound is there, and so are the expected rock clichés. But all that doesn't come to life when there is no inspiration. "Violation" – same thing. A blues rock riff that's been heard so many times before, a honky-tonk piano,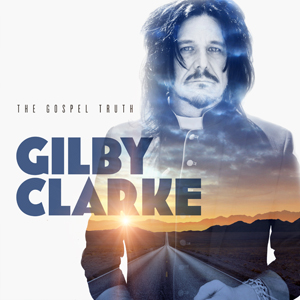 and the usual foreseeable hooklines. It's been done a million times before and definitely with more verve: just listen to any old WHITESNAKE track from their blues rock period in the late 70s to early 80s and you'll see what I mean. That kind of music needs balls, big balls. But sadly… What I mean is you don't need to reinvent the wheel when you play that sort of music. That would even be counterproductive. The riffs, the chord progressions, the hooks – they're all standard. The art is to breathe life into the song, make it tell you a story, to kick ass, and give the material big balls. And this is exactly where The Gospel Truth fails. And thus it continues: "The Ending": tight, great arrangement but lifeless. "Dangerous Sin": groovy but zero development. "Rusted N Busted": cool biker rock feel but utterly eventless. "She Won't Fight Back": the last track on the album.
Playing-wise and sonically, The Gospel Truth is not at all a bad album and GILBY CLARKE's qualities as a rock guitarist are beyond any doubt. Once more, he shows that he's actually a decent vocalist and his singing style totally suits this kind of rock 'n' roll with an alternative edge and a frequent dose of blue notes and a hint of country rock. What this album lacks is inspiration and development. It would have been a good idea to get somebody else to write the songs or at least to cowrite the material.
2.5 Out Of 5.0

Please log in to view RANTS


ROBIN MCAULEY Alive

CRADLE OF FILTH, DEVILDRIVER In Santa Ana With Photos!

KAMELOT The Awakening

ALTER BRIDGE, MAMMOTH WVH In Houston, TX With Photos!

ACID KING Beyond Vision

STEEL PANTHER On The Prowl

NIGHT DEMON Outsider

YNGWIE MALMSTEEN In Ottawa, Canada

THEORY OF A DEADMAN, SKILLET, SAINT ASONIA In Houston, TX With Photos!

OFFICER X Hell Is Coming

PERIPHERY Periphery V: Djent Is Not A Genre

INSOMNIUM Anno 1696

STEEL PANTHER, CROBOT, TRAGEDY In Houston, TX With Photos!

BABYLON A.D. Live Lightning

ROTTING CHRIST, CARACH ANGREN, UADA, GAEREA In Houston, TX With Photos!

MOTÖRHEAD Bad Magic: Seriously Bad Magic

TRAGEDY I Am Woman

ROXANNE Stereo Typical