RON KEEL BAND In Sioux Falls, SD With Photos!

By Larry Petro, News Monkey
Monday, June 7, 2021 @ 8:40 AM

| | | |
| --- | --- | --- |
| | | At The Porkpalooza Festival |
Review & Photos By Jody Hickman
RON KEEL BAND is one of those groups that never disappoints. For that reason, each of the last three years I've gotten on a plane and flown to another city to see the band. Let me go ahead and state that Ron Keel has become a good friend of mine. In fact, it was the Metal Cowboy himself who offered to pick me up at the airport. The show was at the Porkpalooza Festival in Ron's adopted home town of Sioux Falls, SD. Local Sioux Falls band, AT THE ALTAR entertained the early arrivers with an hour plus set of mostly covers with a few originals. At 8:00, a large group of diehard Keelaholics gathered for a group photo with the band.
Then...showtime. A RKB show is always fresh because they change the set list to fit whatever crowd they are playing for. For example, a biker rally would include more cover songs from their South X South Dakota Southern covers album, or a new market would get more KEEL classics, but this was their home turf, so they were able to play more deeper cuts. Their intro music was the theme song from Smokey And The Bandit, "Eastbound And Down". The band opened with "Road Ready" from their debut album Fight Like a Band. Then, the first surprise, a new song that should appear on the next RKB album called "Takin' Me Back".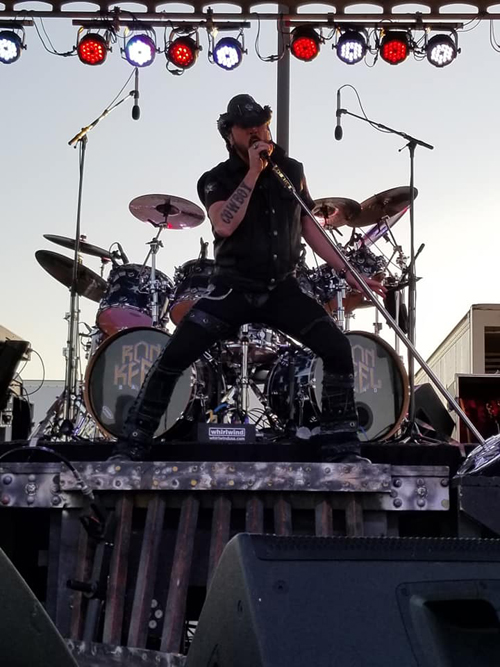 Other highlights included their cover of the SKYNYRD classic, "Red, White, And Blue" where the band was surprised to be playing to a sea of American flags, handed out by a couple of creative Keelaholics. That was followed by a pair of songs from Ron's first southern rock band, IRONHORSE. The show closed with their "American Medley" ("American Pie", "Born in America", "American Girl", and also included the signature KEEL anthem "The Right To Rock"). The festival fireworks display started during "The Right to Rock" and ended about the same time the band did, a fitting ending to a great rock show.
The RON KEEL BAND is:
Ron Keel - guitar and vocals
Dave Cothern - guitars
Jeff "The Rev" Kollar - drums
Dakota Scott - Keyboards
Jason Haven - guitars
Leah Jamieson - the new guy on bass.
Hopefully, Texas promoters will wake up the fact that RON KEEL BAND always gives the fans their money's worth. All they need is the chance to get their foot in the door and they will be in the regular rotation like other bands that play here every year.
Setlist:
"Road Ready"/"Takin' Me Back"
"Because the Night"/"Somebody's Waiting"
"Long Way Down"
"Red, White, and Blue"
"Three Sheets to the Wind"
"The Best Move"
"Good Songs Bad Times"
"Wild Forever"
"Train, Train" Piano solo/Johnny Cash Medley/DC guitar solo/"Fight Like a Band"
"Girls Like Me" Drum solo/"Ghost Riders"/"Homesick"
"American Medley"
Check out some more photos from the show!
Photos By Jody Hickman