BURNING WITCHES The Witch Of The North


By Francisco Zamudio, Metal X Candy 2.0
Thursday, June 10, 2021 @ 9:18 AM


| | | |
| --- | --- | --- |
| | | |
BURNING WITCHES
The Witch Of The North
Nuclear Blast Records




There's a fire burning in the air that begins in Sweden and extends to The Netherlands. A large circle that consists of 5 powerful women part of a recent growing trend of bands who are a true reflection of the current female empowerment in Metal. They a far more positive influence than the cookie-cutter, commercial stuff some labels are dishing out in America. Their music is in your face, abrasive, clever, intelligent and very well written. The music you hear coming from the New Wave of Femme Fatale Metal is empowering and deep with meaning and well thought out songwriting. With that said, let me re-introduce you to BURNING WITCHES whose last release Dance With The Devil was on my best of 2020 list.

Their 4th release entitled The Witch Of The North is sure to break necks with it's amazing approach. Led by Dutch vocalist Laura Guldemond (with whom I had interviewed a while back HERE) and the Swiss onslaught of founding members Lala Frischknecht on drums, Jeanine Grob on bass, Romana Kalkuhl on guitars and now Larissa Ernst on second guitar - without hesitation, this new circle of five returned to the studio to record their follow-up which promised to out-due their last. We are gifted 14 amazing tracks that will quite possibly be BURNING WITCHES' Powerslave (or insert your favorite IRON MAIDEN album here). A full on hour of shredding solos, head-banging rhythms and vocal intensity – this album has it all. The NWOBHM influence is clear in their sound and I sincerely hope for many that it is part of your enjoyment of this record. Let's put in focus for a brief second the empowerment I mentioned before. There's the triple shot with the pouncing beat of "We Stand As One", the gracious then ferocious "Flight Of The Valkyries" (1:40 in and your hair will stand on end!) and the roaring "Circle of Five".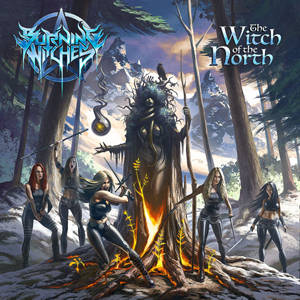 These are songs about unity are a great reflection of the comradery BURNING WITCHES has. That kind of chemistry is a valuable tool and it shows in your music. The Witch of The North is also bound by a common theme. It involves a lot of Norse Mythology and the Goddess associated with lust and sex – Freya, the Goddess of love and fertility. And nothing says female empowerment like a Nordic Goddess. The music itself is part Power Metal with a hint of Folk, but full on Heavy Metal with a lot of variety. The tandem guitar work between Larissa and Romana gives this album a classic sound with gracious solos that surface above the catchy guitar riffs they lay out. The rhythm provided by the drums and bass provide a great foundation of groove throughout without slowing down the pace of the record and keep their sound driving. The vocal versatility from Laura is simply out of this world. It may seem like the vocals are a bit over the top and overwhelming at times but Laura is leaving her mark as one of today's best female Metal vocalists.
When all is said and done, you get 10 great songs with excellent song structures, clever writing and lyrical themes that captivate. Plus a great cover of the SAVATAGE classic "Hall Of The Mountain King" that is so fitting of their style. It all comes together in a well produced manner by the team of V.O. Pulver and DESTRUCTION's own German thrasher, Schmier. They have a young and promising career and these woman look to make a statement and places The Witch Of The North as one of 2021's best releases. If their point doesn't get across to you, you might need to have a discussion with that chip on your shoulder.
4.5 Out Of 5.0

Please log in to view RANTS


THE WINERY DOGS, BLACK HEART SAINTS In Houston, TX With Photos!

ROBIN MCAULEY Alive

CRADLE OF FILTH, DEVILDRIVER In Santa Ana With Photos!

KAMELOT The Awakening

ALTER BRIDGE, MAMMOTH WVH In Houston, TX With Photos!

ACID KING Beyond Vision

STEEL PANTHER On The Prowl

NIGHT DEMON Outsider

YNGWIE MALMSTEEN In Ottawa, Canada

THEORY OF A DEADMAN, SKILLET, SAINT ASONIA In Houston, TX With Photos!

OFFICER X Hell Is Coming

PERIPHERY Periphery V: Djent Is Not A Genre

INSOMNIUM Anno 1696

STEEL PANTHER, CROBOT, TRAGEDY In Houston, TX With Photos!

BABYLON A.D. Live Lightning

ROTTING CHRIST, CARACH ANGREN, UADA, GAEREA In Houston, TX With Photos!

MOTÖRHEAD Bad Magic: Seriously Bad Magic

TRAGEDY I Am Woman