MAMMOTH WVH Mammoth WVH

By Andrew Depedro, Ottawa Corespondent
Monday, June 14, 2021 @ 1:32 PM

| | | |
| --- | --- | --- |
| | | |
MAMMOTH WVH
Mammoth WVH
EX1 Records/Explorer1 Music Group




Raised expectations!
Delegation of tasks!
Positive reinforcement!
Honoring the family name and legacy!
Some finger-tapping!

And what's with the giant crab on the album cover attempting to choke out that Pontiac Fiero in its left claw? Is it anything like the armadillo in the video for THE CLASH's "Rock The Casbah" that was always chasing after the white Cadillac convertible all over downtown Houston? Or anything like the recent preview of the 40-year old long-lost video for VAN HALEN's "So This Is Love?" featuring the band members playing in an abandoned dinosaur theme park somewhere in Italy?

Many of these points shall eventually be covered in the analysis of the self-titled debut album of one Wolfgang "Son Of Eddie" Van Halen a.k.a. MAMMOTH WVH, which, as its name implies – not just because it was the original name for VH back in their Pasedena club touring days in '76 – is both a docile and rather unpredictable beast primed to break free of the shackles of its past. True, there's not a hint of anything close-sounding to "Panama" or "Hot For Teacher" – or even "So This Is Love?" – but, yet, that is the whole point of this album's existence. And speaking from the perspective of a massive VH fan not going by the name of DJ Will, I can attest that this album is a healthy exercise in not only paying homage to one of modern music's most influential pioneers, because not only did they happen to be one of your parents, but also because they were proverbially instrumental in encouraging you to discover your own voice and vibe. Speaking of instrumental, Wolfgang literally covers just about everything on this album – writing, playing, demoing and mixing, with the production tasks otherwise handled by Michael "Elvis" Baskette who, like Wolfgang, was known for his work on two of Mark Tremonti's solo albums – which makes one wonder why he didn't rename himself as MAMMOTH DIY, or in Toastmasters speak, the music industry's equivalent of the Sergeant At Arms.

Acknowledging the proverbial and obvious white brontosaurus in the room, losing a parent is devastating, and none more so for Wolfgang having to make that announcement that fateful day on October 6, 2020 of his father's passing. He'd helped ensure that VH's 2012 comeback unexpected yet inevitable final studio album A Different Kind Of Truth saw a release date at all, subbing for longtime bassist Michael Anthony; yours truly even saw Wolfgang and EVH onstage bonding musically and family-wise on that same tour which he'd treated his brother-in-law Hubert to go and see (and holy Christ are VAN HALEN insanely popular in Poland apparently). Look at all of these little kids taking care of the music biz, indeed. That said, MAMMOTH WVH's own accomplishments on this album go far beyond carrying a notable family name.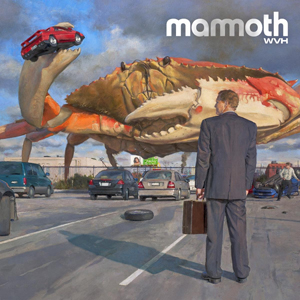 Opening with "Mr. Ed", the album's tone appears to set a subtle conflict between the Master (the father) and the Student (the son) featuring some well-learned finger-tapping exercises. There are moments of self-doubt ("Horribly Right"), strong perserverance ("Don't Back Down"), adversity ("You'll Be The One", "The Big Picture") and especially loss ("Distance"). And even listening to these particularly key tracks throughout the album more than once, it's evident that the songs show more than just a push to find an individual voice, but to also find closure on past relationships. Indeed, tracks such as "Epiphany" and "Resolve" harken to a darker-sounding aura particularly in tone, its mid-90's-sounding vibe akin to the sounds of ALICE IN CHAINS with some hints of FOO FIGHTERS and even FILTER in parts. The track "Circles" even showcases some stellar-sounding Jerry Cantrell-inspired riffs throughout – and hasn't Jerry Cantrell cited EVH as a musicial inspiration in the past back when the latter's musical wizardry was being slowly phased out during the grunge scene's purge of the excessive 80's era? Literally well-played on the title, Wolfgang. Yet, many of these same heralded hard rock heroes of yesteryear combined with Wolfgang's own latter-day influences have managed to find a common balance of both power and melody on this debut album. Indeed, much of VH's own musical triumphs owe a lot to the well-crafted songwriting and melodic overtones as much as the fiery solos had. And where Wolfgang finds his own strengths throughout this album would be in looking for the right depth of the song's bridge to solidify the overall base, as in the case of songs such as "Think It Over" and "Epiphany", allowing for the songs themselves to stand out without the main assistance of a wild solo. Finally, opting to use modified Marshall Super Lead amps for a more hollow yet authentic-sounding tone on the album also made a better impact on the album's overall sound.
It may not have been the album that either Wolfgang or many ardent fans of his father's work had immediately expected to appear under the proverbial VAN HALEN umbrella – especially following the sudden passing of the talented guitar legend whose legacy as an unadulterated pioneer of the instrument's progression has mostly been unmatched – but Mammoth WVH is an album that needed to be released and to exist moreso for itself and by itself. And it accomplishes exactly that.
Let's just be happy that Wolfgang has found a place. And perhaps all shall eventually be revealed about the crab on the follow-up album too someday…..
5.0 Out Of 5.0
https://www.mammothwvh.com/
https://www.instagram.com/mammothwvh/
https://www.facebook.com/MammothWVH