ICON OF SIN Icon Of Sin


By Alex Yarborough, Orlando Contributor
Tuesday, June 29, 2021 @ 8:50 AM


| | | |
| --- | --- | --- |
| | | |
ICON OF SIN
Icon Of Sin
2021 Frontiers Music




ICON OF SIN is the new project from Frontiers featuring Brazilian YouTube sensation Raphael Mendes. He first came to most of the world's attention when he started posting "What If Bruce Dickinson sang in other bands" videos. He has made videos singing VAN HALEN, AEROSMITH, HELLOWEEN, DIO, BON JOVI, SCORPIONS and many other bands. Check them out if you haven't already, they are pretty interesting. It's nice seeing a metal singer go viral (instead of the latest no-talent ass clown). To be fair, Mendes does sound like IRON MAIDEN's Bruce Dickinson. I mean, it's uncanny. His highs, lows, and everything in between sound nearly identical to Bruce. But that's not necessarily a bad thing. The backing band on this album is: Sol Perez and Mateus Cantaleano (guitars), Caio Vidal (bass) and CJ Dubiello (drums).

Musical references to IRON MAIDEN pop up from time to time, but what the band is doing here is more akin to a Bruce Dickinson solo album in my opinion. The songs are more aggressive and in the power metal vein for the most part. The first track is the band's namesake tune, "Icon of Sin", in which the intro power chords remind me of "Still of The Night" at first, but then the song takes a turn and instead of a pinch and slide, dives head first into melodic power metal. From here the fantastic singing of Raphael builds, eventually culminating with the fist pumping chorus. Speed metal track "Road Rage" is an easy track to enjoy. Like I always say, songs about driving fast are always fun. "Unholy Battleground" is a solid up-tempo track, with nice guitar riffs from Sol and Mateus that remind me of what Roy Z did in some of Bruce Dickinson's solo work. "Night Breed" (Video on KNAC.COM HERE) is one of those melodic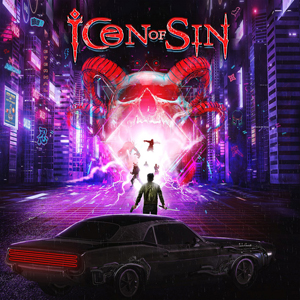 tracks that really leans on the singer's ability to lead you around all the curves, and Raphael does a great job here. "Pandemic Euphoria" is certainly topical, while epic "Clouds Over Gotham" nods to some of the lengthy tracks Bruce himself has penned. "Arcade Generation" speaks to the popularity of gaming and sounds like it could have come from IRON MAIDEN's Fear Of The Dark album. "The Last Samurai" is suitable, and features some much needed double bass drums from CJ.
Raphael Mendes is the star here of course, and he really shines. He sounds exuberant throughout the album. I enjoyed listening to Icon of Sin numerous times. The album can cause listener fatigue after a while, as it goes on a little longer than it needs to (65 minutes). The album definitely could have benefited from some edits, but overall I think this is a solid offering from Raphael and his compatriots. There is nothing mind-blowing here, but it's very solid. I look forward to more from ICON OF SIN and I hope they take more chances on following releases. Icon of Sin is available now from Frontiers Records.
3.9 Out Of 5.0

Please log in to view RANTS




YNGWIE J. MALMSTEEN, GLENN HUGHES In Worcester, MA With Photos!

ALICE COOPER Road

RAT ROD Four On The Floor

GIRLSCHOOL WTFortyFive?

DANKO JONES Electric Sounds

AVATAR, ORBIT CULTURE, THE NATIVE HOWL In Houston, TX With Photos!

THE DEAD DAISIES In Hollywood, CA With Photos!

KILL DEVIL HILL Seas Of Oblivion

THE DEAD DAISIES In Ottawa, Canada

MAMMOTH WVH In Santa Ana, CA

UADA Crepuscule Natura

BARONESS Stone

KAMELOT, BATTLE BEAST, XANDRIA In Houston, TX With Photos!

CRYPTOPSY As Gomorrah Burns

RAY ALDER II

GHOST, AMON AMARTH In Houston, TX With Photos!

U.D.O. Touchdown

DETHKLOK Dethalbum IV

STEVE VAI In Ottawa, Canada

PANTERA, LAMB OF GOD In Houston, TX With Photos!