HOOKERS & BLOW originally formed in 2003 as an excuse to drink for free in Hollywood by long-time GUNS N' ROSES keyboardist Dizzy Reed and QUIET RIOT guitarist Alex Grossi. In that time, the band have developed a legendary status on the famed Hollywood Strip, with some of the biggest names in rock joining them on stage! Now they are finally set to unleash their legacy for all to hear.

Watch the video for the ROLLING STONES cover of "Rocks Off" on KNAC.COM HERE

After teasing their fan base by releasing 5 singles in the lead up, HOOKERS & BLOW will release their self-titled debut covers album on the 23rd of July digitally, CD & Vinyl to be released on the 13th of August via Golden Robot Records.

Listen to the LED ZEPPELIN cover of "Trampled Underfoot" below.

February saw the arrival of the band's fifth single - a cover of THE ZOMBIES' "Time Of The Season".  HOOKERS & BLOW previously released covers of David Bowie's  "Ziggy Stardust",  THE ROLLING STONS' "Rocks Off",  Eddie Money's "Shakin'" and  LED ZEPPELIN's "Trampled Underfoot". 

Alex Grossi states, "If you had told me almost two decades ago when Dizzy and I first formed HOOKERS & BLOW that we would have evolved into what we are today, I would have said you were higher than we were, but here we are...."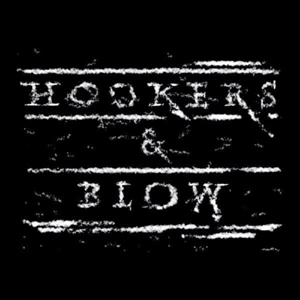 "This record is really special on many levels," continues Grossi. "For us - as well as many of our long-time fans and friends. In many ways, it solidifies that we actually exist as a viable entity with an official and accurate documentation of the past 17 years. This isn't just a collection of recorded covers, it's a labor of love that we are truly proud of."
"There it is. Take it."  says Dizzy Reed. "We made the rock and you all brought the drinks to a thirsty band. This record is for the joy of rock 'n' roll music we all share and for the hope of more rock to come. And more drinks, I'm parched."
TRACK LISTING IS AS FOLLOWS:
"Rocks Off" - THE ROLLING STONES
"Shakin'" - EDDIE MONEY
"Trampled Underfoot" (Feat. Frankie Banali) - LED ZEPPELIN
"Ziggy Stardust" - DAVID BOWIE
"The Winner Loses" - BODY COUNT
"Time Of The Season" - THE ZOMBIES
"American Gir"l - TOM PETTY
"Godzilla" (Feat. the Okai Sisters) - BLUE OYSTER CULT
"You Gotta Fight For Your Right (To Party)" - THE BEASTIE BOYS
"Under My Thumb" - THE ROLLING STONES
"No Quarter" (Feat. Frankie Banali) - LED ZEPPELIN
"Saturday Night's Alright For Fighting" - ELTON JOHN